Tories are going to 'collapse the economy' says Tom Swarbrick caller as mortgage bill support is scrapped
20 June 2023, 20:22
Caller: Mortgages are 'biggest chunk of expenditure' government can 'reasonably control'
As Jeremy Hunt rules out mortgage support and capping food prices, caller Stefan shares his dissatisfaction with Tom Swarbrick.
Caller Stefan told Tom Swarbrick: "I've got two mortgages, one's expiring in October this year and another that is expiring in May next year."
He continued by saying: "In short, I don't understand this concept of 'it needs to hurt to work', I mean how is that reasonable?
"If they want us to curb spending, why don't they just increase the VAT, why do they need to punish homeowners and those who rent for it to work?
"All they're going to do is collapse the economy".
READ MORE: 'Show leadership': Starmer hits out as Sunak 'to skip vote' over banning Boris from Parliament for misleading MPs
Their conversation arises as the government ruled out introducing major financial support to mortgage holders over fears it would drive the cost of living higher.
Chancellor Jeremy Hunt said offering mortgage relief schemes would "make inflation worse, not better".
But he said he would meet mortgage lenders later this week to ask what help they could give to households struggling with rising bills.
Homeowners are facing soaring mortgage costs due to higher interest rates.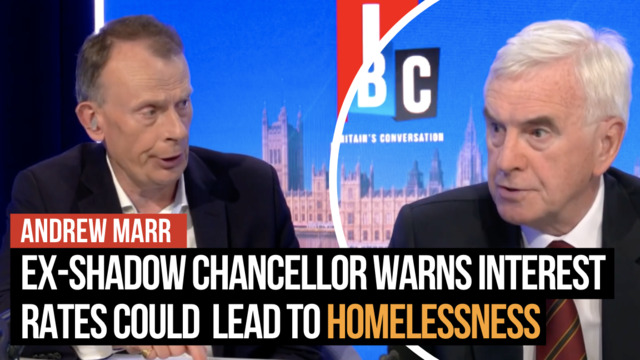 John McDonnell on mortgage rates: People will face the prospect of homelessness
Tom replied to Stefan, saying: "Why have interest rates been the lever that's pulled to combat inflation, which is going to massively affect homeowners and renters?
"Maybe it's because it's the biggest chunk of your expenditure that they can reasonably control?"
READ MORE: Rishi Sunak accused of having 'no backbone' and showing 'cowardice' for abstaining from Partygate vote
Stefan continued stating: "As someone said earlier that is the only mechanism that they can control as a bid to try and achieve.
"I think there are others profiteering out of this, the bank's saving rates have been unchanged, as I understand when inflation increases, so does the bank's saving rates".
But the government said it was "spending record amounts" helping people and that it already had "specific tools" to provide support, citing help - in the form of a loan - for people who receive benefits.