'The Tory government has turned slimy and needs binning!', says Tom Swarbrick
23 January 2023, 22:05 | Updated: 23 January 2023, 22:16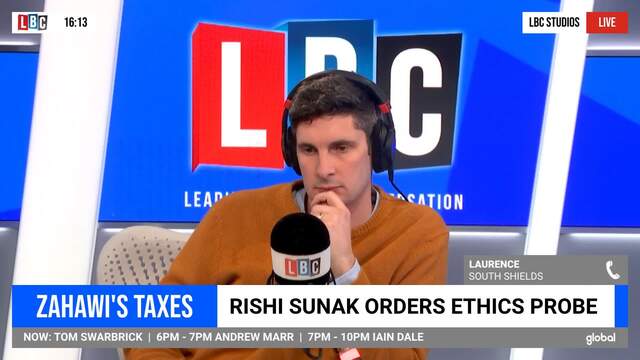 This caller describes the UK politicians as 'rife with corruption' from top to bottom.
Tom Swarbrick says there is a 'whiff of rotting flesh' as Rishi Sunak orders an ethics adviser to look into Nadhim Zahawi's tax affairs.
Tom Swarbrick spoke to listeners after Conservative Chairman Nadhim Zahawi found himself in a very public tax dispute with HMRC. It's reported that the former Chancellor paid a 30% penalty for the millions of taxes he avoided paying.
With the details of the tax dispute still unclear, the Prime Minister has ordered his ethics advisor to carry out an investigation into Mr. Zahawi's finances.
Tom began asking listeners: "Who amongst us, hasn't forgotten to report £27 million pounds to HMRC who can honestly say that that one just slipped your mind?"
"There a couple of things going on here. One I think is bemusement and Nadim Zahawi's personal fortune.
"There does seem to be quite a lot of vitriol dished out to someone who is independent of his political career, fabulously wealthy and I think there is a bit of double standard about that."
READ MORE: Nadhim Zahawi should resign as chairman of the Tory party says HMRC investigator
Tom continued by saying he thought it could be in the taxpayer's "interests" to have politicians that are "very" wealthy via routes independent of their political careers.
He said: "I think it would reduce the need for expenses paid for by the tax payer and at least suggests that those individuals had another career before they became politicians that they were successful in."
READ MORE: Foreign Secretary James Cleverly defends 'successful entrepreneur' Nadhim Zahawi amid tax bill row