Tom Swarbrick talks about your pension and it's all rather depressing...
25 January 2023, 13:52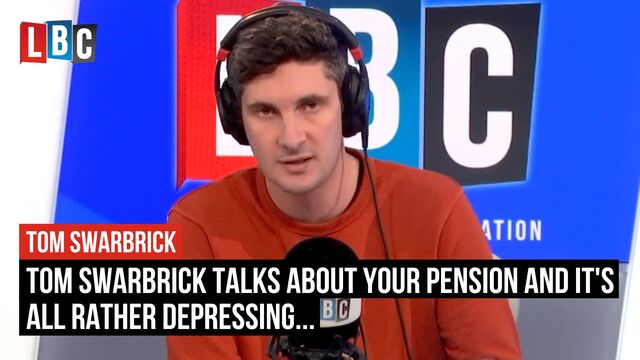 Tom Swarbrick talks about your pension and it's all rather depressing...
This is Tom Swarbrick's rather depressing take on your pension.
The LBC presenter gave his take on his show yesterday, on Tuesday January 24th.
At present, people currently start to receive their state pension when they get to the age of 66.
The state pension age is due to increase to 67 in 2028 and is planned to increase to 68 in 2046.
However, The Sun has reported that ministers are planning to move the 2046 date forward.
A Department for Work and Pensions spokesperson has said: "No decision has been taken on changes to the state pension age.
"The government is required by law to regularly review the state pension age and the second state pension age review is currently considering, based on a wide range of evidence including latest life expectancy data and two independent reports, whether the rules around state pension age remain appropriate. The review will be published early this year."
Tom said: "The government is slowly but steadily increasing the age at which you can have your state pension.
"By 2028 the pension age was already due to go up from a 66 to a 67.
"But the rise to a 68 wasn't due to happen until 2046."
Tom said that according to The Sun millions of people born in the 1970s and later are going to be told "that you will have to work until you're older to get your money, plus interest and hopefully increases".
He then said: "For us millennials, those born between [1981] and [1996], I think the notion of a state pension when I'm 68 is going to come to be seen as actually just quaint.
"Oh the old days when this country genuinely believed it could afford to keep paying out to tens of millions of older people who the trends all point towards living for much longer, with more long-term health conditions and a slowing rate of people being born to help look after them. How quaint that all was?
"I genuinely don't expect there to be a state pension for actually anyone other than the poorest by at this rate probably about 2050.
"Certainly by the end of the century, we are either going to have to do something completely different or means-tested fund that all workers contribute into to help out those who are too old to work and have nothing to fall back on at that point.
"And in 2093, when the presenter of this programme comes on LBC and attempts to make an hour of radio about pensions sexy - they're going to look back at the time 60 years ago when in the middle of a cost of living crisis the government of the day paid £10bn to hand millionaire older households another £800-a-year paid for out of the salaries of young people who 60 years later will not benefit from the thing once called the state pension - and they're going to think we were nuts."
Tom went on to say: "Shrinking contributions, elongating lifetimes and an increasing number of older people.
"Tell me again that the idea of a state pension - as laudable and as effective as it is - is going to be possible."