Caller brands the Dalai Lama 'disgusting' after the leader asked a boy to 'suck his tongue'
11 April 2023, 21:50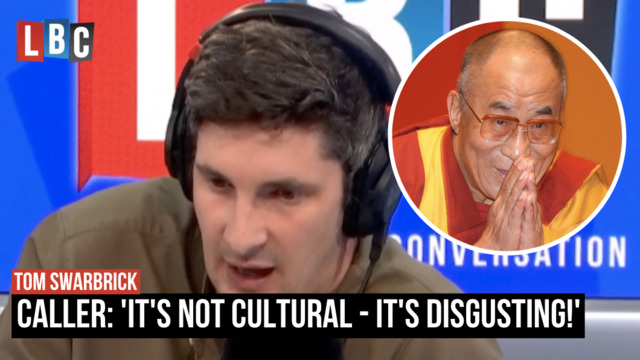 Caller is horrified that no one stepped in with Dalai Lama
This "annoyed" caller slammed the Tibetan leader, arguing that asking the young boy to suck his tongue "is not cultural, it's disgusting".
After videos surfaced of the Dalai Lama making the strange comment to the boy, and kissing him on the lips, this Tom Swarbrick caller, Cheryl in Fulwich, labelled the act "disgusting".
Cheryl fumed: "It doesn't matter if it's the Dalai Lama, it doesn't matter who it is. The fact is, this is a child who's around somebody who's not their parent, not that that would make it any better - this person has taken it upon themselves to kiss this child on the lips.
"You can clearly see the child is not comfortable but still no one jumped in to help this child, or pull this child away and then to the point that he actually says to the child about sucking on his tongue and he actually pokes his tongue out to the child... and still nobody jumps in.
"It really annoys me because it's not cultural, it's disgusting!"
READ MORE: Horrified caller disgusted at Dalai Lama being labelled as a 'predator' after asking boy to 'suck tongue'
Tom responded: "There are red flags absolutely everywhere with this. I don't know that there is any cultural practice that suggest this is in any way relevant, or necessary.
"Do you know what, if it is culturally insensitive to say it's absolutely disgusting, then I think I'm happy to say it."
The Dalai Lama's office said he apologised to the boy and his family "for the hurt his words may have caused".
According to the spokesperson, the boy had asked for a hug before the start of the clip that has been shared online.
READ MORE: Dalai Lama apologises after video shows him asking boy to 'suck my tongue', insisting it was 'innocent and playful'