'Bailed out by Eton': Education Secretary discusses new free schools with Tom Swarbrick
22 August 2023, 12:42 | Updated: 22 August 2023, 12:44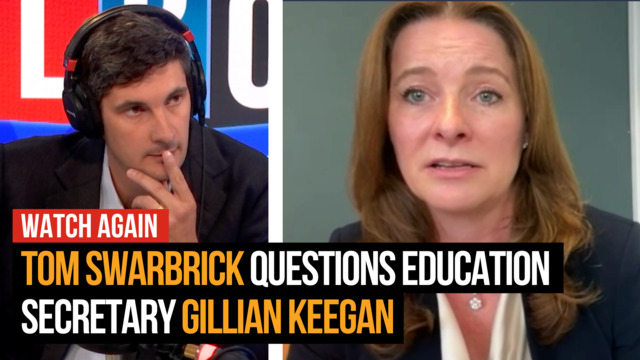 Education Secretary discusses new free schools set to open in disadvantaged areas
The Education Secretary was asked why the Conservatives need Eton's help to "bail out" deprived areas of the country, by Tom Swarbrick.
"What is it about Eton that this Conservative Government seems to love so much?", asked Tom.
The government's approval of three new free schools, set up by Eton, is just one part of a "really big push" to use "innovation in education", replied Gillian Keegan.
"Eton initiated the idea," she added. "They are putting in money but they are putting in a lot of work into the curriculum as well.
"[They are] schools that are there to help people in those areas that have got good grades but perhaps don't get that many opportunities to go to our top universities."
Read more: Elite private schools are 'sitting ducks' for 'woke' attacks on privileged, says former social mobility tsar
Eton has teamed up with Star Academies to create the new colleges in Dudley, Middlesbrough and Oldham.
Each of the sixth-form colleges will admit 240 students a year, all of whom will be selected based on their GSCE grades.
This is part of a larger scheme to open 15 other free selective schools in impoverished areas.
Speaking with Tom, the Education Secretary also hit back at Labour's policies to scrap VAT breaks on fee-paying schools like Eton.
"It is very ill-thought-through," Mrs Keegan said.
"If you look at all 2,350 [fee-paying schools], a lot of those… could be in trouble, and many of them tell us they would be in trouble if that VAT break goes…. Some of those are special educational needs schools as well."