Caller claims it's 'ridiculous' his neighbour Jeremy Clarkson has been denied planning permission
28 February 2023, 21:46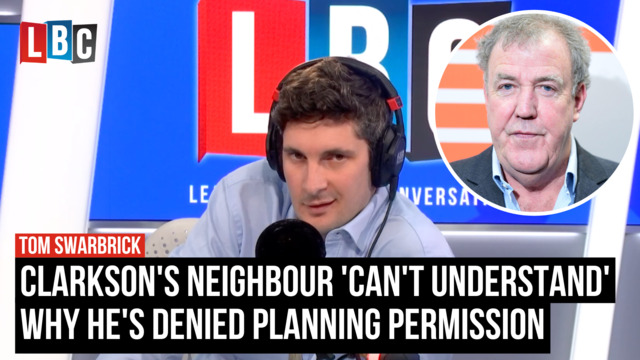 Jeremy Clarkson's neighbour 'can't understand' why Clarkson's denied planning permission
Tom Swarbrick hears from Jeremy Clarkson's neighbour, who "can't understand" why the television personality has been forced to cease business at his restaurant.
Sam in Oxford, who lives down the road from Jeremy Clarkson's farm, told Tom Swarbrick it's "ridiculous" that the former Top Gear presenter has been denied planning permission by the local council.
Mr. Clarkson has appealed the decision to close his Diddly Squat Farm restaurant.
The television personality had been forced to cease all business at his restaurant after guests crowded the area, causing long queues and disruption for locals.
READ MORE: James O'Brien in hysterics as Brexit-voting farmer forced to admit EU is better off
Sam said: "It's ridiculous that he's been denied his planning permission because he asked for a car park, they said no - so everybody started parking up the road, which is a 60mph road.
"Then the police had to come out, no one could move, all the residents were kicking off.
"Now they're saying he can't have his restaurant. I mean if you live next to a farm and you don't want farmers to do well, I can't understand that logic - that's your local community."
"A lot of Londoners moved out our way during the pandemic to escape the city... but there's a lot of panic around what's going to be built, where it's going to be built, and how it's going to be built," Sam shared.
READ MORE: My 17% mobile phone bill increase – is it legal? LBC's Daniel Barnett explains