'Isn't this just decriminalising heroin?': Tom Swarbrick questions Labour MSP over first safe drug consumption room
27 September 2023, 16:48 | Updated: 27 September 2023, 21:49
Labour MSP Paul Sweeney says he has seen first-hand the positive impact of safe drug spaces
Glasgow Labour MSP Paul Sweeney stressed to Tom Swarbrick that safe drug consumption rooms are meant to be a 'non-judgemental space' for both recreational and problematic drug use.
Glasgow have now approved a £2.3 million facility that will allow users to take their own illegal drugs in a hygienic environment with medical staff on hand.
In 2020 activist Peter Krykant led an unsanctioned overdose prevention site which Member of Scottish Parliament Paul Sweeney volunteered at.
Mr Sweeney joined the programme as he was "frustrated" about the lack of support for the drug crisis in Glasgow.
READ MORE: Scotland drug deaths reach new record level
During this unofficial pilot they "supervised just under 900 injections and we reversed nine overdoses involving eight people," the MSP said.
Paul Sweeney disclosed that one of those who attended the site was a who a lawyer who used heroin recreationally.
"Is this not in effect then decriminalising heroin use for anybody?" Tom Swarbrick quizzed.
Mr Sweeney replied: "Well, I mean, in reality, in Scotland, the simple possession of these kind of drugs is rarely prosecuted, in the sense that people don't end up court with it."
"So really, the purpose of the overdose prevention facility is peer to peer. You know, trying to be as low threshold as possible. It's nonjudgmental.
"It's where people can, you know, present themselves, register and indicate which drugs they're taking and will be provided with a safe, hygienic environment to to self-administer those drugs."
The MSP explained how the spaces also offer personal connections for drug users who often don't have anyone else to turn to. They will also be offered further support, in terms of recovery treatment.
READ MORE 'We need to do something different': UK gets first legal drug injecting room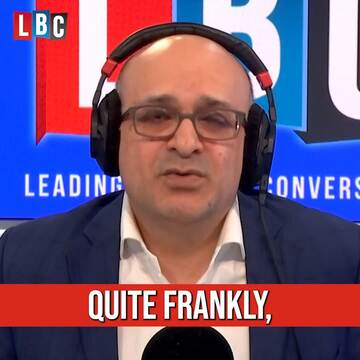 Ali Miraj defends drug consumption rooms
READ MORE: 'The war on drugs has failed': Sir Richard Branson tells LBC there needs to be 'radical' drug reform
Paul Sweeney shared the story of a young girl who came to the site he volunteered at in 2020 and later wrote to them to thank them for "saving her life".
"A young girl who had been abused in care fled her care home and was sleeping rough in Glasgow. She was injecting heroin and cocaine.
"We were worried that when we weren't there she would overdose and die on the streets of Glasgow," Mr Sweeney explained.
"And it was only by that connection, through the unofficial pilot, we're able to connect her to a treatment programme. And she actually wrote in to us last year thanking the volunteers for saving her life by having that connection."