Analysis: Johnson and Biden meet at start of new eras for UK and US
10 June 2021, 06:06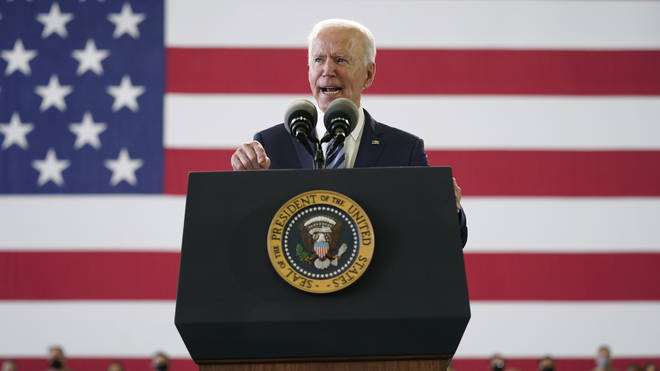 Joe Biden's first foreign visit as US President could scarcely have come at a more significant moment.
With the globe still gripped by a deadly pandemic, the challenges facing the G7 group of developed nations - the annual summit of which Biden will attend in Cornwall from Friday to Sunday - are vast.
While the question of Covid recovery will be at the centre of discussions during the gathering, the hardly trivial matters of climate change, global trade, the threat posed by Russia and China, gender equality, poverty and preparing for future pandemics are all also on the agenda - and a lot more besides.
Read more: Joe Biden touches down in the UK ahead of G7 summit with Boris Johnson
Read more: G7: Government accused of 'betrayal' as 'unvaccinated police travel to Cornwall'
That it is two years since the G7 leaders last met in person, and that Covid means the world is a very different place to when they last did so, boosts the chances that this will not be merely a talking shop summit but rather a meeting at which genuine, world-changing agreements are reached.
Biden will be keen to use his visit to send an unambiguous message about America's reappearance on the world stage following four years of partial withdrawal under Donald Trump.
He will push for renewed co-operation on tackling global warming, and for deeper co-operation between G7 allies in the face of growing threats from foes and rivals.
Discussions will also be held about the resumption of foreign travel between the US and Europe, although the likelihood of an agreement is still weeks away.
His host, Boris Johnson, also has a lot to gain from the gathering.
Read more: Restart travel between UK and US, aviation bosses tell Boris Johnson and Joe Biden
Read more: G7 summit 2021: Dates, Cornwall location and participating countries revealed
Both he and his US counterpart have used the same slogan, "Build Back Better", in recent months.
It refers, of course, to recovery from the Covid pandemic but could just as well relate to the US's emergence from the turmoil of the Trump era, and to Britain's new status outside the European Union.
Both countries are beginning new eras and both leaders will want to exploit the opportunities that brings.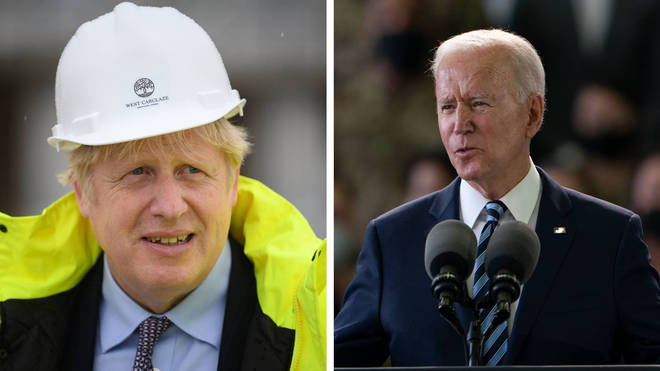 Johnson will hope to use the summit to truly establish himself on the world stage in a way that the pandemic has made difficult until now.
The meeting, in Carbis Bay, will allow him to develop key personal relationships, flesh out his vision of a "Global Britain" and, if all goes to plan, steer the leaders to a series of major agreements on key issues.
There are also risks for the Prime Minister, however. During public appearances, Biden is likely to be quizzed about Brexit and the ongoing problems with trade in Northern Ireland.
Biden often talks about his Irish heritage and his allies have been clear about the importance to his administration of peace and stability in Northern Ireland.
Any barbed comments or veiled threats relating to the UK government's approach could threaten to blow any positive news from the summit off the UK front pages and news bulletins.
The same applies when it comes to the prospective US-UK trade deal.
And there is ice to thaw in the process of building a strong relationship with the new US President, who has previously expressed hostility to Brexit and its architects and even described Johnson as a "physical and emotional clone" of Donald Trump.
The PM has, unsurprisingly, rejected that, and will be eager to use his first face-to-face meeting with his counterpart to dispel such ideas.
The presence of Australian PM Scott Morrison at the summit (he was invited by Johnson, along with the leaders of South Korea, India and South Africa) is also a potential hazard for the PM and his team.
Talks on a UK-Australia trade deal is a hot topic in Cabinet amid rows between advocates of free trade and those, namely Environment Secretary George Eustice, who want to make sure that British farmers are adequately protected if UK markets are opened up to cheap Australian meet.
Keep a close eye on any comments Morrison makes in relation to that deal.
They have the power to reignite tensions in Whitehall and force Johnson into a difficult decision that will inevitably upset some of his own ministers and MPs.
And of course, there is the ever-present issue of relations with the EU.
With both Brussels and London making barely veiled threats over what they may do if the issue around the Northern Ireland protocol isn't resolved swiftly, observers will be keeping a close eye on Johnson's meeting with European Commission President Ursula Von der Leyen, and the language from both camps that follows it.
The lack of face-to-face meetings between world leaders over the last 18 months means there is much for them to catch up on.
Expect a packed schedule, lots of news, agreements and disagreements, rows and rebuttals, some comedy and perhaps a dash of farce. One thing is certain: it won't be dull.