Joe Biden makes Ireland gaffe as he confuses the All Blacks with the Black and Tans
13 April 2023, 08:08 | Updated: 13 April 2023, 09:39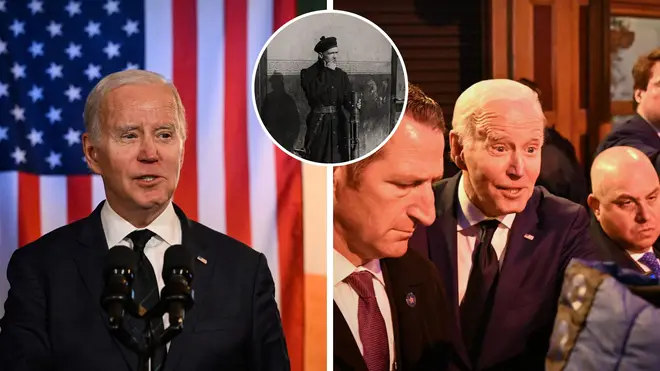 President Biden has made his latest gaffe in Ireland - as he confused the New Zealand rugby team with a group of violent British forces in the Irish Civil War.
Mr Biden, 80, made the remark when in the Windsor Bar pub in Dundalk as part of day two of his four-day trip.
When praising his cousin rugby player Rob Kearney who once beat the feared New Zealand side - he accidentally referenced the 'Black and Tans', a feared British policing squad who became known for extrajudicial killings during the Irish Civil War.
The President called his kin a "hell of a rugby player who beat the hell out of the Black and Tans."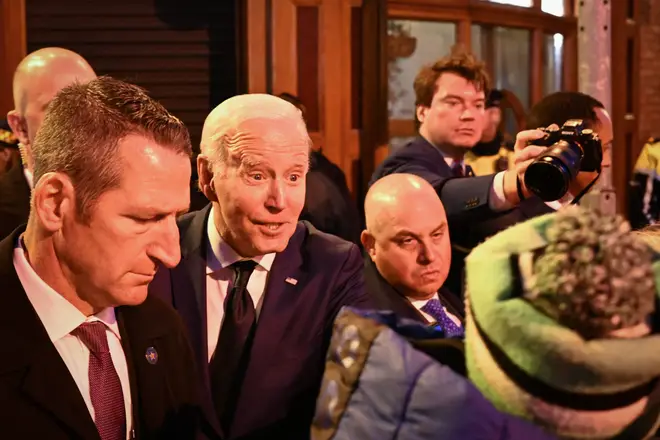 The gaffe came after a politically-sensitive speech earlier in the day in Belfast at Ulster University where he called on Stormont leaders to resume the power-sharing agreement and reinstate Northern Ireland's Executive.
In the speech in front of 400 attendees, he hailed the "tremendous progress" which had been made since the Good Friday Agreement peace accords were signed in April 1998.
The President added that Northern Ireland has been "transformed by peace; made technicolour by peace; made whole by peace".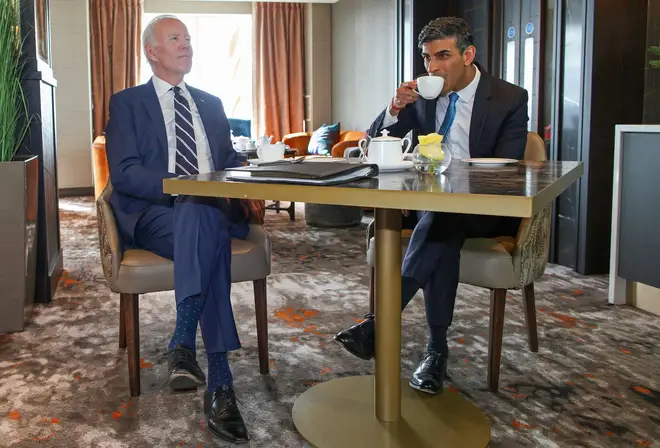 Read More: Joe Biden celebrates Irish roots in pub speech during visit to ancestors' home county
Read More: 'Enemies of peace will not prevail,' says Joe Biden in Belfast speech after White House denies he is 'anti-British'
Mr Biden arrived on Wednesday in the Republic of Ireland, having visited Northern Ireland to mark the 25th anniversary of the Good Friday peace agreement.
He was greeted on his arrival at Dublin airport by Taoiseach Leo Varadkar, before travelling to meet distant relatives in the Cooley Peninsula and Carlingford in County Louth.
The US leader said Irish people were the "only people in the world in my view who are actually nostalgic about the future".
In Belfast, Mr Biden said he was there to "listen" as he had a cup of tea with Prime Minister Rishi Sunak.
The pair met for around 45 minutes on Wednesday, with Mr Sunak telling broadcasters that the pair spoke about the "incredible economic opportunities" for Northern Ireland.
The Prime Minister described the UK's relationship with the US as being "in great shape", describing them as "very close partners and allies".