Joe Biden celebrates Irish roots in pub speech during visit to ancestors' home county
12 April 2023, 23:45 | Updated: 13 April 2023, 02:46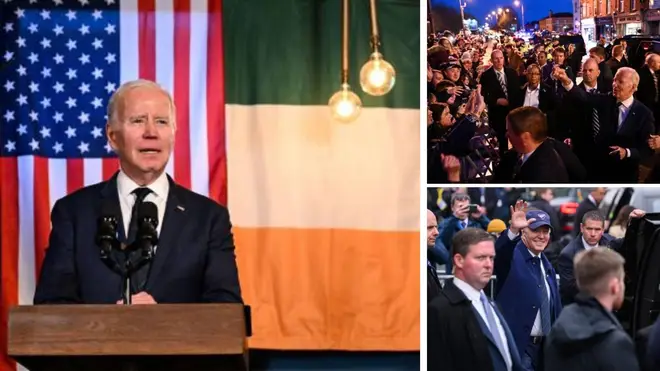 US President Joe Biden celebrated his Irish roots during a speech in a pub in County Louth, as he said visiting the area his great-great-grandfather hailed from "feels like coming home".
Mr Biden arrived on Wednesday for a three-day trip to the Republic of Ireland, having visited Northern Ireland to mark the 25th anniversary of the Good Friday peace agreement.
He was greeted on his arrival at Dublin airport by Taoiseach Leo Varadkar, before travelling to meet distance relatives in the Cooley Peninsula and Carlingford in County Louth.
Mr Biden later gave a speech at the Windsor Bar in Dundalk.
The US premier said Irish people were the "only people in the world in my view who are actually nostalgic about the future".
Read more: 'Some reconciliation' as Harry will make coronation - but Meghan's presence would've been 'uncomfortable,' say experts
Read more: Meghan won't go to King Charles's coronation as it 'clashes with Archie's fourth birthday'
He added: "It is because, more than anything in my experience, hope is what beats in the heart of all people and in particular in the hearts of the Irish.
"Every action is about hope we can make things better."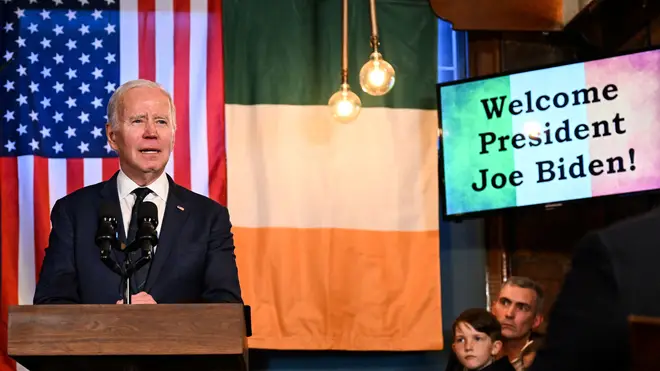 It comes after his landmark visit to Belfast, where Mr Biden defiantly declared in a speech that Northern Ireland "will not go back" and that "enemies of peace" will not prevail.
"The simple truth is peace and economic opportunity go together," said Mr Biden as he said: "Northern Ireland will not go back, pray god."
He said the "dividends of peace" could be seen all around in the city.
"Peace was not inevitable," he said. "The negotiations had 700 days of failure and one day of success."
But he said the American people with the Irish people "every step of the way". "There is a large population that is invested in what happens here.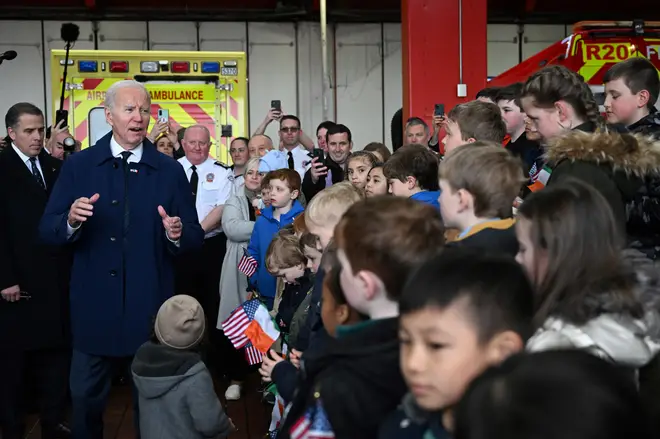 "Preserving the Good Friday agreement is a priority for democrats and republicans in the US.
"This is something that brings Washington together, it brings Americans together."
In his speech he also urged a return to power sharing in Stormont in a carefully worded segment.
Earlier the White House insisted Mr Biden is not anti British - as he began a series of engagements on the island of Ireland.
Read more: Grenfell families settle claims against building firms but say that justice will still be served
Read more: Hero mum fights for life after pushing pram out of the way of 'hit-and-run' driver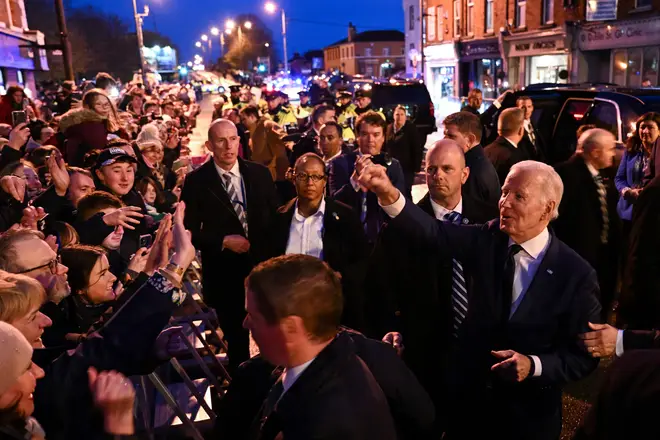 In Belfast, Mr Biden said he was there to "listen" as he had a cup of tea with Prime Minister Rishi Sunak.
The pair met for around 45 minutes on Wednesday, with Mr Sunak telling broadcasters that the pair spoke about the "incredible economic opportunities" for Northern Ireland.
The Prime Minister described the UK's relationship with the US as being "in great shape", describing them as "very close partners and allies".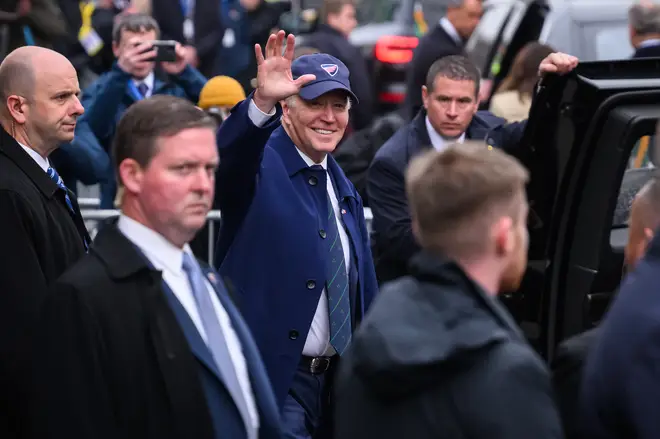 The White House said he would use the trip to reaffirm support for the Good Friday Agreement, 25 years after the peace deal was reached, and to encourage the restoration of powersharing - something that collapsed due to the DUP's protest over post-Brexit rules.
At the meeting with Mr Sunak in a Belfast hotel, Mr Biden faced a volley of questions from reporters - including if he had a message for Northern Irish parties and why he was not discussing a trade deal while on his visit to the UK.
But he declined to answer, instead commenting on the "heck of a view" from the upper floors of the Grand Central Hotel.
Mr Sunak, smiling, sat at a table with the US president as the pair met over cups of tea.
Mr Biden, who is intensely proud of his Irish ancestry, has been criticised by senior DUP figures, with MP Sammy Wilson claiming the president "has got a record of being pro-Republican, anti-Unionist, anti-British" while former first minister Baroness Foster has suggested he "hates the UK".
But the suggestion he was anti-British was rejected by Amanda Sloat, senior director for Europe at the US National Security Council, who said: "It's simply untrue - the fact that the president is going to be engaging for the third time in three months, and then again next month and then again in June, with the Prime Minister of the UK shows how close our co-operation is with the UK.
"And before that, the president had numerous calls and meeting with prime minister Johnston, and prime minister Truss as well."
Ms Sloat went on: "President Biden obviously is a very proud Irish-American, he is proud of those Irish roots, but he is also a strong supporter of our bilateral partnership with the UK, and not only on a bilateral basis within Nato, the G7, on the UN Security Council, and we truly are working in lockstep with the British Government on all of the pressing global challenges that our countries are facing."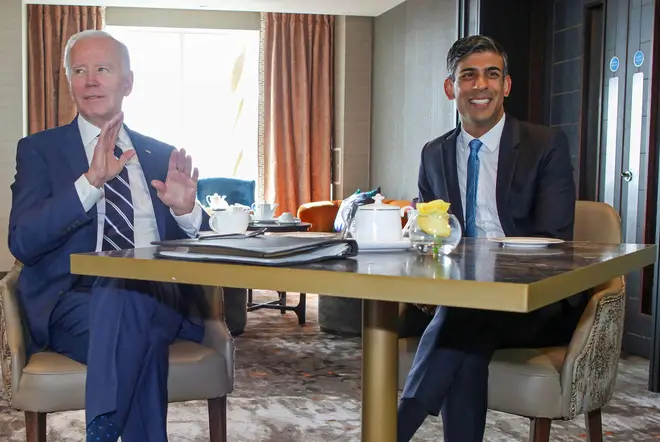 The US president then met the leaders of Northern Ireland's main political parties before delivering an address at Ulster University's new £350 million Belfast campus.
The Stormont powersharing Assembly, which was established in the peace deal, is not currently operating due to the objections of the DUP, the largest unionist party.
However, the White House said there will not be formal talks with Northern Ireland's political leaders.
Ms Sloat said the US leader would like to see the devolved institutions back up and running, but really the main focus of his visit is to mark the anniversary of the Belfast/Good Friday Agreement.
A major security operation was in place for Mr Biden's visit, with more than 300 officers from the rest of the UK being drafted into Northern Ireland.
Mr Biden is expected to visit Irish president Michael D Higgins on Thursday.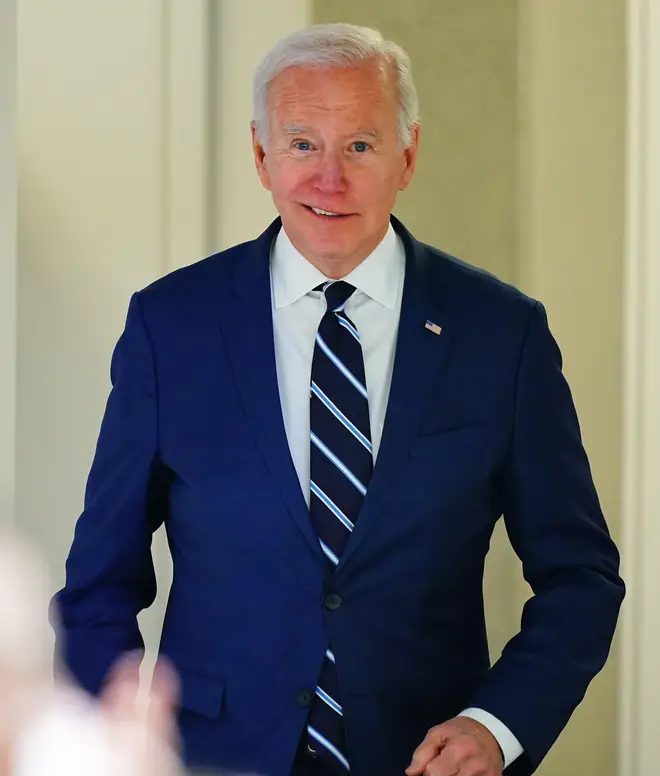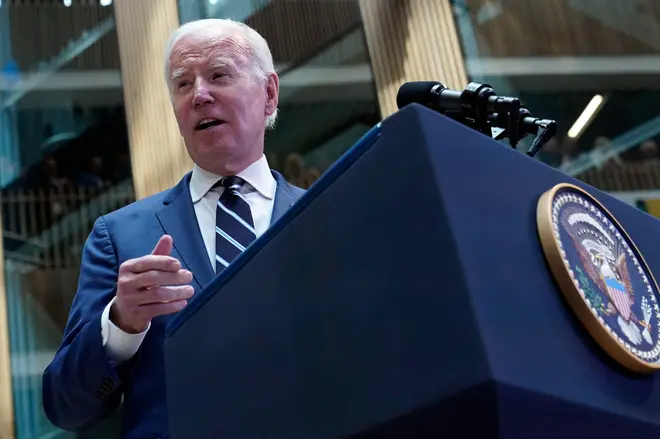 The White House said Mr Biden will take part in a tree-planting ceremony and the ringing of the Peace Bell at the president's official residence, Aras an Uachtarain.
Following that ceremony, he will meet again with Taoiseach Leo Varadkar, whom Mr Biden recently hosted for St Patrick's Day.
Mr Biden will address the Irish parliament and attend a banquet dinner at Dublin Castle on Thursday evening.
The US president's trip will conclude with a visit to Co Mayo, where he has also connected with distant cousins, on Friday.
He will tour the Sanctuary of Our Lady of Knock and visit the North Mayo Heritage and Genealogical Centre's family history research unit.
Mr Biden will then make a public speech at St Muredach's Cathedral in Ballina - the president's great-great-great grandfather Edward Blewitt sold 27,000 bricks to the cathedral in 1827, which helped him to afford to buy tickets for himself and his family to sail to America decades later in 1851.