Boris Johnson holds press conference amid fury at 'Tory sleaze' claims
10 November 2021, 17:35 | Updated: 10 November 2021, 17:36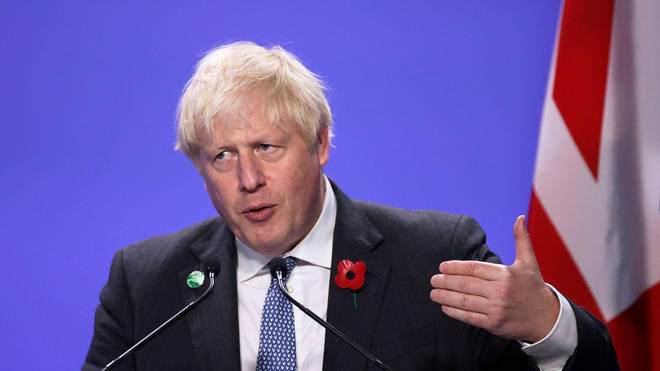 Boris Johnson has held a press conference at COP26 in Glasgow, facing ongoing accusations of "Tory sleaze".
Listen live to the press conference on Global Player from 4.30pm
The embattled prime minister is under major scrutiny in the wake of his attempt to support Conservative MP Owen Paterson, who has announced his resignation.
He was found to have committed an "egregious" breach of lobbying rules by a parliamentary standards committee.
READ MORE: Geoffrey Cox: 'It's up to voters to decide if my job outside Parliament is reasonable'
READ MORE: Met Police 'considering' call to investigate 'cash for honours' Tory scandal
A backlash forced the Government into a U-turn over its support for him - but anger has swelled as more focus is applied to MPs' second jobs.
In particular, former attorney general Geoffrey Cox's reported earnings for his work with the British Virgin Islands have been criticised.
Mr Johnson held his press conference from 4.30pm at the COP26 climate talks in Glasgow on Wednesday - though the crucial environmental get-together was unlikely to take centre stage after the last week.
The criticism has shown no sign of relenting, with The Times reporting Sir Geoffrey used his Westminster office to remotely advise the British Virgin Islands when a corruption probe was started by the Foreign Office.
The Tory has earned hundreds of thousands of pounds for his work with the territory, and allegations have been levied that he was based out in the Caribbean and had been using proxy voting rules under lockdown to participate in the Commons remotely.
He said in a statement that he does not believe he has breached parliamentary rules, adding that he will co-operate with an investigation by the Parliamentary Commissioner for Standards.
A statement on his website said: "He was asked to advise the Attorney General and the elected Government of BVI, a British Overseas Territory, in a public inquiry into whether corruption, abuse of office or other serious dishonesty may have taken place in recent years in the Virgin Islands and to carry out a review of its systems of government in preparation for that Inquiry.
"Prior to accepting the role, he sought and obtained the approval of the Office of the Attorney General of England and Wales that there would be no conflict of interest with his former role as Attorney General.
"This is not to 'defend' a tax haven or, as has been inaccurately reported, to defend any wrongdoing but to assist the public inquiry in getting to the truth.
"Sir Geoffrey regularly works 70-hour weeks and always ensures that his casework on behalf of his constituents is given primary importance and fully carried out."
The statement added: "Sir Geoffrey's view is that it is up to the electors of Torridge and West Devon whether or not they vote for someone who is a senior and distinguished professional in his field and who still practices that profession."
It continued: "As for the allegation that he breached the parliamentary code of conduct on one occasion, on 14 September 2021, by being in his office while participating in an online hearing in the public inquiry and voting in the House of Commons, he understands that the matter has been referred to the Parliamentary Commissioner and he will fully cooperate with her investigation. He does not believe that he breached the rules but will of course accept the judgment of the Parliamentary Commissioner or of the Committee on the matter."
Deputy Labour leader Angela Rayner has said the alleged use of the office appeared to be "an egregious, brazen breach of the rules" and has written to standards commissioner Kathryn Stone requesting a formal investigation.
She said: "A Conservative MP using a taxpayer-funded office in Parliament to work for a tax haven facing allegations of corruption is a slap in the face and an insult to British taxpayers.
"The Parliamentary Commissioner for Standards must investigate this, and the Prime Minister needs to explain why he has an MP in his parliamentary party that treats Parliament like a co-working space allowing him to get on with all of his other jobs instead of representing his constituents."
Sir Geoffrey, as of Wednesday morning, does not feature on an online list of MPs alleged to have breached the code of conduct. An appearance on the list is the commissioner's first step to confirm that a complaint has been received.