Covid jabs mandatory for all NHS and social care workers, Sajid Javid confirms
9 November 2021, 13:54 | Updated: 9 November 2021, 15:12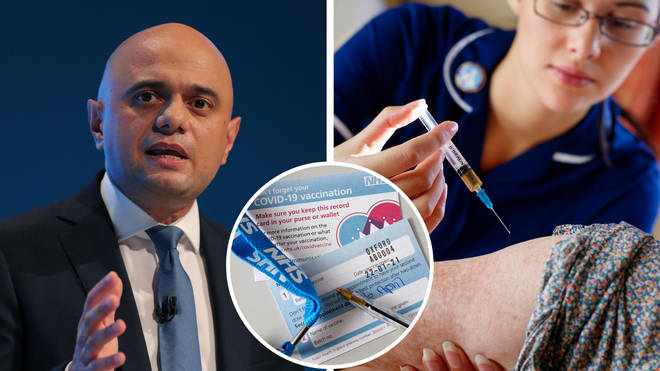 NHS staff in England must be fully vaccinated against Covid, the Health Secretary has announced.
Speaking in the House of Commons this afternoon, Sajid Javid confirmed jabs will be mandatory for all NHS and social care workers in England.
According to Chris Hopson, head of NHS Providers, between 80,000 and 100,000 NHS workers in England are currently unvaccinated.
Staff will have until April 1 next year to receive both vaccines before they face losing their job.
But the Health Secretary confirmed there will be exemptions for those who cannot receive the Covid vaccine for medical reasons.
Read more: Raab: The whole Government regrets how we handled 'Tory sleaze' row
Read more: Boris Johnson slammed for 'irresponsibly parading' around hospital unmasked
Making a Covid-19 update statement in the Commons, Mr Javid said: "Having considered the consultation responses, the advice of my officials and NHS leaders including the chief executive of the NHS, I have concluded that all those working in the NHS and social care will have to be vaccinated.
"We must avoid preventable harm and protect patients in the NHS, protect colleagues in the NHS and of course protect the NHS itself."
According to the Health Secretary, figures show 90 per cent of NHS workers have received at least two doses of the vaccine but in some trusts it is as low as 80 per cent.
The Department of Health and Social Care said the regulations cover health and social care workers who have direct, face-to-face contact with people while providing care, such as doctors, nurses, dentists and domiciliary care workers.
They will also apply to ancillary staff such as porters or receptionists who may have social contact with patients but are not directly involved in their care.
Mr Javid told MPs the decision to make Covid-19 vaccinations compulsory for NHS staff does not mean the Government does not recognise concerns about "workforce pressures" this winter.
He added: "Allow me to be clear that no-one in the NHS or care that is currently unvaccinated should be scapegoated, singled out or shamed.
"That would be totally unacceptable. This is about supporting them to make a positive choice to protect vulnerable people, to protect their colleagues. And of course to protect themselves."
The move comes after care home workers in England were given until Thursday to get vaccinated.
Mr Javid said the decision to make jabs mandatory for care home staff meant that the number of people working in care homes who have not had at least one dose had fallen from 88,000 to just 32,000 at the start of last month.
Yesterday a care worker shared an emotional video this week after she lost her job because she did not want to get vaccinated against coronavirus. Louise Akester, who has reportedly worked in the care sector for 14 years, shared the tearful video from her car after completing her final shift.