Donald Trump turns 77 today, though maybe he doesn't have much to celebrate, writes Jon Sopel
14 June 2023, 06:17 | Updated: 14 June 2023, 06:20
So would you do if you had suffered the humiliation and indignity of being arrested and having to go to court to face 37 criminal charges over your handling of confidential documents that could carry a lengthy prison sentence?
Hang your head in shame? Go home and kick the cat? Get drunk and be consumed by remorse?
Not if your Donald Trump. He went straight from the downtown federal courthouse in Miami to one of the most famous restaurants in 'little Havana', Versailles.
And surprisingly delighting the Hispanic crowd who were there. Donald Trump beamed – and promised all the patrons free food.
He didn't actually stay around long enough to buy everyone dinner, but that's a quibble.
What he did was to move effortlessly from defendant in court to campaigner for the next presidential election.
Seamlessly. Some might say shamelessly.
Read more: Donald Trump labels 'sham' indictment 'another attempt to rig and steal an election' after historic court appearance
Read more: 'We have a rigged country': Donald Trump slams state of America during cafe visit after historic court appearance
The important thing to remember is that for Donald Trump the legal strategy must run in tandem with the political one; the one feeds off the other.
The thousands of Trump supporters who had descended on Miami – and potentially the millions around the US, watching events unfold on their TVs – support him with extraordinary fervour.
And if Trump can create a sense of injustice in what is being thrown at him, that he is a victim of persecution, then maybe – just maybe – it will encourage his supporters to dip into their pockets and contribute towards his political campaign.
Of course, what happens in the justice system should be entirely divorced from politics.
But it is a smart strategy to try to win the battle in the court of public opinion. Particularly in Miami, where he is on a concerted charm offensive.
After all, it is going to be a jury of 12 men and women from the state who will decide his fate. And if through a mix of charm offensive and throwing sand in the gears of the justice system Donald Trump can persuade one juror to have reasonable doubt, then he walks free.
Last night Trump flew to his Bedminster golf course to speak at a $ 100,000-a-head fundraising dinner. And I think you would have to be a dupe not to arch an eyebrow at what he said to explain why he still had all those top-secret documents. He told his loyal audience "I hadn't had a chance to go through all the boxes."
And he went on: "It's a long tedious job. Takes a long time, which I was prepared to do, but I have a very busy life. I've had a very busy life. They make it more busy, because you're always fighting."
I would just quietly ask – in that very busy life – how many rounds of golf have you squeezed in since you left office? Word is you play more or less daily.
Happy birthday btw. Donald Trump is 77 today. Though maybe with not that much to celebrate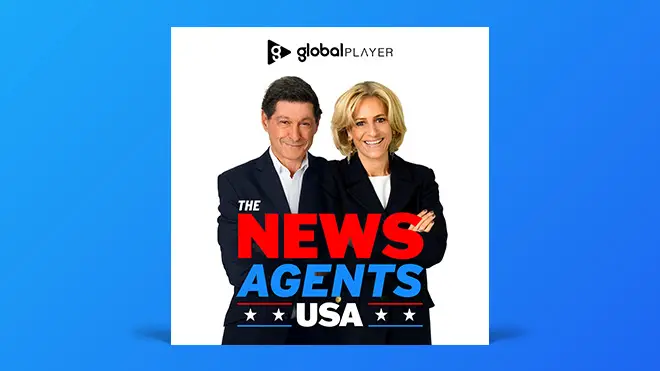 The News Agents USA: Join Emily Maitlis and Jon Sopel in a new weekly podcast that unravels everything you need to know about the world of US politics and how it affects you.
From decoding what happens inside the corridors of power at the White House to breaking down what an Electoral College actually does, this is a podcast that translates US politics into plain English.
All of it delivered with Emily and Jon's astute analysis, world-class insight and wry sense of humour.
Episodes are available every Tuesday exclusively on Global Player and all other platforms every Wednesday.