Dozens of Hamas members rounded up by Israeli security forces in West Bank village raids
10 November 2023, 11:15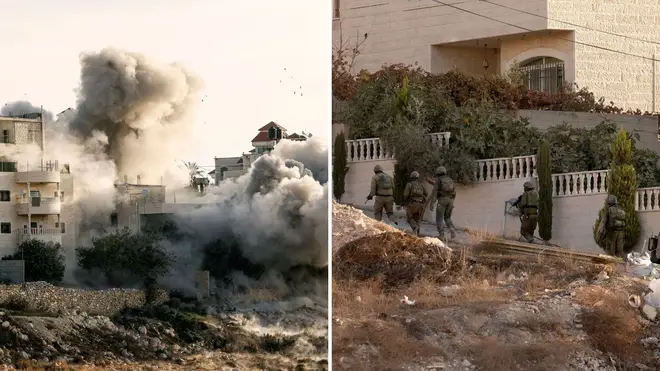 Dozens of Hamas members have been rounded up by armed officers in a raid on a West Bank village.
Israel's security service, Shin Bet, rounded up 52 Hamas members across several locations in Barta'a, which straddles Israel and the West Bank.
Images from the raid showed armed Shin Bet and Magev officers storming a building on the Palestinian side. They charged upstairs to where the Hamas members were hidden away.
Members of the group were later seen lying face-down with their hands behind their heads as an armed officer stood over them.
The men were then blindfolded and left waiting in a kneeling position before being marched through the streets.
Israeli security forces are also said to have carried out a raid in the West Bank city of Hebron, blowing up two homes said to belong to members of Hamas.
Read more: 'I think I need to be a bit more clued up': Palestine protesters say they 'don't believe' Hamas attacked Israel
Read more: Israel to begin four-hour 'humanitarian pauses' in Gaza but 'no chance' of ceasefire, Biden says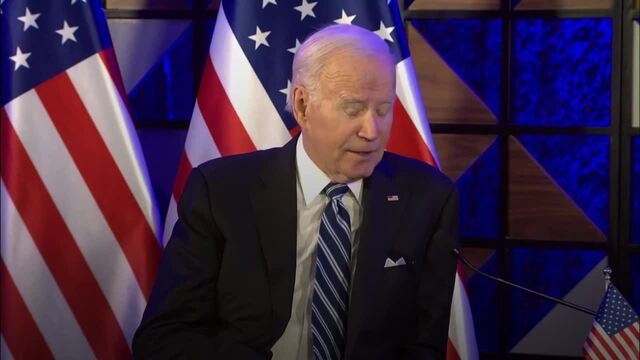 Israel 'agrees four-hour daily humanitarian pauses so civilians can flee Gaza'
It comes after Hamas released hostage videos of a 13-year-old boy and elderly woman who were taken during the October 7 attack.
The Palestinian Islamic Jihad (PIJ) group has since shared 'sign of life' videos of each of the captives.
The PIJ, which is separate from Hamas but considers them allies, shared another video claiming it would release the pair for "humanitarian and medical reasons" if certain measures were met.
But Israel has refused to respond to the PIJ's release claims.
"This is a sign of life, and it is important," Israeli military spokesperson Rear Admiral Daniel Hagari said.
"I will, for the moment, ignore the question of their release... We will be the first to update the families before anything happens."