'I've always respected the operational independence of the police', education minister says amid Braverman 'bias' row
10 November 2023, 09:01 | Updated: 10 November 2023, 10:59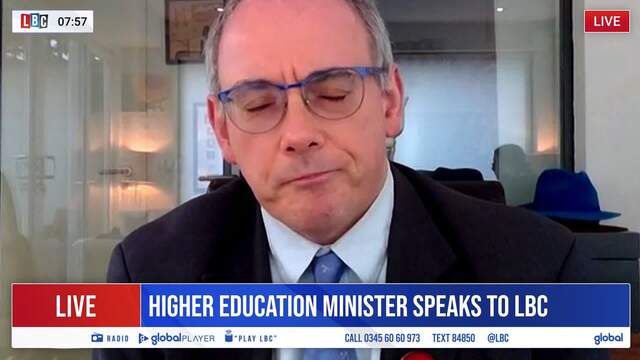 'The Home Secretary is doing her job': Robert Halfon on Suella Braverman
The education minister has said he has 'always respected the operational independence of the police' as Suella Braverman faces backlash for accusing the Met of 'playing favourites'.
Speaking on LBC's Nick Ferrari at Breakfast, Mr Halfon said he respects the police's operational independence as he stressed the need for a "safe and secure remembrance service" this weekend.
His comments are at odds with recent remarks made by Home Secretary Suella Braverman, who accused the police of "playing favourites" for allowing pro-Palestine protests to go ahead this remembrance weekend.
Prime Minister Rishi Sunak is facing mounting pressure from Tory MPs to sack the Home Secretary after she failed to sign off the incendiary article with Number 10.
Asked by Nick Ferrari whether he felt the police were showing favouritism over the protests, Mr Halfon said: "I think the police are operationally independent.
"I think that the police have been right to arrest those who are extreme, I think it's perfectly right that people may have questions about what typically happens in a demonstration.
"I've always, always respected the operational independence of the police, they will be held accountable for whatever goes on this weekend. We want a safe and secure remembrance service."
Read more: Police to form Armistice Day 'ring of steel' as Met drafts in more than 1,000 officers to curb remembrance disruption
Read more: Senior police chief says politics won't stop police doing their job on Palestine protests, as he defends independence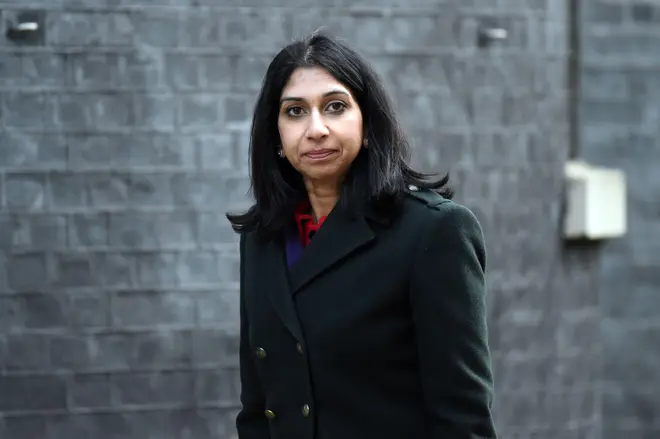 Pressed on whether Ms Braverman should be sacked for her unauthorised comments, he added: "The Prime Minister has made it absolutely clear in terms of this article, as you say, that it wasn't signed off. But there is an internal process in number 10 to look at what actually happened. "
Ms Braverman's comments have split the Conservative Party, with some MPs privately voicing outrage over their tone and content, while others gave her their backing.
Conservative MP Sir Bob Neill told LBC's Andrew Marr that Ms Braverman had "compromised her position" with the article.
The main opposition parties have also suggested that Rishi Sunak should fire Ms Braverman.
Labour also pointed out that she had broken the ministerial code, which is a written document setting out standards of conduct expected of ministers. Ms Braverman has already resigned as Home Secretary once for breaching the ministerial code, in her first stint as Home Secretary under Liz Truss last year.
Downing Street is conducting an internal investigation into whether Ms Braverman broke the code by not getting her article signed off fully. If it finds there was a breach, Mr Sunak may either demand an apology, or fire her.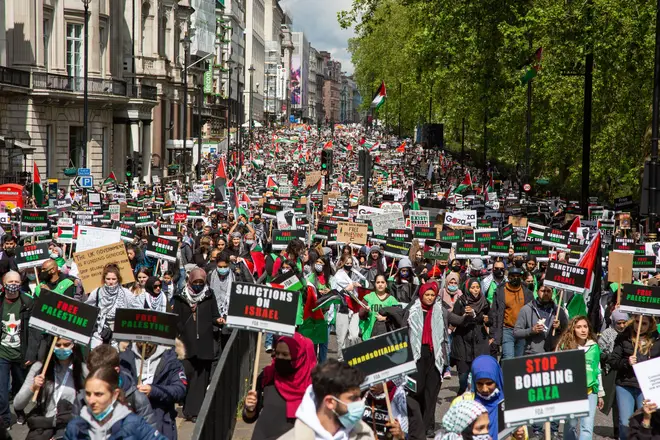 It comes as more than 1,000 officers have been drafted in from forces across the country to assist the Metropolitan Police during remembrance weekend.
A pro-Palestine march scheduled for the same day has been controversial because it coincides with the day of solemn remembrance for Britain's war dead.
Police chief Sir Mark Rowley, however, said that he will not formally ask the Home Secretary to ban the protest - despite facing mounting political pressure to do so.
He said that the force does not believe the legal threshold to ban the protest has been met.
Gavin Stephens, the chair of the National Police Chiefs' Council (NPCC), said political interference would not stop police from making their own decisions on protests.
Mr Stephens said: "The issues we're dealing with are divisive, but our job is to keep the King's peace. The decisions we take are not easy ones, but we do so impartially, without fear or favour and in line with the law.
"We the need the space to make the operational decisions in an independent manner and that is set out very clearly in the Policing Protocol Order which was refreshed earlier this year.
"We don't have a professional view on political commentary that's made - that's the point of independence. It's important we don't take those factors into account, and we do things by the law and based on our intelligence."