Emma Raducanu plans to frame Queen's letter: 'It meant everything to me'
11 September 2021, 23:14 | Updated: 13 September 2021, 20:18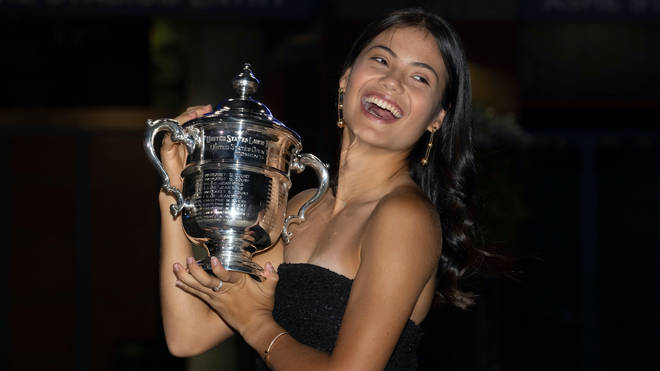 Emma Raducanu has said she will frame her letter of congratulations from the Queen following her US Open win.
The 18-year-old is coming to terms with her new-found celebrity after her sensational victory against Leyla Fernandez 6-4 6-3 in an enthralling final at Flushing Meadows on Saturday.
The Queen congratulated Ms Raducanu on her win, saying: "It is a remarkable achievement at such a young age, and is testament to your hard work and dedication.
Read more: PM set to scrap powers to enforce some 'draconian' Covid measures
Read more: 'Our lives would be changed forever': World reflects 20 years on from 9/11 attacks
"I have no doubt your outstanding performance, and that of your opponent Leylah Fernandez, will inspire the next generation of tennis players.
"I send my warmest good wishes to you and your many supporters."
Raducanu, in an appearance on US breakfast show Good Morning America, said: "It's absolutely insane, it's incredible, I was so honoured and grateful to receive a note from Her Majesty.
"It meant everything to me and I will probably frame that letter."
Meanwhile, Prime Minister Boris Johnson today praised her for showing "resilience under pressure" during the match.
Raducanu was sitting her A Levels little more than three months ago having not played a competitive match for more than a year but she has burst onto the big stage like no-one before her.
On Monday she officially rose to number 23 in the WTA rankings - having been 150 a fortnight ago. She is also now British No 1.
Fernandez is only two months older, having celebrated her 19th birthday earlier this week.
But the Canadian, who had claimed a host of big scalps, including defending champion Naomi Osaka, had no answer to the brilliance of Raducanu, who won in an hour and 51 minutes.
Her achievement is unprecedented. No qualifier had ever reached a slam final before while she is the first woman ever to win a title in as few as two tournaments, and the youngest since Maria Sharapova triumphed at Wimbledon in 2004.
While Raducanu's Wimbledon breakthrough two months ago showed she could potentially be a grand slam winner in the future, no one expected it to come so soon.
Read more: 'My thoughts are with the victims': Queen's message to Joe Biden on 9/11 anniversary
Read more: Prince Andrew served legal papers over Virginia Giuffre sexual assault case
She said her new-found mental strength was key to her victory after she had to retire from her fourth-round match at Wimbledon against Ajla Tomljanovic due to breathing difficulties.
"I took away from that that for me it was more of a physical issue," she added. "I think that to win a grand slam you need a lot of mental strength so I think the resilience part of it sort of speaks for itself.
"I needed to go through all of that to win a slam, but physically I've still got a lot of work to do because I'm still very new to the game and I haven't had that time to really develop.
"But having played on the tour for the last four or five weeks I think naturally with each match and tournament I've played I've increased my endurance.
"I think just the sheer amount of matches I played over the last four or five weeks, with each one I was building in confidence and with each one it gave me more and more of a free swing to go for my shots and be more aggressive.
"I was playing some extremely great opponents; the Olympic champion, top 20 players, and when you play those players you definitely need to raise your game. It's almost like natural selection; if you don't, you lose.
"So it was really fun to experience. I'm just super happy with the week, of course."
Mr Johnson said of her victory: "I think it was stunning and I am sure, like everybody else, I watched the whole thing with my heart in my mouth.
"I couldn't believe how hard they were walloping that ball.
"An incredible sort of resilience under pressure, that was what came through to me.
"There were so many moments where you thought the match was going to go the wrong way and then she held it together - it's just fantastic. So, many, many congratulations."