Final US evacuation flight departs Kabul as Taliban hails 'full independence'
30 August 2021, 21:37 | Updated: 31 August 2021, 00:05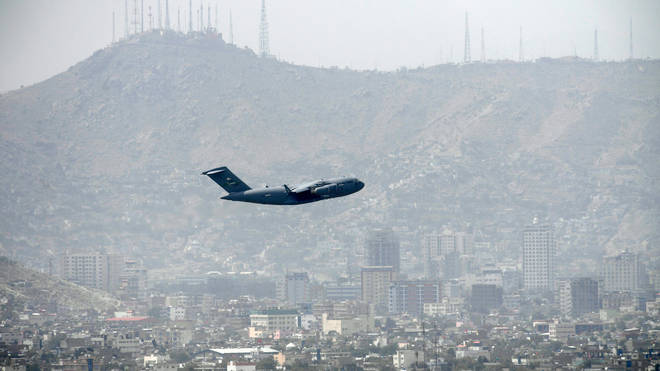 The last US evacuation flight has left Kabul airport, the Pentagon has confirmed.
It brings 20 years of US military presence in the country to a close.
Speaking at a news conference at the Pentagon, the head of Central Command, General Kenneth McKenzie, said: "I'm here to announce the completion of our withdrawal from Afghanistan and the end of the military mission to evacuate American citizens, third country nationals and vulnerable Afghans.
"The last C-17 lifted off from Hamid Karzai International on August 30 this afternoon... and the last manned aircraft is now clearing the airspace above Afghanistan."
He said the flight departed at 3:29pm (EDT), meaning it left Afghanistan at one minute before midnight local time.
Gen McKenzie said the withdrawal "signifies both the end of the military component of the evacuation, but also the end of the nearly 20 year mission that began in Afghanistan shortly after September 11 2001".
He added: "The cost was 2,461 US service members and civilians killed and more than 20,000 who were injured.
"Sadly, that includes 13 US service members who were killed last week by an ISIS case suicide bomber.
"We honour their sacrifice today as we remember their heroic accomplishments."
He said there were "no words" that could "capture the full measure of sacrifices and accomplishments" of the US military in Afghanistan, but that he was "proud" to have been part of it.
Gunfire was reportedly heard across Kabul in celebration of the departure of the final US flight.
In a tweet, Taliban spokesperson Zabihullah Mujahid said Afghanistan had "gained its full independence".
In a statement, US President Joe Biden said: "The past 17 days have seen our troops execute the largest airlift in US history, evacuating over 120,000 US citizens, citizens of our allies, and Afghan allies of the United States.
"They have done it with unmatched courage, professionalism, and resolve.
"Now, our 20-year military presence in Afghanistan has ended."
He said the decision to withdraw from the country was done on a "unanimous recommendation of the Joint Chiefs and of all of our commanders on the ground" and that the Secretary of State continue working with international partners to "ensure safe passage for any Americans, Afghan partners, and foreign nationals who want to leave Afghanistan".
He added that the world would "hold [the Taliban] to their commitment to offering safe passage to anyone wishing to leave".
Read more: Ten members of one Afghan family killed in US drone strike - reports
Read more: Foreign Sec calls for international support to help at-risk Afghans escape the Taliban
U.S. Special Representative for Afghanistan Reconciliation Zalmay Khalilzad tweeted that the departure of US troops gave Afghans "a moment of decision & opportunity".
"Our war in Afghanistan is over. Our brave Soldiers, Sailors, Marines, and Airmen served with distinction and sacrifice to the very end. They have our enduring gratitude and respect," said Mr Khalilzad.
"With the departure of our military & those of the many partners who stood w/ us, Afghans face a moment of decision & opportunity. Their country's future is in their hands. They will choose their path in full sovereignty. This is the chance to bring their war to an end as well.
"The Taliban now face a test. Can they lead their country to a safe & prosperous future where all their citizens, men & women, have the chance to reach their potential? Can Afghanistan present the beauty & power of its diverse cultures, histories, & traditions to the world?
"This long war has shaped Americans & Afghans in many ways good & bad."
He added: "Afghans & Americans will each continue our own paths, but side by side. We wish a prosperous future for Afghans, one born of peace and stability."
3/5 The Taliban now face a test. Can they lead their country to a safe & prosperous future where all their citizens, men & women, have the chance to reach their potential? Can Afghanistan present the beauty & power of its diverse cultures, histories, & traditions to the world?

— U.S. Special Representative Zalmay Khalilzad (@US4AfghanPeace) August 30, 2021
The US has been rushing to evacuate Afghanistan ahead of the deadline of August 31.
Thousands of troops spent two weeks protecting a hurried and risky airlift of tens of thousands of Afghans, Americans and others seeking to escape a country once again ruled by Taliban militants.
Gen McKenzie said 123,000 civilians had been evacuated by the US, and confirmed there were no evacuees left at Kabul airport.
However, he said some American citizens who wanted to leave Afghanistan remain in the country following the US departure because not all Americans were able to make it to Kabul airport to board flights.
Gen McKenzie said that, although the "vast majority" of Americans who wanted to leave the country had done so, some still remained and the effort to evacuate them would now fall on diplomatic channels.
Read more: Head of armed forces 'gaslighting Afghan women' with Taliban comments, Tory MP insists
Read more: Veteran caller pledges spare room to Afghans fleeing Taliban regime
The final few days of the US withdrawal has been fraught.
On Thursday an explosion at the international airport in Kabul killed 13 US military personnel and injured a further 18.
In retaliation the US launched several drone strikes, one of which killed the Isis-K planner believed to be behind the Kabul attack.
Several rockets were then fired at Kabul's international airport on Monday.
The US said it intercepted as many as five, believed to have been fired from a car in the capital's Chahr-e-Shaheed neighbourhood.
The so-called Islamic State group's offshoot in Afghanistan, Isis-K, claimed responsibility for both the airport bombing and the rockets.
The completion of the US withdrawal comes just days after the UK finished its own evacuation mission in Afghanistan.
The operation lifted 15,000 people from Kabul in a fortnight, in what was the largest operation since the Second World War.
Among those fleeing were approximately 2,200 children, who have now been lifted to safety - the youngest of whom was just one day old.
Reflecting on the operation, Boris Johnson said: "Twenty years ago, in the wake of the 9/11 attacks, the first British soldier set foot on Afghan soil aiming to create a brighter future for the country and all its people.
"The departure of the last British soldiers from the country is a moment to reflect on everything we have sacrificed and everything we have achieved in the last two decades.
"The nature of our engagement in Afghanistan may have changed, but our goals for the country have not.
"We will now use all the diplomatic and humanitarian tools at our disposal to preserve the gains of the last twenty years and give the Afghan people the future they deserve."
In a video clip uploaded to Twitter on Sunday morning, Mr Johnson said: "UK troops and officials have worked around the clock to a remorseless deadline in harrowing conditions.
"They have expended all the patience and care and thought they possess to help people in fear for their lives.
"They've seen at first-hand barbaric terrorist attacks on the queues of people they were trying to comfort, as well as on our American friends.
"They didn't flinch. They kept calm. They got on with the job.
"It's thanks to their colossal exertions that this country has now processed, checked, vetted and airlifted more than 15,000 people to safety in less than two weeks."