First asylum seekers reboard Bibby Stockholm after coach driver breaks through Just Stop Oil blockade
19 October 2023, 16:10 | Updated: 19 October 2023, 16:12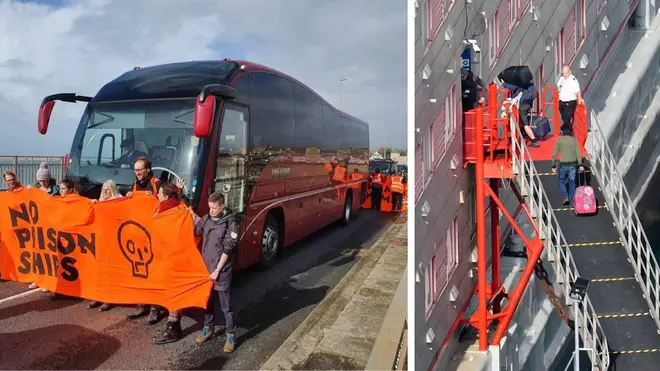 Asylum seekers have returned to the Bibby Stockholm barge in Dorset more than two months after it was evacuated following the discovery of Legionella.
Just Stop Oil protesters tried to block the coach approaching the Isle of Portland as part of a "positive protest" against the use of the Bibby Stockholm barge.
Amid chaotic scenes, the protesters, including one woman with crutches, push back against the coach - which is believed to have 29 migrants on board - and scream at the driver to stop.
He continues slowly edging forward and by the time the coach reaches the group sitting down they are forced to stand up.
JSO later shared a statement admitting defeat and accusing the driver of "intent to kill.". A spokesman said: "We are saddened to report that we were unable to halt transportation of refugees to the prison - the driver rammed through the block, risking killing those in front."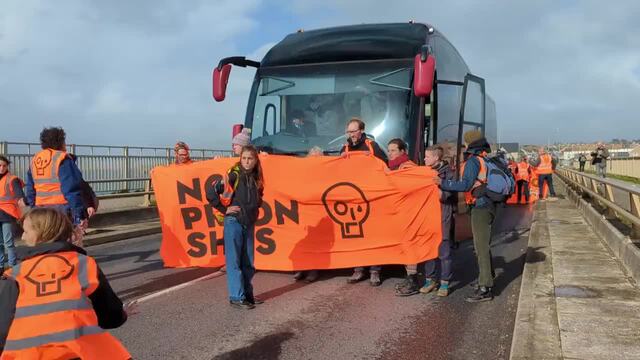 JSO block Bibby Stockholm migrant coach
Two people were arrested.
Out of the 39 people removed from the vessel in August, 29 are expected to return today.
The Home Office has said tests for Legionella, as well as improved fire safety protocols, had been completed ahead of their return. 
Others have found accommodation with relatives, one had returned to their home country and others had mental health issues exempting them from staying on the barge.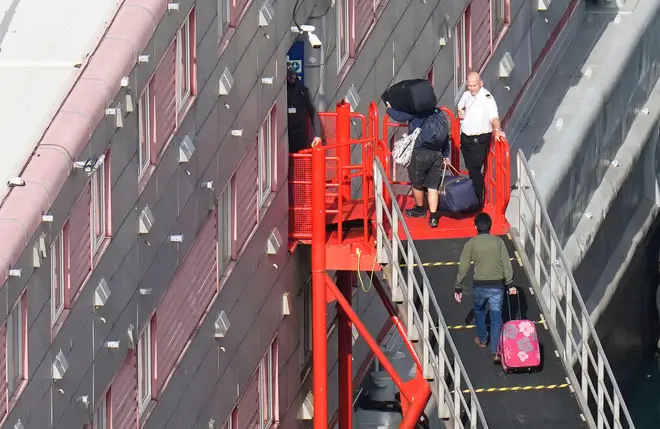 Read More: Just Stop Oil bid to block first migrants from returning to Bibby Stockholm barge
Read More: Migrants to be moved back onto Bibby Stockholm after Home Office paid £300,000 a week for empty barge
A Just Stop Oil spokesman said: "We know that our government's plan for new oil and gas is going to lead to more people being displaced from their homes. Forced from where they have lived for generations due to the actions of our failing politicians.
"People coming to the UK must be met with common humanity, and not housed in prison ships. This is a slide towards concentration camps and we will not let it happen, not on our watch. We are taking action today to show love and solidarity with all people coming to this country."
On the return of migrants to the barge, a Home Office spokesperson said: "The government is committed to ending the use of expensive hotels for asylum seekers.
"Moving asylum seekers into alternative accommodation sites, such like the Bibby Stockholm, is more affordable for taxpayers and more manageable for communities, with on-site healthcare and catering facilities."
Candy Udwin, of Stand Up To Racism Dorset, said she had been in contact with some of those who had been staying on the Bibby Stockholm.
She said: "They hate it, they say it feels like a prison, some hate being on the sea, they find it very difficult to leave and they are completely separated from the community."
It emerged yesterday that the co-founders of Just Stop Oil were arrested in dawn raids.
Roger Hallam, 57, and Indigo Rumbelow, 29, were held at separate addresses after officers "forced entry to their homes, searched belongings and confiscated papers," Just Stop Oil said in a statement.
Footage shared by the group shows Mr Hallam being led away by police while giving a thumbs up and saying 'all good.'
A spokesman for Just Stop Oil said: "Just Stop Oil supporters have vowed to continue with their plans to march in London every day from Oct 30 despite the dawn raid arrests of two co-founders this morning.
"We will not be intimidated by our criminal Government. By maxing out our oil and gas reserves, they are complicit in the greatest crime in human history. New oil and gas will result in unimaginable suffering and destroy the lives and livelihoods of billions of people."
A Met Police spokesman said: "A 29-year-old woman and a 57-year-old man were arrested in London on the morning of Wednesday, Oct 18 on suspicion of conspiracy to cause a public nuisance. They both remain in custody."