Israel's military confirms senior Hamas commander killed in deadly air strike on Gaza refugee camp
31 October 2023, 17:39 | Updated: 1 November 2023, 07:52
Israel has said it was targeting a Hamas commander in a strike that hit a refugee camp in Gaza.
Dozens of people are reported to have been killed in the blast, though exact figures are not known at this stage.
The Hamas-run health ministry in Gaza has accused Israel of being behind the blast, which it says killed at least 50 people.
Pictures from the scene show a huge crater in the ground, caused by an explosion, and several collapsed buildings.
The blast took place at the Jabalia refugee camp in northern Gaza, an area where Gazans were told to move to ahead of Israel's ground offensive.
An IDF spokesperson said: "A short while ago, IDF fighter jets, acting on ISA intelligence, killed Ibrahim Biari, the Commander of Hamas' Central Jabaliya Battalion.
"Biari was one of the leaders responsible for sending "Nukbha" terrorist operatives to Israel to carry out the murderous terror attack on October 7th."
"Numerous Hamas terrorists were hit in the strike", they added.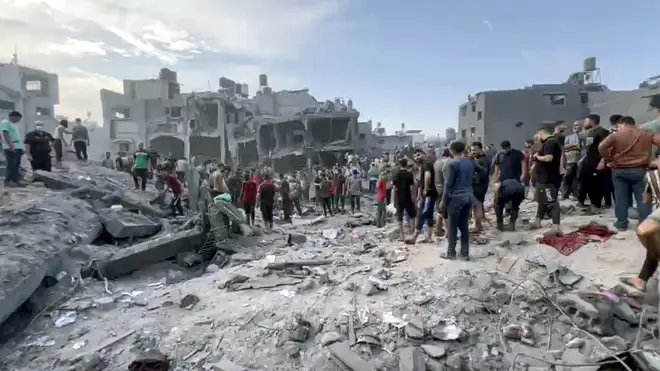 IDF spokesperson Rear Admiral Daniel Hagari added: "During this operation many terrorists were killed. Terrorists who were with him inside the building as well as under the building in tunnels.
"The targeting of the building he was in led to destruction in other buildings because of this extensive underground infrastructure.
"The purpose of that infrastructure was to carry out attacks against Israel and that infrastructure has collapsed."
It did not confirm how many civilians were killed.
Read More: Anger as police in Manchester pull down posters of Israeli hostages - after Met slammed for removing flyers of children
Read More: Sunak tells police to prepare for terror attacks as Israel-Hamas war deepens community tensions
It comes as Israel's offensive against Hamas in Gaza intensifies, with Israeli Prime Minister Benjamin Netanyahu warning of a "long war" ahead.
On Tuesday morning, the Israeli government said 300 targets had been hit in Gaza overnight as part of the ground offensive.
Meanwhile, Israel's Defence Forces (IDF) has said that its soldiers have been attacked by Hamas fighters, including with anti-tank missiles and gun fire.
Direct, on-the-ground clashes broke out between the IDF and Hamas for the first time over the weekend, as Mr Netanyahu confirmed that the "second stage" of the war had begun.
The conflict between Hamas and Israel escalated dramatically on October 7. Some 1,400 Israelis were killed and 239 hostages taken in attacks carried out by Hamas.
Since then, Israel has been conducting a retaliatory bombardment campaign in Gaza, which the Gazan health ministry says has killed 8,500 people - a large majority of which are said to be women and children.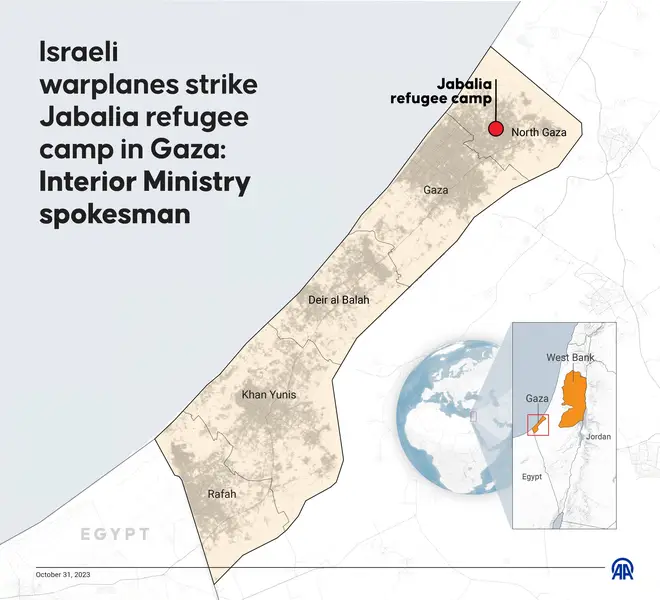 Several weeks ago, a hospital in Gaza was hit by a blast, with Hamas accusing Israel of targeting civilians and claiming as many as 500 people were killed.
But Israel denied involvement in the blast, which was confirmed by UK and US intelligence. Instead, the rocket which hit the hospital came from within Palestine, they said.
LBC presenter Matt Frei, who is currently in Jerusalem, told Nick Ferrari at Breakfast: "The big question here is what is the cost benefit relationship of such attacks. You kill one Hamas commander... and in return you kill 40-50 civilians of which ten relatives of those might become Hamas commanders in the future.
"The Israelis clearly believe that the end of eliminating Hamas justifies means which many of us... find reprehensible."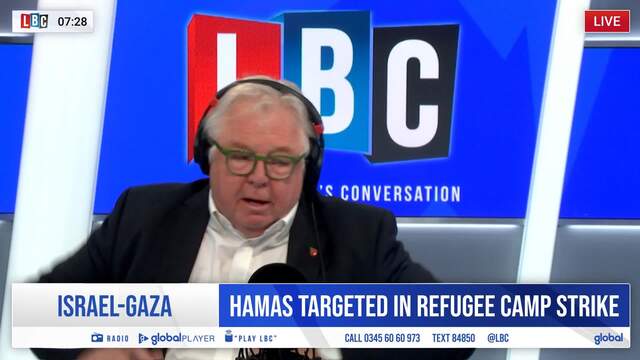 LBC presenter Matt Frei speaks to Nick Ferrari from Jerusalem