Glen de Vries: Man who flew to space with William Shatner dies in plane crash
12 November 2021, 21:00 | Updated: 13 November 2021, 03:20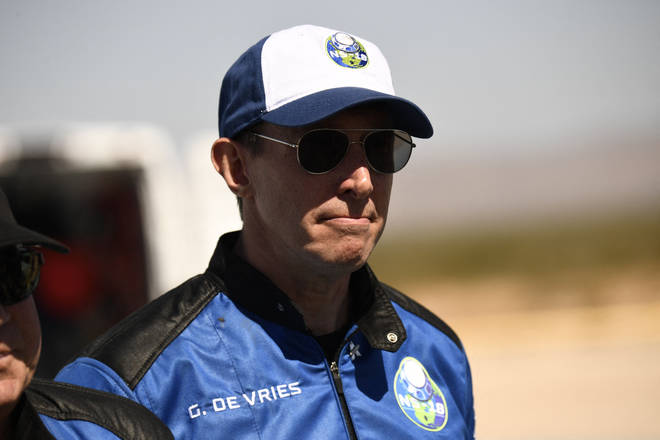 Glen de Vries, who was part of the Blue Origin flight to space with William Shatner last month, has died in a plane crash.
The 49-year-old businessman died in a small plane crash in New Jersey on Thursday.
He had been flying with Thomas P Fischer, 54, aboard a single-engine Cessna 172.
The plane had left Essex County Airport in Caldwell, on the edge of the New York City area, and was headed to Sussex Airport, in rural north-western New Jersey, when the Federal Aviation Administration (FAA) alerted public safety agencies to look for the missing plane at around 3pm local time.
Emergency crews found the wreckage in Hampton Township at around 4pm, the FAA said.
Read more: British troops deploy to Poland's border as migrant confrontation with Russia worsens
Read more: Brits 'have had enough' as record-breaking 1,200 migrants cross Channel in one day
Mr de Vries was an instrument-rated private pilot, and Mr Fischer owned a flight school.
However, authorities have not said who was piloting the small plane.
Mr de Vries had spent more than 10 minutes in space aboard space Blue Origin's New Shepard spacecraft in October, joined by Star Trek actor William Shatner, among others.
In a statement, Blue Origin said: "We are devastated to hear of the sudden passing of Glen de Vries.
"He brought so much life and energy to the entire Blue Origin team and to his fellow crewmates.
"His passion for aviation, his charitable work, and his dedication to his craft will long be revered and admired."