Gmail, Google and YouTube outage leaves thousands of users unable to access services
12 November 2021, 10:55 | Updated: 12 November 2021, 13:19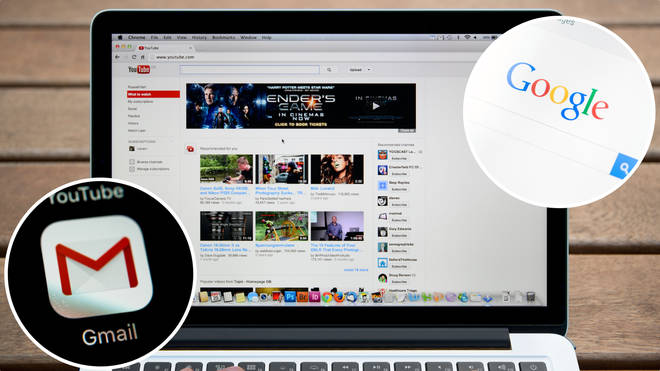 Google, Gmail and YouTube went down for thousands of users across Europe this morning.
It has left frustrated users unable to access their emails, calendars and the video streaming service.
Down Detector received nearly 3,000 reports from consumers stating Gmail went down, and over 1,000 saying that Google itself was not working.
The online outage monitor also received over 350 reports that YouTube users were experiencing issues accessing the site.
On its service page, Google said: "We are currently investigating an issue affecting user access to multiple services affecting users in Europe."
It reported service disruption to Gmail, Google Calendar, Google Chat, Google Groups and Google Meet but the outages did not affect all users of the platforms.
Many users received a 502 error when trying to access their emails, that reads: 'The server encountered a temporary error and could not complete your request.'
Read more: Facebook, Instagram and Messenger down for second time in a week
Read more: Shocking footage shows driver launch car into the air before ploughing into pedestrian
Problems began at 8:44am according to online outage trackers but according to Google Workspace Status Dashboard all issues have now been resolved.
A message posted on the site reads: "The problem with Gmail has been resolved. We apologize for the inconvenience and thank you for your patience and continued support. The affected users are unable to access Gmail."
Whilst a Google spokesperson told LBC: "On Friday November 12 around 08:30 am UTC, some of our users experienced a service disruption to Google Cloud services, including Google Workspace. This issue is now resolved. For more details, please see our status dashboards for Google Cloud and Google Workspace."
The outage comes just one month after rival technology firms Facebook, Instagram and Messenger went down twice in one week.
The Facebook-owned platforms were out for almost seven hours leaving billions of the platforms' users unable to get online.
Facebook said the glitch was caused by an error during a routine maintenance job and "not by malicious activity".
Supermarket giant Tesco also suffered from an outage last month when hackers attacked their website, leaving thousands of customers unable to order groceries for 48 hours.
The hack is estimated to have cost and Tesco £40m in lost revenue.