Hundreds killed in strike on Gaza hospital, as Israel denies responsibility
17 October 2023, 18:42 | Updated: 18 October 2023, 01:02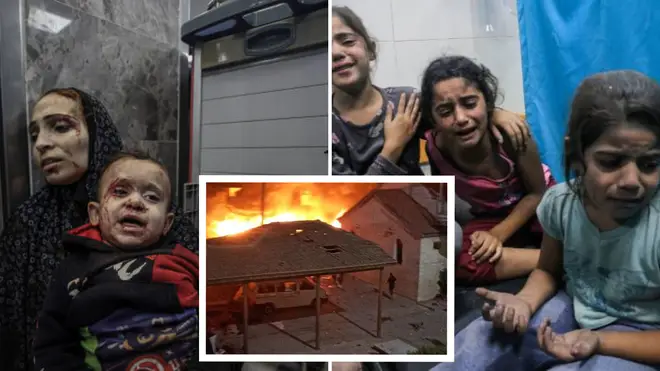 Hundreds of people have been killed in an air strike on a hospital in Gaza, with Hamas blaming Israel, and the army saying a Palestinian paramilitary organisation is responsible.
The Al-Ahli Baptist Hospital in central Gaza city was hit on Tuesday evening, with around 500 people feared to have been killed.
The Hamas-run health ministry said it was a strike by Israel. The Israel Defence Forces claimed later that the Palestinian Islamic Jihad group was to blame, although they also denied involvement.
The details have not been verified independently yet.
A spokesman for the ministry said in a statement: "Initial estimates indicate that between 200 and 300 martyrs were killed in the bombing that targeted Baptist Hospital in Gaza city." They later revised the estimate to 500.
A spokesperson for the IDF said: "From the analysis of the IDF's operational systems, an enemy rocket barrage was launched towards Israel, which passed in the vicinity of the hospital, when it was hit.
Read more: Israel ambassador to UK tells LBC 'Hamas is to blame' for lack of water and power in Gaza
Read more: British girl, 13, who disappeared in Hamas attack has been murdered, family say, while sister, 16, still missing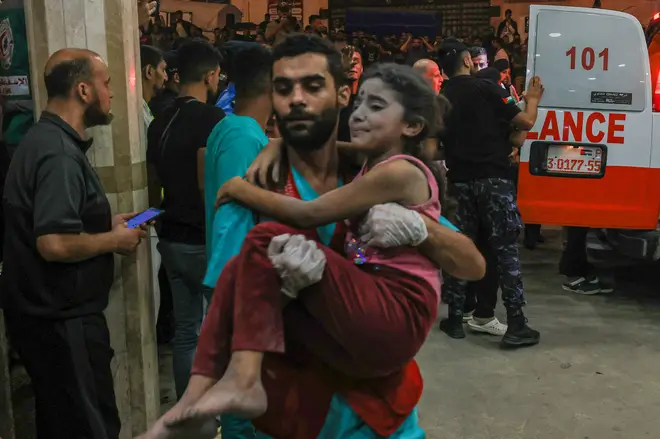 "According to intelligence information, from a number of sources we have, the Palestinian Islamic Jihad terrorist organization is responsible for the failed fire that hit the hospital".
Palestinian Islamic Jihad, who have been designated a terrorist organisation by the UK and several other countries, denied responsibility.
Around 350 people have been taken from the scene of the strike to Al Shifa, another large hospital in Gaza City. Al Shifa is already overcrowded with patients amid the recent bombardment.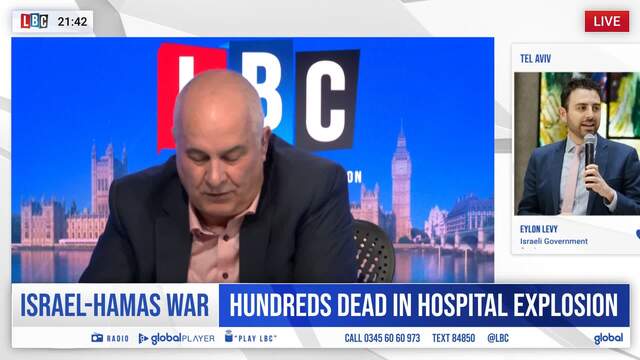 Eylon Levy full interview | Watch Again
Reports suggest there was an unusually large number of people at the hospital. As well as patients, many people had been taking refuge inside the hospital compound.
Eylon Levy, an Israeli government spokesperson, told LBC's Iain Dale that there had been "many cases before in the past when Palestinian rockets have been fired from inside the Gaza Strip.
"Normally, it's about a quarter or a third rockets inside the Gaza Strip, fall short - you know, terrorist rockets aren't perfect- they fall short and they kill people inside the Gaza Strip. This has happened many times before".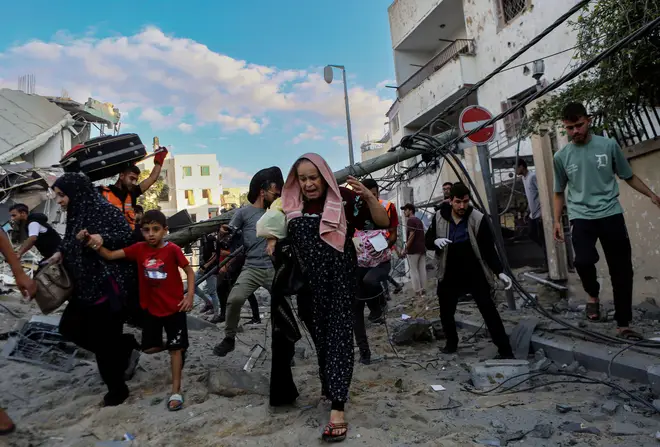 The hospital is funded by the Christian Episcopal Diocese of Jerusalem. Richard Sewell, the Dean of St George's College, Jerusalem called it a "disaster".
He said: "Early reports say hundreds of women and children killed... The bombs must stop now. There can be no possible justification for this."
The hospital appears to have already come under fire in the conflict, when four staff members were injured in a strike on Saturday.
The hospital was founded in 1882 and is the oldest in Gaza. It treats more than 45,000 patients every year.
Archbishop of Canterbury Justin Welby said after the first strike: "Hospitals and patients in Gaza are in grave danger.
"The seriously ill and injured patients at the Anglican-run Ahli Hospital – and other healthcare facilities in northern Gaza –   cannot be safely evacuated. They are running low on medical supplies."
He added: "I appeal for the evacuation order on hospitals in northern Gaza to be reversed – and for health facilities, health workers, patients and civilians to be protected. The evil and barbaric terror attacks on Israelis by Hamas were a blasphemous outrage. But the civilians of Gaza are not responsible for the crimes of Hamas."
Israel has been bombarding Gaza since Hamas launched an attack on the south of the country on October 7.
Thousands have died on both sides in the ensuing conflict.
Earlier on Tuesday it was reported that six people had died at a United Nations school in a Gaza refugee camp when it was hit by an air strike.