Hurricane Idalia makes landfall in Florida as DeSantis urges residents to 'hunker down' in face of 'unprecedented' storm
30 August 2023, 13:24 | Updated: 30 August 2023, 15:41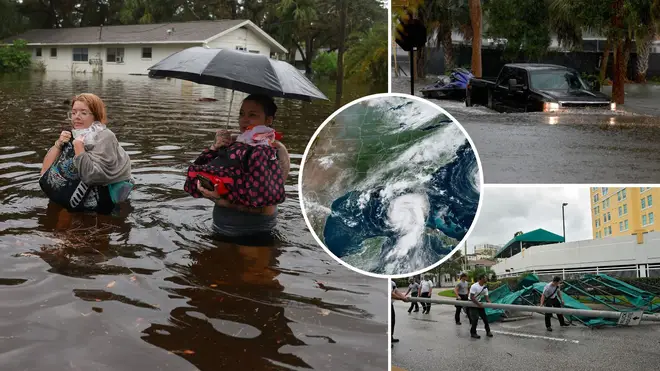 Hurricane Idalia has made landfall in Florida as the Sunshine State braces for the "extremely dangerous" and "unprecedented" storm.
It is set to batter the southeastern US with heavy wind, rain and floods, as well as potential tornadoes as waves as high as 15ft are set to land.
A storm surge that will threaten life is expected to hit early on Wednesday in the "Big Bend", to the state's northwest, where residents in the remote region have been told sticking around is tantamount to having a death wish.
The storm, which started out as category four, has now been downgraded to category two.
Earlier today, Florida Governor Ron de Santis said: "This thing is hitting really within the next hour and a half.
Read More: Florida governor Ron DeSantis booed at vigil as hundreds mourn racist killings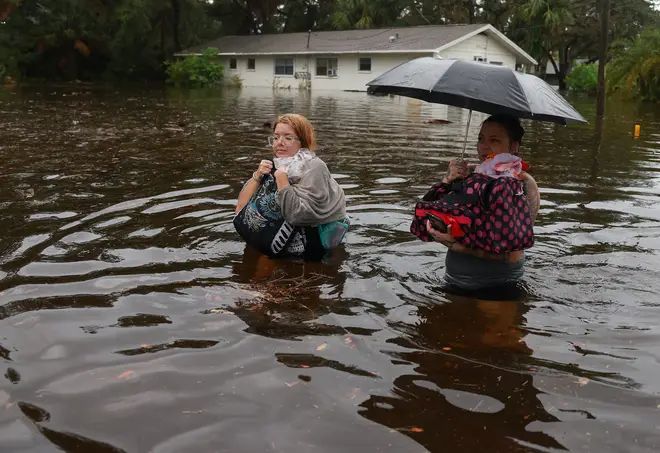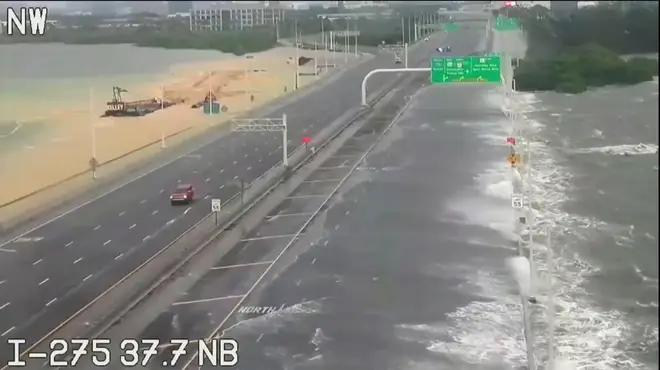 "And we just hope everybody stays safe. Don't put your life at risk by doing anything dumb at this point.
"This thing's powerful. If you're inside, just hunker down until it gets past - you don't want to be messing around with these winds."
The National Weather Service in Florida's capital Tallahassee said Idalia is an "unprecedented event". No hurricanes have passed through the Big Bend's bay in previous records.
Read more: Donald Trump offers T-shirt with historic mugshot for $47 as he claims jail 'worse than you could even imagine'
DeSantis, who has dispatched his wife Casey to handle presidential campaign events while he prepares for the storm, said: "This is not something you want to do battle with."
He told people in the path of Idalia: "You really got to go now. Now is the time."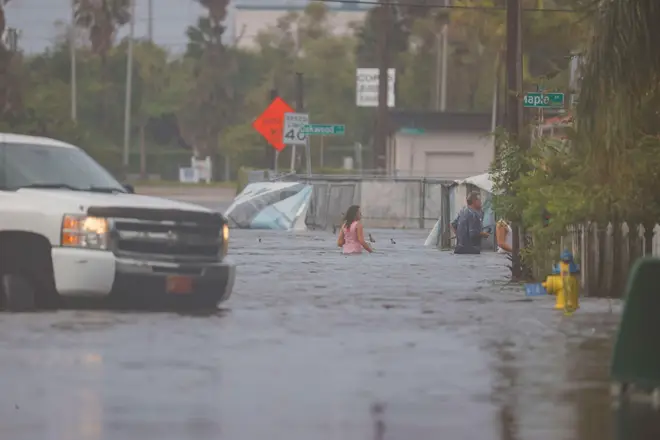 While residents do not need to flee, they should get to "higher ground in a safe structure", he said, where they can "ride out the storm... then go back to your home".
Storm chasers have refused to go to the Big Bend due to the threat Idalia poses.
One, Brad Arnold, said: "If you try to chase on the Florida coast from Alligator Point to Cedar Key, it's a death wish. You won't survive. Stay away from the Big Bend area."
Read more: Met Office gives verdict on whether Brits will see September heatwave after 26C Indian Summer forecast
The storm has already battered Cuba with heavy rains, where it left some without power, before strengthening to a Category Two system with 110mph winds in the evening.
It is now due to hit as a Category Four system with winds of more than 130mph, having been fuelled by hotter than average temperatures in the Gulf of Mexico.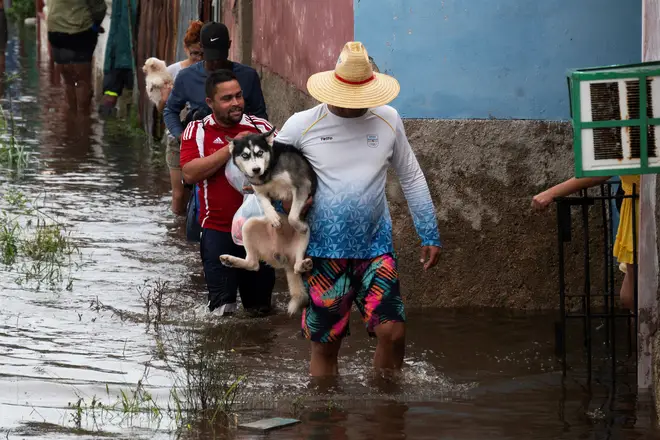 Footage from the 50th Air Refueling Squadron at MacDill Air Force Base showed an incredible phenomenon known as St Elmo's Fire, where luminous plasma is generated in an atmospheric electric field.
State troopers went door to door on the island of Cedar Key, where almost 900 people have been ordered to leave, warning them of 15 foot waves.
In the coastal town of Tarpon Springs, northwest of Tampa, dozens of patients were taken out of a hospital because officials feared Idalia would bring a seven-foot storm surge.
All aircraft on the installation have been evacuated/secured in preparation for #HurricaneIdalia . During the evacuation, the 50th ARS recorded St. Elmo's fire, a weather phenomenon in which luminous plasma is created in an atmospheric electric field. pic.twitter.com/tqUGhfm8iN

— MacDill AFB (@MacDill_AFB) August 29, 2023
Some 4,000 inmates have been transferred from prisons and sent to other "facilities" while the storm hits.
More than 30,000 utility workers assembled to start repairs after the hurricane passes through.
Across the state, 22 counties have been urged to evacuate, while parts of eight of those counties received mandatory orders to go - mostly in the low-lying and coastal areas.
People who live in manufactured or mobile homes, boats or RVs have been focused on as being particularly vulnerable.
A public information officer in Dixie county, Mandy Lemmerman, said: "Don't take this lightly. If the track stays the same, if we see the storm surge that they are predicting, it will be very devastating for our little county."
Georgia and South Carolina have also declared states of emergency.