Israel 'close to agreeing deal for Hamas hostages' involving temporary ceasefire as only 'minor' issues remain
19 November 2023, 12:46 | Updated: 19 November 2023, 14:48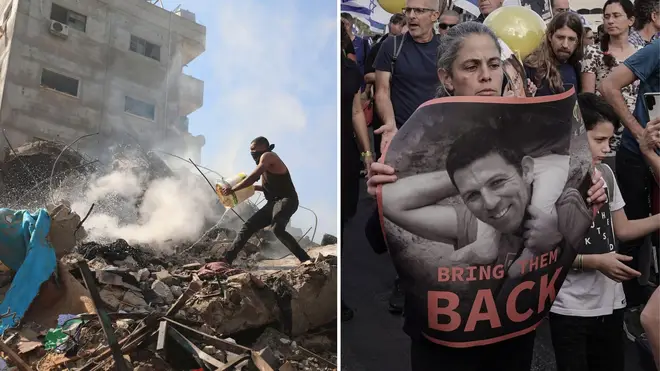 Israel and Hamas are close to completing a deal to free the terror group's hostages, according to Qatar.
The Middle Eastern state has been involved in trying to free a number of the 240 people held by the group in Gaza.
They were kidnapped in the October 7 massacre, when more than 1,000 Israelis were killed.
A deal - which was partially thrashed out with American involvement - would see Israel call a temporary ceasefire in its invasion of the territory, where it is besieging Gaza city in a bid to destroy Hamas's ability to harm its people.
Qatar's prime minister Mohammed bin Abdulrahman Al Thani said: "The challenges that remain in the negotiations are very minor compared to the bigger challenges.
"They are more logistical, they are more practical."
Israel's prime minister Benjamin Netanyahu said there is no agreement yet and has denied calls for a complete ceasefire.
Read more: Hundreds leave Gaza hospital amid Israeli invasion as dozens feared dead at UN shelter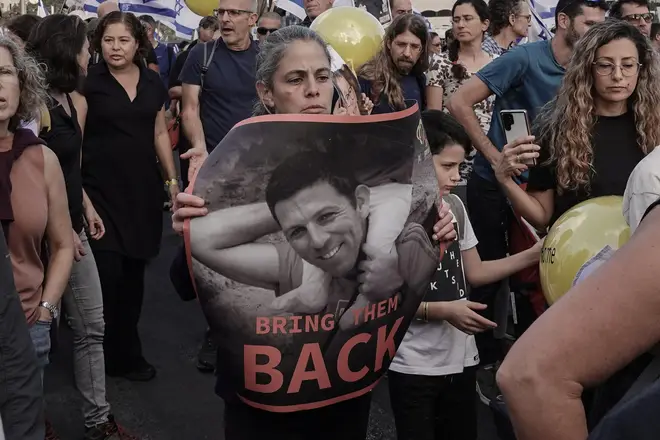 But a temporary halt to the fighting in exchange for some of those being held does appear to be on the cards.
Reports suggest a five-day halt could lead to dozens of women and children being let out.
Read more: Palestine supporters arrested at Waterloo 'sit in' amid dozens of marches, as demonstrators also target Starmer's office
Adrienne Watson, a spokeswoman for the US National Security Council, said: "We have not reached a deal yet, but we continue to work hard to get to a deal."
Netanyahu said there was a lot of "incorrect" reporting about "imminent agreements" that would see either some or all of the hostages.
"As of now, there is no deal," he said in a briefing on Saturday.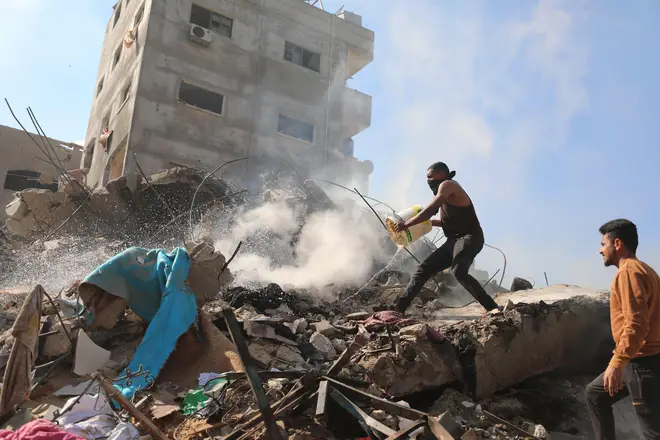 So far, Qatar has managed to free two elderly Israeli women and a mother and daughter who are US nationals.
Hamas has based its political leadership in the Gulf state.
The have been calls by protesters and some international politicians for Israel to bring a complete halt to the fighting, as Hamas's health ministry claims more than 12,000 people have been killed in the invasion.
But supporters of Israel's action say only Hamas would benefit from that.
Focus is now on whether the Israel Defence Forces (IDF) can provide evidence that Al Shifa hospital was a key centre for the terror group, having captured it as it encircles Gaza city.
It has struck the hospital having claimed Hamas used it as a way of trying to harbour itself in the hope a hospital would give them cover.
But some in the media who had access to it remain unconvinced based on evidence provided by the IDF.
The World Health Organisation has described Al Shifa as having become a "death zone".
An evacuation of the hospital means almost 300 critically ill people including infants were there - though the Palestinian Red Crescent has said 31 premature babies were successfully evacuated.