Jeremy Hunt refuses to guarantee the pensions triple lock will be in next Tory manifesto
22 September 2023, 07:50 | Updated: 22 September 2023, 10:12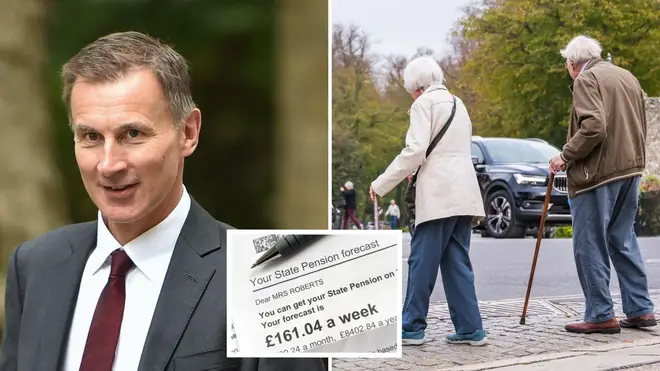 Jeremy Hunt has refused to guarantee that the pensions triple lock will be in the next Tory manifesto.
The Chancellor told LBC that the party would "always look after" pensioners, but could not say whether he would keep to the promise to uprate pay-packets for older voters.
Under the triple lock guarantee, pensions will always go up by average wages, inflation, or 2.5 per cent, whichever number is higher.
But with inflation and average wages soaring, it could be a huge cost for the Chancellor to fork out when the finances are already squeezed.
Last month Work and Pensions Secretary Mel Stride told LBC it would "almost certainly" promise for the next election, but admitted it is "unsustainable" in the long term.
However, Mr Hunt told LBC's Nick Ferrari today: "We are committed to the triple lock. We introduced the triple lock. Because of the triple lock the Conservatives introduced, there are 200,000 fewer pensioners in poverty than when we came in in 2010.
"It's a policy we believe in."
When grilled further by Nick on whether that meant he would promise it would definitely be in the manifesto, he failed to guarantee it.
Mr Hunt added: "It's a very valiant attempt to get me to tell you what's going to be in the next Conservative manifesto. And I would not expect anything less but I'm really sorry."
Read more: Jeremy Hunt warns Keir Starmer's EU stance could 'unpick Brexit' and worry Leave voters
Read more: 'Time to see the job through': Jeremy Hunt promises pressure on families will 'ease' as he insists inflation is falling
Nick Ferrari discusses Brexit with Jeremy Hunt
Nick pressed him further, asking if he would "do everything you can within your power to retain the triple lock" for his grandmother and other pensioners.
He replied: "All I'll say is that, you know, if grandma isn't going to vote for Jeremy Hunt, I'm in big trouble."
If the grandmas of this world don't vote for me, then I'm…We know how important they are to our country and we'll always look after their interests."
And he insisted that "we will continue to have the back of pensioners because we recognise that unlike everyone else, when times are tough, they don't have the option to work more because they've retired and we need to recognise the contribution they've made over their working lives."
Treasury officials are said to be discussing a one-off tweak of the triple lock to save the Chancellor £1billion.
Annual wages stand at 8.5 per cent last month – the measure which is usually used to determine next April's pay deals.
But if they strip out public sector bonuses and other cash, it could slash that down to 7.8 per cent.