Jeremy Renner walks on anti-gravity treadmill as he recovers from breaking more than 30 bones in snowplow accident
27 March 2023, 08:23 | Updated: 27 March 2023, 09:06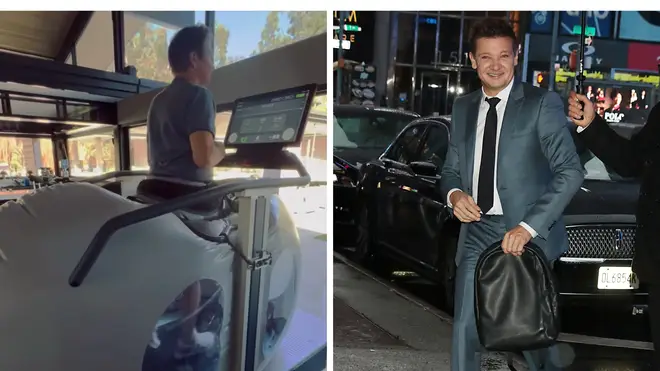 Two-time Oscar nominee Jeremy Renner has shared video of himself walking on an anti-gravity treadmill three months after suffering serious injuries in a snowplough accident.
He was trying to 'save his nephew' when he was run over by the six-and-a-half tonne plough outside his Nevada home on New Year's day and rushed to hospital.
He suffered chest trauma and broken more than 30 bones.
The actor, 52, posted video online yesterday showing him walking on the anti-gravity treadmill as part of his rehabilitation.
He says in the clip: "It's like having a cane," adding that the equipment enables him to feel "less weight".
"That's seriously cool. And you're totally doing the walking motion," another man tells Jeremy in the clip.
Renner replies: "Correct, exactly. It's 40 percent of my weight."
He captioned a Tweet: "I now have to find OTHER things to occupy my time so my body can recover from my will. #minduful #intended #recovery."
Read more: 'Don't go in the water,' public warned, after major oil spill in Dorset, with clean-up underway
Read more: British woman found dead in Spanish apartment with husband arrested at the scene
The footage was captioned: "Now is the time for my body to rest and recover from my will."
Earlier this month he shared video of a home workout captioned "whatever it takes."
The accident happened when he was using the plow to help clear the driveway so his nephew could retrieve his car, but the vehicle began to slide down the street so he exited the cab.
He tried to re-enter the cab in order to divert its path but ended up being pulled under its left side track and run over.