Joe Biden 'more than comfortable' travelling to Northern Ireland for Good Friday Agreement anniversary despite violence
10 April 2023, 23:11 | Updated: 11 April 2023, 10:11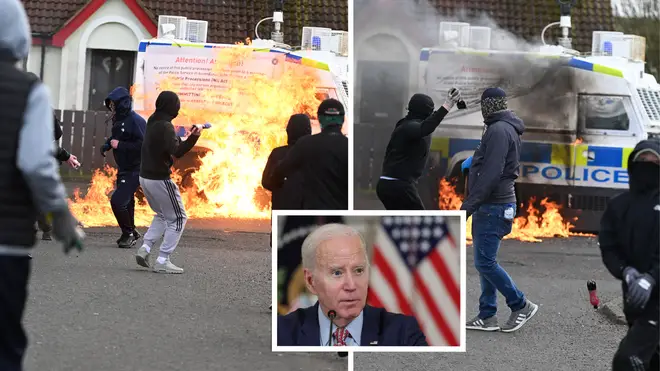 Joe Biden is "more than comfortable" travelling to Northern Ireland for the 25th anniversary of the Good Friday Agreement, despite growing unrest in the country, a White House spokesperson has said.
Mr Biden will be greeted by the UK Prime Minister Rishi Sunak when he arrives in Belfast on Tuesday, which will be followed by a bilateral meeting on Wednesday, the White House said.
The US president will also deliver a speech commemorating the 25th anniversary of the Good Friday Agreement at Ulster University.
It comes after protestors were filmed throwing petrol bombs at police during an illegal republic protest in Londonderry on Easter Monday.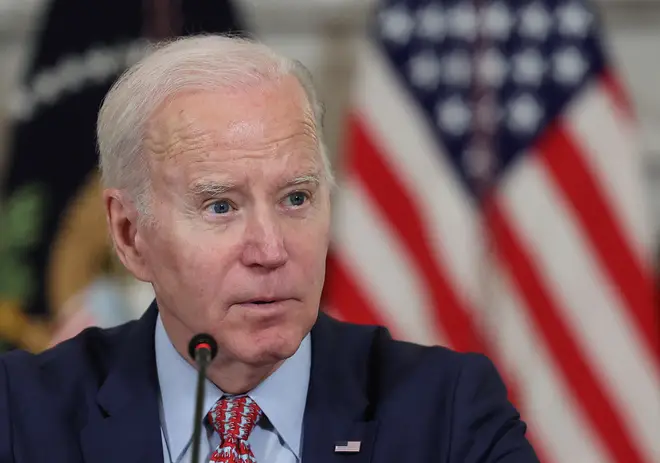 Footage shows several masked protestors hurl petrol bombs and other missiles at an armoured police Land Rover in Creggan, Londonderry.
Around a dozen people attended the illegal parade dressed in paramilitary clothing, which started at 2pm, to commemorate the anniversary of the 1916 Easter rising.
Police have appealed for calm amid the protests, confirming that no one had been injured in the attacks.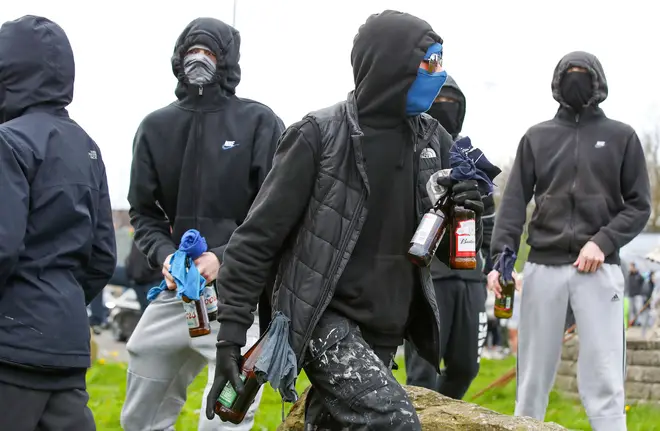 The Police Service of Northern Ireland (PSNI) said: "Our officers have come under attack in Creggan with petrol bombs and other objects thrown at their vehicle while in attendance at an un-notified Easter parade.
"No injuries have been reported at this time. We would appeal for calm."
Read More: Rishi Sunak calls for Northern Irish politicians to 'get on with governing' on 25th anniversary of Good Friday Agreement
Read More: 'Courageous' leadership that secured the Good Friday Agreement still needed in Northern Ireland today, says Tony Blair
DUP MLA Gary Middleton tweeted: "This reckless behaviour is an attempt to cause harm not only to PSNI officers but to our communities as well.
"There must be swift action to bring those responsible to justice."
It comes after police said they have "strong intelligence" that terror attacks had been planned against Northern Ireland police officers today.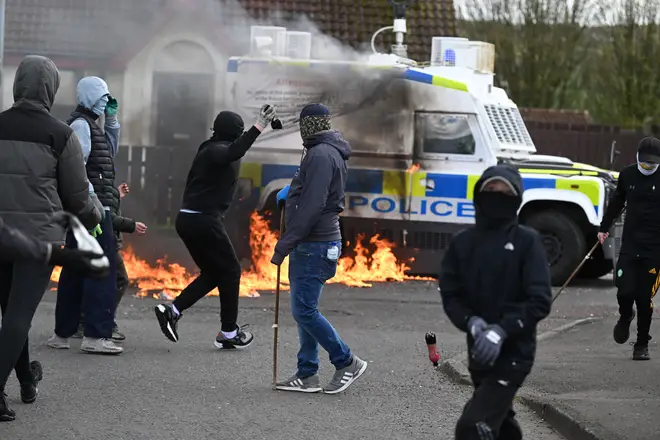 Officers have been moved to frontline duties to counter any terror threats, a move which has not been used for years, Simon Byrne, Police Service of Northern Ireland (PSNI) Chief Constable, said.
Speaking in Belfast, Ireland's deputy premier Micheal Martin described the threat of attacks as "criminality in its worst form" and said "very evil people are contemplating this".