Gloating Just Stop Oil activists 'recorded boasting of influence over Labour policy' after Parliament Square march
2 August 2023, 00:06 | Updated: 2 August 2023, 00:26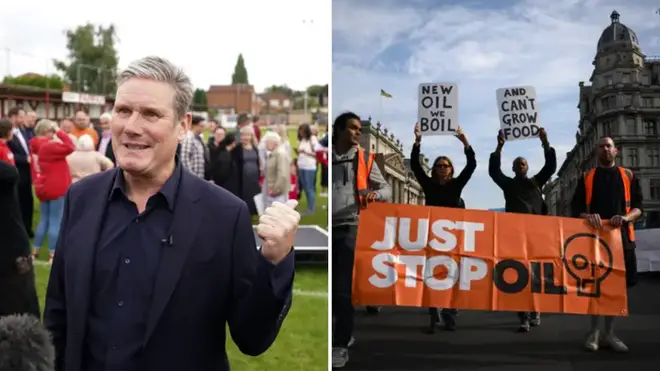 Just Stop Oil have been recorded discussing how their tactics are influencing Labour policy in a boastful secret meeting.
Activist Larch Maxey was taped saying that a wave of action outside Parliament had influenced Labour to declare its opposition to new North Sea gas and oil drilling, according to the Daily Mail.
He said that the move by Keir Starmer's party had bolstered the group's resolve to "escalate to high-level action".
Rishi Sunak will join Nick Ferrari at Breakfast on Wednesday from 7am to answer your questions - Listen live on Global Player.
Do you have a question for the Prime Minister? Ask it here.
"Very reluctantly we blocked the roads around Parliament every day for 32 days straight," the Mail reported.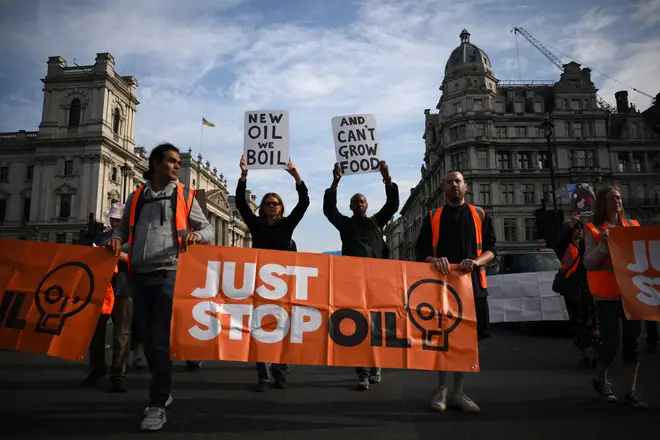 Maxey added: "And that suddenly cut through, we were headline news, Labour suddenly shifted and said 'We hate Just Stop Oil, oh but by the way, we're going to stop new oil, coal and gas'.
"It's how it goes isn't it? We have to escalate it again. And we blocked the gantries on the M25, then – we had, throughout last year, we had 138 people in prison, we had six lots of high-level action, which helps people understand the truth."
Read More: Government urged to do more on energy profits as oil and gas prices fall
Labour confirmed it would block new drilling licences back in May in a rare declaration on policy from the party which is expected to win the next general election.
On Monday, Rishi Sunak announced that he would green-light such licences.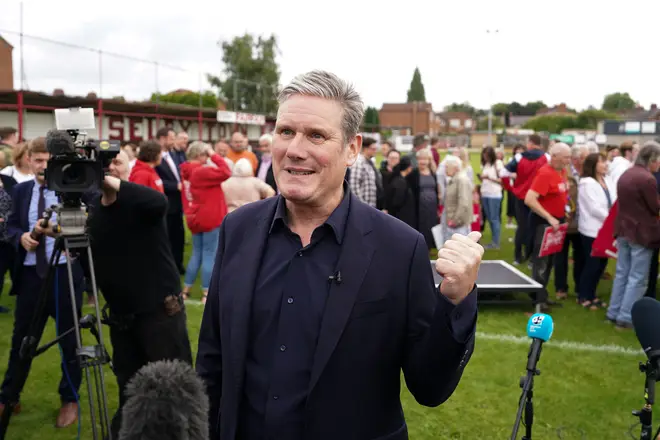 A Labour Party spokesman rubbished the attack, saying: "Labour's policies are in the national interest and will mean cheaper bills, more jobs and greater energy security for working people.
"Labour has repeatedly called out Just Stop Oil's tactics as arrogant and wrong and we condemn the disruption they cause."
A Just Stop Oil spokesman said: "The Labour Party's failure to commit to revoking Rishi Sunak's 100 new oil and gas licences should they come to power, means that their pledge to end new oil and gas is meaningless."