Kate suffers another hand injury weeks after damaging her fingers in trampoline accident
5 October 2023, 14:36 | Updated: 5 October 2023, 14:42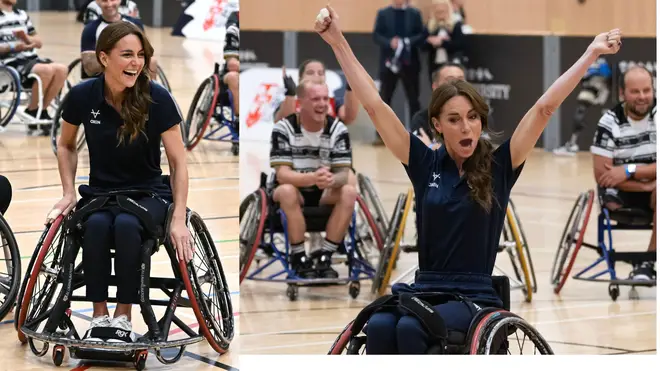 The Princess of Wales appears to have suffered another hand injury after she was spotted with a bandaged finger during her latest outing.
Kate said she was "worried about her finger" but 'willing to try' her hand at wheelchair rugby as she turned up  to the Allam Sports Centre in Hull.
This comes just three weeks after she injured herself playing on the trampoline with her children.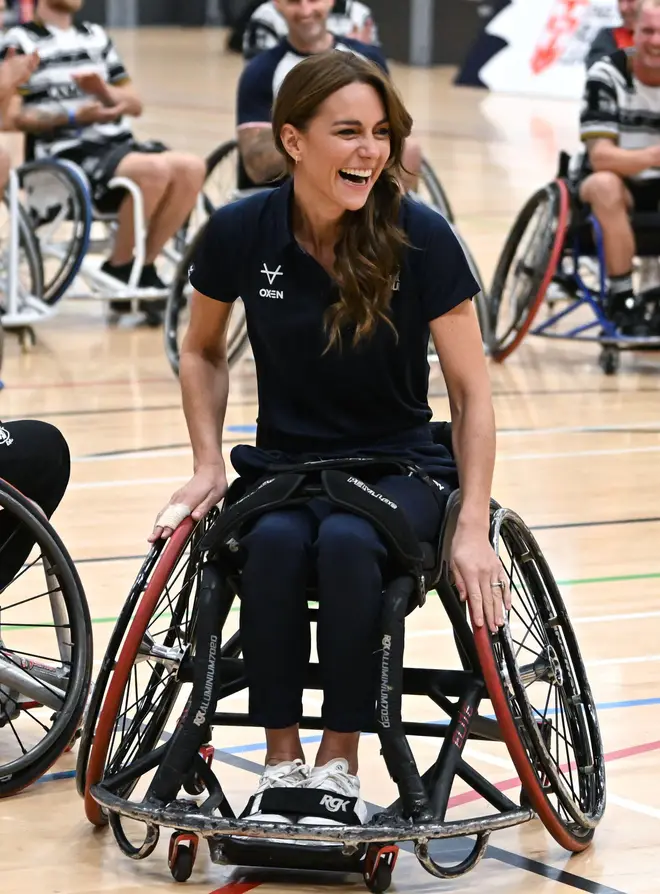 Read More: Ping pong Princess! Kate and William go head-to-head at table tennis on visit marking start of Black History Month
Read More: Kate to miss William's Earthshot trip to Singapore to support Prince George during his exams
The Princess, 41, swapped the smart suits for a tracksuit and headed to meet Disability Rugby League players in East Yorkshire, where she joined a training session with the World Cup winning England wheelchair rugby squad.
Speaking before heading on the court, the Princess told a team member: "I'm worried about my finger, but willing to try".
And her injury didn't hold he back as she quickly scored a try and lifted her hands up to celebrate.
Read More: Fergie 'to bankroll Prince Andrew's efforts to stay in Royal Lodge'
The bandages appear to be a precaution from her injury earlier this month - when she damaged her fingers playing with Prince George, Princess Charlotte and Prince Louis.
When visiting a male prison in Surrey to support an addiction charity, it was revealed the mother-of-three had hurt her hand trampolining with her children at home.
However, she appears to have taped it up ahead of playing sport as a precaution - as she didn't appear to have bandaged up her hand while meeting Ukrainian refugees in Bracknell.
The visit is part of Rugby League Inclusivity Day and saw the 41-year-old chat with players and their families.
She also learned about how the game has been adapted for players with physical disabilities who want to access a running version of the sport.
Wheelchair Rugby League is currently the most inclusive format across Rugby League, providing the opportunity for all to play together regardless of gender or disability.
England hosted the World Cup last November and beat their old rivals and reigning champions France 28-24 in a closely fought final.