'It's against the Israeli government': Student Marie Andersen tries to defend vile anti-Semitic sign after global fury
22 October 2023, 23:27 | Updated: 23 October 2023, 09:56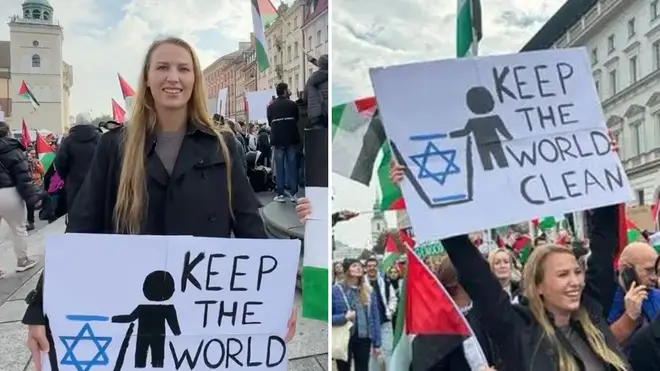 Norwegian medical student Marie Andersen has attempted to defend her anti-Semitic poster as she insisted it was about the "Israeli government" while it showed the Star of David being binned next to the words "keep the world clean".
Ms Andersen, a medical student from Norway, attempted to defend her anti-Semitic sign during an interview at the pro-Palestine march in Warsaw.
Stylised in the form of a waste disposal advert, a stick figure is seen putting the primary symbol of Judaism, and the central icon on the flag of Israel, into rubbish amid a Palestinian march.
The top and bottom of the drawing was painted blue, like the Israeli flag.
Speaking in an interview with Nexta, the medical student was pressed on her poster and its suggestion that the world should be 'kept clean' of Jews.
She interjected insisting that the Star of David did not represent Jews but the Israeli government.
"Not Jews. Of course not Jews. Freedom of religion is also a human right, which we support, but we do not support the Israeli government and the ethnical genocide they are doing right now to the Palestinian people."
The interviewer continued: "So what is your poster about?"
"The Israeli government," she replied. "Not the Israeli people".
Andersen incensed those across the world after she was pictured holding the anti-Semitic sign outside the Medical University in Warsaw on Saturday.
Asked about what happened on October 7, the day Hamas launched its attack on Israel, Andersen said: "Hamas were resisting the genocide and their oppression that's happened for 75 years. And what they did to civilians is, of course, not ok but according to UN resolution it is their right to stand up for their rights and freedom."
Over the past 24 hours, the story of the #Norwegian student from the #Warsaw Medical University who went to the anti-Israel rally yesterday with a "Keep The World Clean" poster has attracted a lot of attention and discussion.

We publish our full interview with this young woman… pic.twitter.com/jINVnta5ot

— NEXTA (@nexta_tv) October 22, 2023
She continued: "I do not support the killing of civilians, of course, but I support Hamas and Palestinians' rights to stand up for themselves."
It is understood Andersen is a fifth-year medical student and married to a Jordanian.
In a statement the university apologised and said it is taking "appropriate legal action over the matter."
Paweł Jabłoński of the Polish Deputy Foreign Minister, branded Andersen's anti-Semitic display a violation of the law and called for a stronger response from Warsaw authorities over the incident.
"This absolutely shouldn't happen."
Slamming the Polish police for their lack of action during the rally, he added: "Banners calling for hatred on national/ethnic grounds are a violation of the law - and a basis for dissolving the assembly."
In the wake of pictures of Andersen's vile poster emerging, students at the university came together to write an open letter calling for her to be expelled over the "utterly disgusting and unacceptable sign".
"We must collectively condemn and combat any form of hatred and prejudice, especially within the walls of our esteemed educational institutions," the letter reads.
LBC has approached Warsaw police for comment.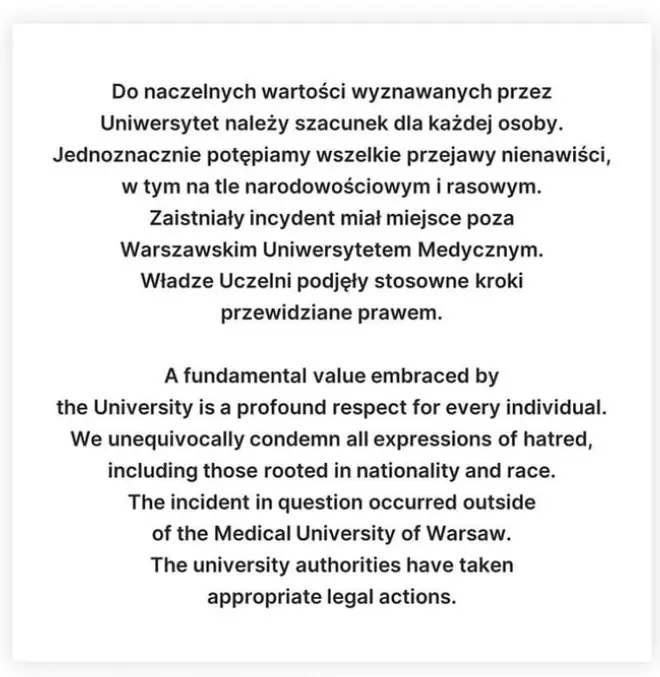 Yacov Livne, the Israeli Ambassador to Poland called on Polish authorities to stop such flagrant displays of anti-Semitism "before it gets out of control".
The images have horrified online users and they come amid a surge of anti-Semitic incidents across the world. In London, they have risen by 1,350%, spiking drastically since Hamas attacked Israel.
Andersen was pictured holding the sign at a 'pro-Palestine' march in Warsaw on Saturday, as cities across the world held rallies over the weekend amid the ongoing conflict between Israel and Hamas.
About 100,000 attended a march in central London on Saturday afternoon, as protesters marched through the capital demanding an immediate ceasefire in Gaza. Chants of 'Freedom for Palestine' and 'Stop bombing Gaza' were heard.
Cities in Australia, Italy, and America have also saw thousands take to the street as they joined pro-Palestinian marches.
eAndersen's university said in a statement: "A fundamental value embraced by the University is a profound respect for every individual.
Read more: Israel pummels Gaza and bombs mosque in the West Bank as Iran threatens that the Middle East 'will go out of control'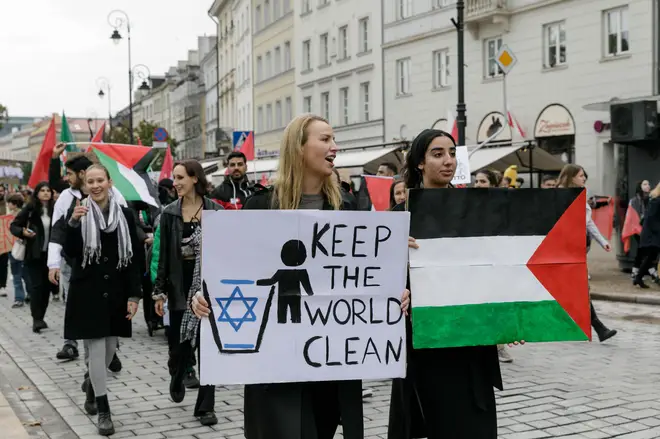 "We unequivocally condemn all expressions of hatred, including those rooted in nationality and race.
"The incident in question occurred outside of the Medical University of Warsaw. The university authorities have taken appropriate legal actions."
Another said: "I knew that there was anti-Semitism in the world but these days I actually saw the depth and intensity of it."
One user said: "Hopefully former student soon."
There are widespread concerns about anti-Semitism across Europe in the wake of the Hamas attacks.
In Berlin, the Star of David has been graffitied on homes. The European Parliament has expressed its concern about the sharp increase of anti-Semitic speeches, rallies and attacks against Jews since the start of the Hamas terror attacks against Israel.
In the UK, posters of Hamas's victims have been vandalised or torn down.
Police said 218 antisemitic offences were recorded in London between October 1 and October 18, compared to 15 in the same period in 2022.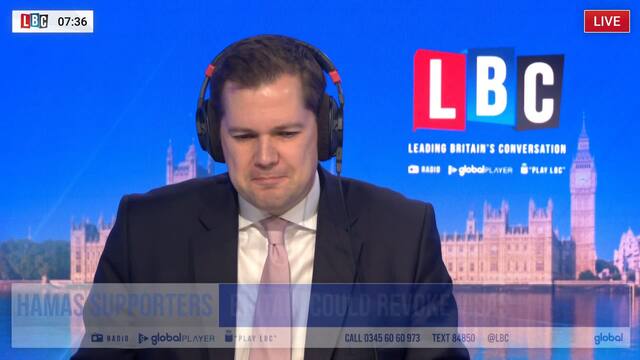 Robert Jenrick calls cries of 'jihad' at Free Palestine march 'unacceptable'
Read more: Government to probe why Met Police concluded 'jihad' chant and 'Muslim armies' signs at Palestine demo were lawful
That timeframe includes the October 7 massacre carried out by Hamas, in which more than 1,000 people were killed.
Jewish students across Britain are choosing not to wear religious symbols such as Kippahs or necklaces displaying the Star of David for fear of being subjected to anti-Semitic attacks on campus.
Several Jewish schools opted to close amid fears for their pupils' safety.
British-Israeli Rabbi Leo Dee, whose wife and two daughters were killed by terrorists in the West Bank earlier this year, told LBC: "It's frightening for me to come here, strangely I feel more safe sometimes in Israel, despite the fact there is war going on."
On Sunday, immigration minister Robert Jenrick said the government intends to speak to the Met after it decided a man's chanting of "jihad, jihad" was lawful, as were signs calling on "Muslim armies".
Both emerged at a splinter demonstration alongside the larger pro-Palestine rally attended by tens of thousands of people in the centre of London.