England fans let off flares and gather in their thousands ahead of Euro 2020 final
11 July 2021, 13:12 | Updated: 11 July 2021, 18:03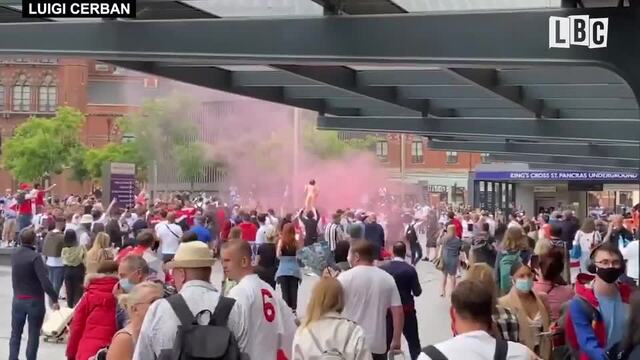 England fans release flares at King's Cross ahead of Euros final
England fans have gathered in their thousands in pubs across the country and in central London, setting off flares and climbing onto buses in exuberant scenes ahead of the Euro 2020 final clash with Italy.
In London, King's Cross station was evacuated as exuberant fans chanted and threw drinks outside the station. London Fire Brigade confirmed to LBC that a fire alert was caused by flares set off by England fans.
Smoke blew inside the station, setting off fire alarms and sparking a mass evacuation.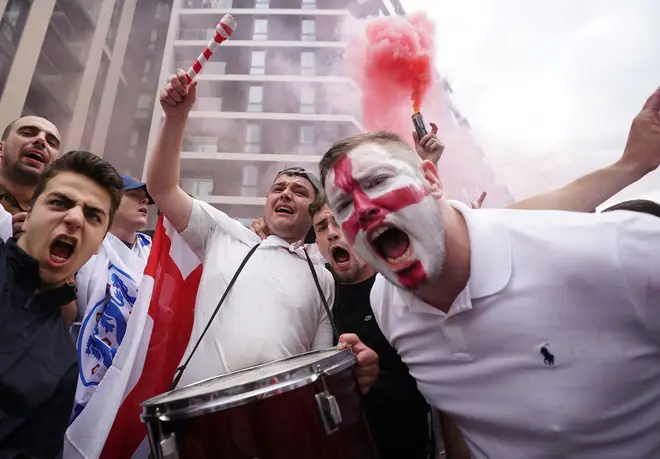 The Met police warned the huge crowd in central London to keep safe and "look out for each other."
"Streets around Piccadilly Circus & Leicester Square are busy with fans. We have officers on hand. We'd urge everyone to keep themselves safe and look out for each other," Scotland Yard posted on Twitter.
"We've seen people jumping off street lamps or hoardings, this could easily end in injury."
READ MORE: England v Italy: Kick-off time, how to watch and build-up for the Euro 2020 final
READ MORE: Years of hurt: England's road from the 1966 final to the cusp of Euro 2020 glory
READ MORE: 'I'll never wash it': Girl, 10, who cried tears of joy after Mason Mount gave her shirt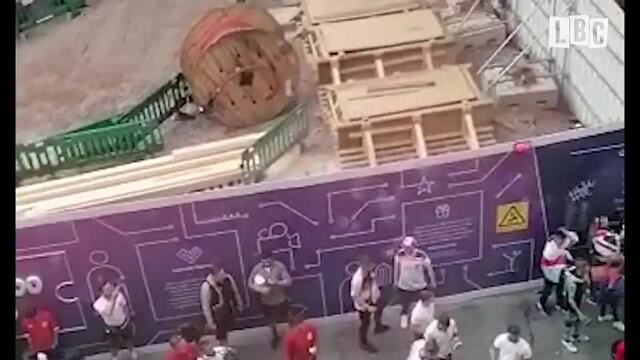 England fans gather in Leicester Square
Elsewhere in London, thousands of fans filled with football fever, many draped in England flags, packed into Leicester Square chanting "I'm England 'til I die." There was a heightened police presence in the area.
Huge crowds also arrived outside Wembley, several hours before kick-off. Some fans even climbed on top of a bus outside the ground while others were seen scaling lamp posts.
Police warned fans without tickets to stay away from Wembley stadium. The Met police posted online: "Unless you have a ticket for tonight's match, please do not travel to Wembley.
"Wembley area is extremely busy. The match is sold out, there are no more tickets available. We have officers on hand engaging with crowds and to keep people safe."
Meanwhile, England supporters have been packing pubs across the country, with reports of queues for tables building in some pubs as early as 6am today.
The atmosphere near the Uefa fan zone in Trafalgar Square was electric ahead of the final.
Pubs in the area are packed and large crowds were seen holding England flags and wearing shirts with Three Lions on the chest.
Fans without tickets for the fan zone are also gathered in the area, and some can be heard chanting and singing the national anthem.
Neil James, 32, from Horsham, Surrey, said: "I'm so fortunate to be here, I never thought I'd see anything like this in my lifetime.
"I can't even comprehend the idea England could win something, I just want to drink and drink tonight, work tomorrow is on the back burner.
"It's all about tonight."
England supporters near the Trafalgar Square fan zone have said "history can be made" tonight.
Ross Belton, 22, from Crawley, west Sussex, said: "This is by far one of the biggest sporting days in my lifetime, I can't think of anything that really comes close.
"If I ever get married it'll have to be a pretty special service to top the feeling I have right now!"
Another, named Paul, 42, an electrician from Camden, north London, said: "History can be made tonight, everyone has to make the most of it because we may never see it again.
"It's like Christmas, if Christmas came around every 55 years, live in the moment and celebrate like mad if we win."
Another fan near Trafalgar Square said the country "needed" an international tournament win.
Paul Gunder, 44, from Basingstoke, said: "I've heard all the usual stories from my dad and grandad about England winning a major tournament in 1966.
"Obviously as years go by you begin to think it's never happening, but suddenly here we are, in a final.
"I know some Italians and work with them, but today is our day, we've needed this as a country, the last year or so has been rough.
"I think we'll win it by a goal."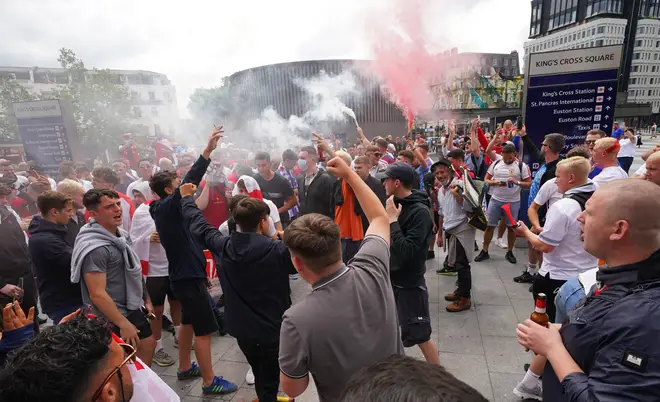 It comes as millions across the nation are preparing to watch England's first international final in 55 years.
England manager Gareth Southgate says he is determined to win the European Championship for the entire nation after their "spirit, commitment and pride" was recognised by the Queen.
The country will come to a standstill at 8pm when the Three Lions walk out at a rocking Wembley against Italy in the Euro 2020 final on Sunday and attempt to follow in the footsteps of the World Cup heroes of 1966.
Read more: Euro 2020 final: Wembley tickets available for £70k per pair hours ahead of match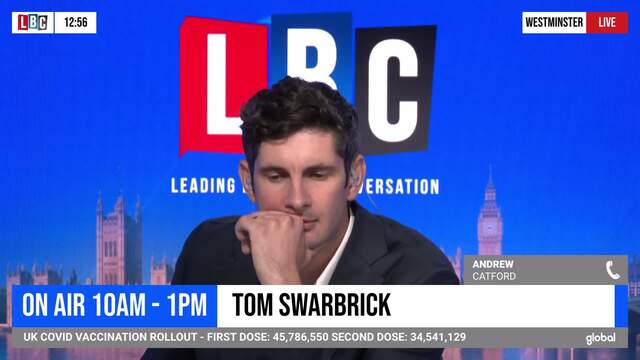 Caller belting out new England football song
England's second major tournament final offers an unforgettable opportunity for Southgate and his players as they look to end the 55-year wait for a trophy by lifting a first European Championship crown.
The Queen wished the Three Lions well on the eve of the final, recalling presenting the Jules Rimet trophy to victorious skipper Bobby Moore before paying tribute to this group's "spirit, commitment and pride".
"It's been fantastic to have a letter from the Queen, a letter from the Prime Minister to all of the team and the recognition that the players and all of the staff have gone about this in the right way," Southgate said.
The official England Twitter account posted this morning: "A matchday like no other"
One fan wrote: "Massive day ahead, first final for @England in my lifetime. Wherever you're watching it, whatever your plans are, enjoy! Proud of the squad and what they've done so far, but they can lift that trophy!"
Another posted: "Today is the day! The sun's out, enjoy it, embrace it, soak up the atmosphere!! The excitement, the nerves, the butterflies in the stomach. Go mad!! Who knows when or if this day will come again! #ItsComingHome."
A third commented: "Been up since 5am cos of today. Couldn't sleep at all! C'mon @England #ItsComingHome #ENG"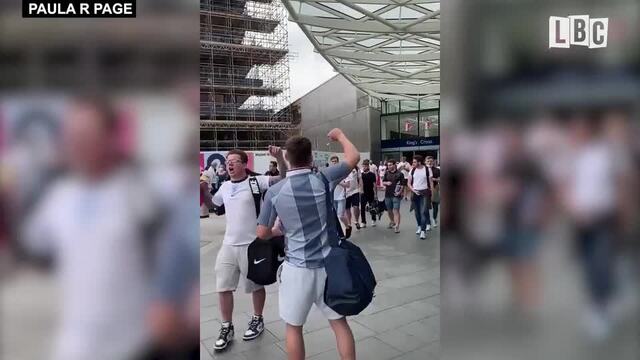 England fans arrive in central London for Euro 2020 final