Uncovered: Secret eco-protesters plot to disrupt historic Lord Mayor's Show on Armistice Day
8 November 2023, 08:14 | Updated: 8 November 2023, 09:25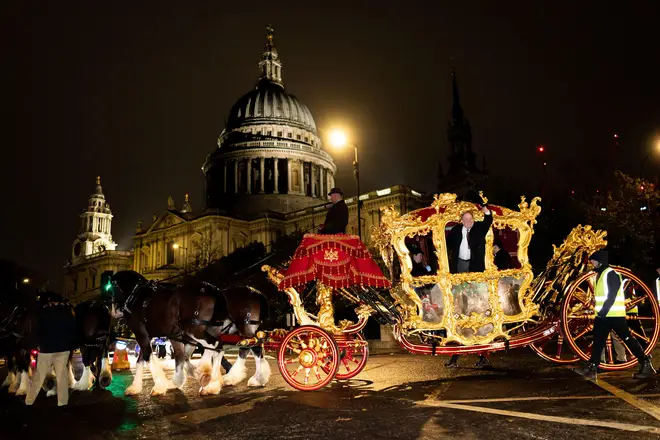 Saturday will mark the 695th Lord Mayor's Show in the City of London, a historic event which started in the 13th century.
Over a quarter of a million people are expected to line the three-mile route, with millions watching live at home - as the event is shown in full on TV.
Alderman Vincent Keaveny CBE – a previous Lord Mayor of London – told LBC it was "the most extraordinary celebration of London and London-life. Every year the City of London elects a new Lord Mayor to the ancient office, with the first elected in 1189."
He adds "this is something we have done since the reign of King John. It's a great, bonkers and crazy day – it's such a colourful, diverse celebration."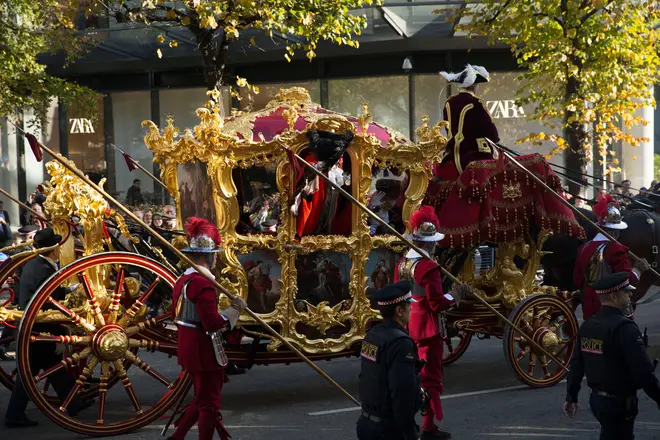 The Mayor rides in the same golden State Coach, which has been used in every Lord Mayor's Show since 1757, - the new Lord Mayor is Seattle-born economist, Michael Mainelli.
However, LBC can reveal potential trouble ahead. We've learned that environmental groups are planning to disrupt the renowned show which first started over 800 years ago in 1215.
Read more: Police will not ban pro-Palestine protest on Armistice Day, Met chief says, as threshold for 'serious disorder' not met
Read more: Rishi Sunak says police have 'absolute and total' support ahead of pro-Palestinian protest planned for Armistice Day
LBC has heard reports that protesters are planning to disrupt proceedings - which could cause chaos - with over 7,000 people taking part, 150 floats, 250 horses and various military and civilian bands - prompting concern from within policing circles.
Speaking during a regular edition of Call the Cabinet, Culture Secretary Luzy Frazer told Nick Ferrari at Breakfast it would be "wholly inappropriate for protesters to interfere in the planned event.
She said: "those protesters who are disrupting our day-to-day lives, who are disrupting things that people, sometimes, save up a long time for, we've seen a lot of disruption for spots matches over the summer, the National Gallery where they're causing criminal damage."
"I think this is wholly inappropriate."
One former senior officer at the City of London Police told LBC there would be "considerable concerns given the sensitivities around other planned demonstrations" in London on Saturday.
It is unclear which groups are planning to disrupt at this stage. LBC approached Just Stop Oil who said "We won't reveal our plans. Just stop oil supporters will continue to act with nonviolence to end new oil and gas. The disruption the climate crisis is causing will dwarf anything that Just Stop Oil could ever do."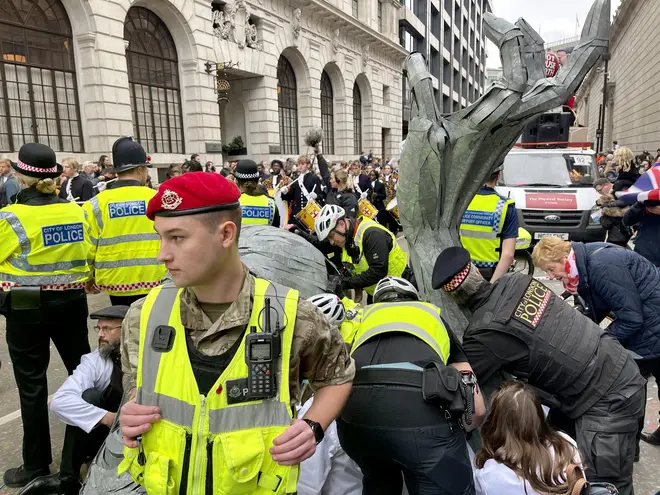 Whilst Extinction Rebellion told LBC "Currently we have no knowledge of any planned protests for the Lord Mayor's Show, although it is entirely within the realms of possibility that one or more environmental group has some disruption up their sleeves.
"Extinction Rebellion has targeted the City of London in the past because it is central to the financing of global fossil fuel production. It has been estimated that the companies within the square mile support at minimum 15% of global emissions."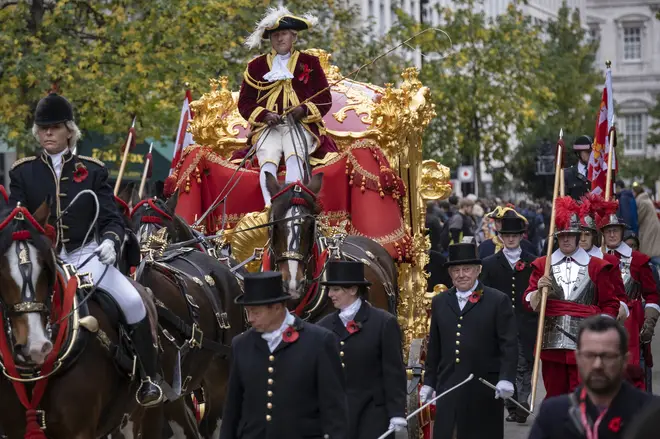 Former Lord Mayor Alderman Vincent Keaveny CBE told LBC "I was Lord Mayor from November 2021, to November 2022, and at my show in 2021 we had environmental protests on the day of the show which the City of London Police and Metropolitan Police dealt with very competently and very professionally and we were able to complete the show."
He added "I'm sure if there's any issues this Saturday, the police will likewise handle it as professionally as they possibly can."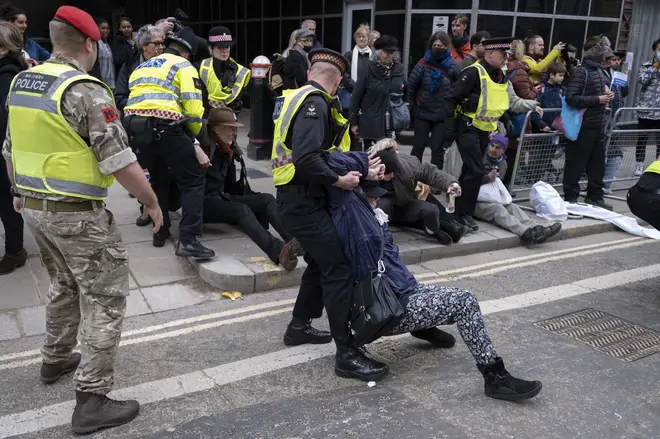 In a statement Commander Umer Khan OBE, of the City of London Police said: "The Lord Mayor's Show is a historic inclusive family and community event, that will take place in the City, as planned. Our operational plan is being constantly reviewed and there will be a proportional policing operation in place."
Commander Khan added: "We look forward to welcoming the large crowds the event attracts every year and we would ask those attending to report anything that doesn't feel right, for example, an unattended item or someone acting suspiciously. If you see anything concerning, please tell a police officer or a marshal. We will always take your concerns seriously."
Currently, after observing the national two-minute silence for Armistice Day - at 11:03am, the procession will leave the Lord Mayor's official residence at Mansion House - and travel to the Royal Courts by way of St Paul's, Cheapside and Fleet Street. It then returns up the Embankment and Victoria Street.
The event has only been cancelled twice in the last 50 years. In 1974 the show was cancelled due to the IRA bombing a coach and horses rehearsal the day before and in 2020 it was cancelled due to the Covid-19 pandemic. A small socially distanced event took place instead.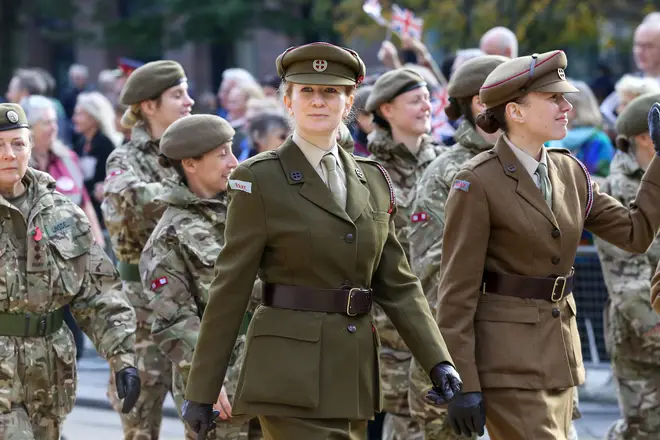 The Lord Mayor's Show is an 800-year-old historic parade through London celebrating the inauguration of the new Lord Mayor. Dating back to 1215, it features over 7,000 performers, military bands, floats and horses marching the 3-mile route for 250,000 spectators. At the center is the Lord Mayor in a ceremonial golden coach, leading the colorful pageantry and pomp of this annual event.