Rishi Sunak says police have 'absolute and total' support ahead of pro-Palestinian protest planned for Armistice Day
6 November 2023, 11:57 | Updated: 8 November 2023, 07:26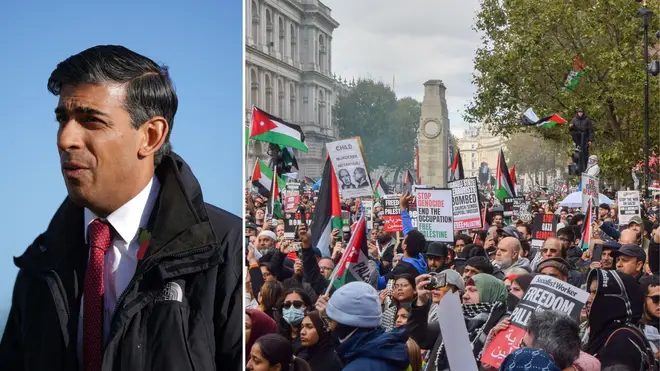 Rishi Sunak said that Metropolitan Police have the "absolute and total backing" of ministers to tackle criminality, ahead of a planned pro-Palestinian march on Saturday.
It comes amid concerns by some that the pro-Palestinian march in London will go ahead on Armistice Day.
The Prime Minister said today: "Remembrance Day is a time for national reflection. It is a time when I know the whole country will come together to pay tribute to those who have paid the ultimate sacrifice to keep us safe.
"I want to make sure police have our absolute and total backing to clamp down on any acts of criminality, but also to ensure public order."
He said that Home Secretary Suella Braverman would be holding a meeting with police leaders to discuss the issue on Monday.
The Metropolitan Police is under pressure to consider banning the planned march in London.
The Met Commissioner 'will not bow to political pressure' and will allow a pro-Palestinian march to go ahead on Armistice Day, a former top cop told LBC this morning, as politicians and military veterans call for the protest march to be cancelled.
Police are considering whether to ban the controversial pro-Palestine march.
Scotland Yard said it would use "all powers and tactics" at its disposal to prevent disruption, including Section 13 of the Public Order Act 1986, which allows the banning of a procession when there is a risk of serious disorder.
But, former top Met cop Nick Aldworth told LBC's Nick Ferrari at Breakfast he thinks Sir Mark Rowley "will not bow to political pressure" and a planned pro-Palestinian march in London will be allowed to go ahead on Armistice Day.
"I think Sir Mark won't bow to political pressure, I think it's absolutely wrong for people to be writing letters to him trying to influence police operation powers, I think he will call upon mutual aid if needed to ensure there are enough cops in town to police a large process."
"And I think he will allow it to happen on a route that's not likely to impede on the lives of Londoners or British societal ceremony."
However, Government Minister Claire Coutinho told Nick Ferrari she was "seriously concerned" about the planned protests, and she did not think disruption of Armistice Day would "chime with our British culture of decency."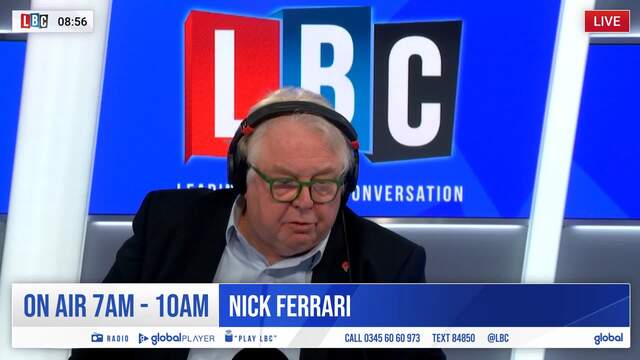 Minister says government will 'stand fully' behind police if they ban protests on Armistice Day
Read more: Cenotaph at risk: Rishi Sunak warns pro-Palestine protests on Armistice Day would be 'provocative and disrespectful'
Read more: Pro-Palestine protesters who vandalise Cenotaph 'must be jailed faster than feet can touch the ground', warns Braverman
Read more: Sickening poster at the Cenotaph: Met investigation as calls grow to stop protesters targeting 'sacred' Remembrance Day
British military veterans have also come out against the protests with many calling for demonstrations on Armistice Day to be banned.
Former British Army bomb disposal officer, Major Chris Hunter branded the protest "brazenly ill-conceived" and called on organisers to cancel it.
Posting on Instagram the decorated ex-soldier wrote: "The Friends of Al-Aqsa have opted to orchestrate a Million March for Palestine in the heart of London, an act of timing so misjudged that it casts a dark shadow over our nation's most sacred tradition—the Service of Remembrance at the Cenotaph."
"This brazenly ill-conceived protest threatens to desecrate the sanctity of this cherished occasion, serving as a profound affront to the memory of our valiant veterans, of all faiths, and their monumental sacrifices. I implore the organizers, on this hallowed weekend of remembrance, to re-evaluate their timing, for anything less would be a grievous miscalculation. There is a sleeping giant in this country, the likes of which I hope is never woken. Lest we forget."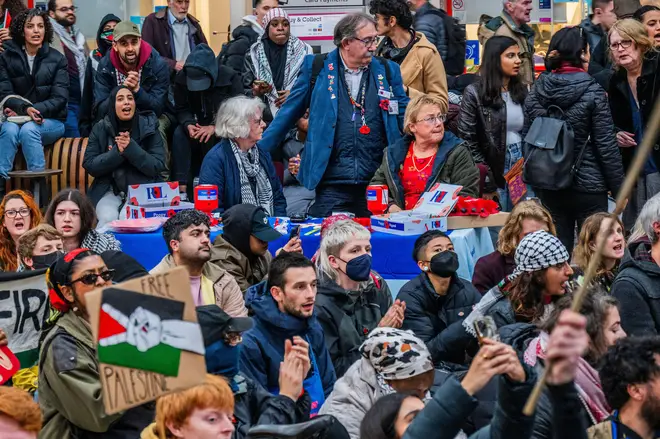 Sergeant Jay Baldwin, 38, who lost his legs in Afghanistan, was among those calling for the demonstration to be called off.
He told The Sun: "What is happening in the Middle East is terrible. But next weekend is when we remember those who have fallen whilst defending our freedom and our life as it is today — it's not a time for political demos."
Former Staff Sergeant Wayne Ingram, 54, said: "I feel disgusted that these protests are going ahead. Those who are taking part must show some respect for our veterans."
Met Commander Karen Findlay said: "We fully appreciate the national significance of Armistice Day. Thousands of officers will be deployed in an extensive security operation and we will use all powers and tactics at our disposal to ensure that anyone intent on disrupting it will not succeed."
The Festival of Remembrance at the Royal Albert Hall, which is usually attended by members of the royal family, will take place on Saturday, with a two-minute silence observed at 11am.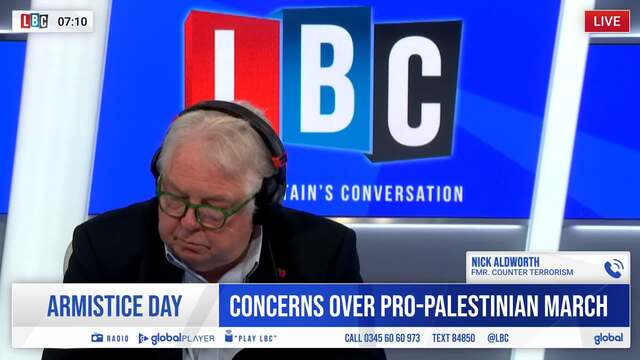 Ex-top cop says he thinks Met will allow pro-Palestine march to go ahead on Armistice Day
Remembrance Sunday events will take place at the Cenotaph in Westminster the following day.
The Palestine Solidarity Campaign, organisers of the planned demonstration, has pledged to avoid the Whitehall area where the Cenotaph is located.
The planned route will take them from Hyde Park - about a mile from the Cenotaph - to the US embassy in Vauxhall, south of the Thames.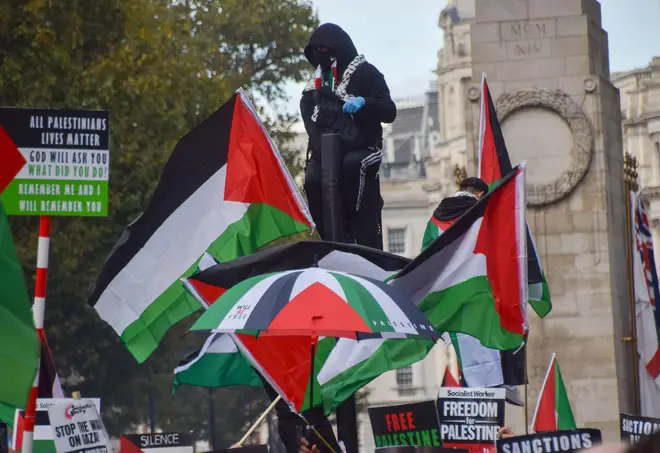 Speaking to LBC, Israeli writer and Co-Founder of The Tel Aviv Institute, which aims to combat antisemitic hate and violence, Hen Mazzig said many British Jews felt so unsafe they were avoiding central London at weekends.
"At this point, British Jews, many of my friends, are avoiding central London every Saturday because of those protests," he told Nick.
It is for the Met to prove the threshold for a Section 13 has been met before seeking approval from the Home Secretary to sign off on a ban.
It is unlikely there would be any resistance to agreeing a ban from Suella Braverman, who has previously labelled the pro-Palestine demonstrations "hate marches", highlighting how some participants had chanted "jihad" and were "calling for the erasure of Israel".
The Cabinet minister said last week that there is "an obvious risk of serious public disorder, violence and damage, as well as giving offence to millions of decent British people" if protests go ahead on Armistice Day.
In a statement on Sunday night, Scotland Yard said: "We recognise the terrible events in Israel and Gaza continue to have an impact on communities across London and recognise there is significant concern.
"The Met has an important role to play in making sure London is a safe place for everybody and over the past four weeks we have dedicated thousands of officers to reassuring communities, policing protests and dealing with anyone who breaks the law.
"We continue to work with protest organisers to ensure they are lawful, whilst balancing the concerns of other communities.
"Our most experienced and knowledgeable commanders are working on the policing of these events, making sure we are utilising all legislation to its fullest extent.
"Section 13 of the Public Order Act 1986 allows for the banning of a procession when there is a risk of serious disorder. It has to be approved by a Secretary of State.
"Sections 12 and 14 of the Public Order Act 1986 allow for conditions to be imposed to processions and public assembly to prevent serious disruption. We have used this legislation over recent weeks and will continue to use any legislation necessary to keep people safe."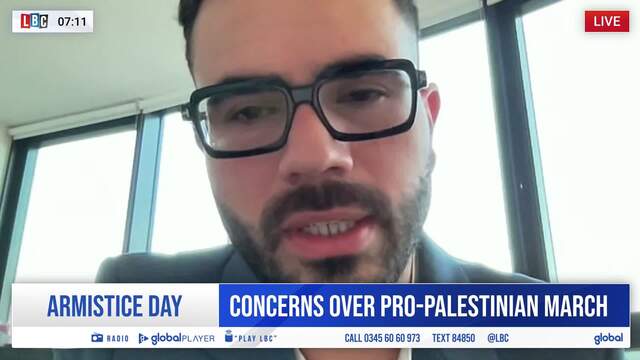 'British Jews are avoiding central London at weekends,' Israeli writer tells LBC
In a statement, the protest organisers said: "We have made clear that we have no intention of marching on or near Whitehall, in order not to disrupt events at the Cenotaph."
They added that "we are alarmed by members of the Government, including the Prime Minster, issuing statements suggesting that the march is a direct threat to the Cenotaph and designed to disrupt the Remembrance Day commemorations".
Prime Minister Rishi Sunak has expressed concern about the protest and Mrs Braverman said any protesters who vandalise the Cenotaph should be "put into a jail cell faster than their feet can touch the ground".
Sections 12 and 14 of the Public Order Act 1986, which allow for conditions to be imposed on marches but fall short of a ban, have already been used by the Met.
A Section 13 order would allow Met Commissioner Sir Mark Rowley commissioner, with the consent of Mrs Braverman, to make an order prohibiting "the holding of all public processions" if he "reasonably believes" the powers under Section 12 will not be sufficient.
Sir Mark has promised to take a "robust approach" and use "all the powers available" to ensure commemorative events are "not undermined".
Pressure group Campaign Against Antisemitism called on Sir Mark to use his powers under Section 13 to ban the march.
"Section 13 powers allow the police to prohibit processions if other powers under the Act do not suffice to prevent serious public disorder. As we have seen over the past month, that threshold is now met," the group said.
"As we approach Remembrance weekend, where we remember the heroes who defended our freedoms and fought against antisemitic hatred, we must honour their memory by banning demonstrations that abuse those freedoms to call for violence against Jews."
Four police officers were attacked with fireworks during Saturday's pro-Palestine protest after thousands of demonstrators gathered in Trafalgar Square.
Protesters climbed on the square's famous fountains as the mostly peaceful group waved flags and banners. There were six arrests.
Ms Findlay said the Met would be "sharper" in its response at future protests.
She said: "We will take action on any placards being carried at protests which are inflammatory and incite racial hatred, or purport to be supporting a proscribed organisation.
"These are offences and any such banners or material will be assessed by the Met's Counter Terrorism Command.
"As in recent weeks, we have been speaking to the organisers of the pro-Palestine march to discuss yesterday's demonstrations. We will continue to speak to them across this week as part of our ongoing planning for the weekend's Remembrance events and will monitor and review all information available to us."