'We're not Mary Poppins, we're Bob the Builder': Michael Gove defends housebuilding record amid plans to expand cities
25 July 2023, 08:41 | Updated: 25 July 2023, 08:57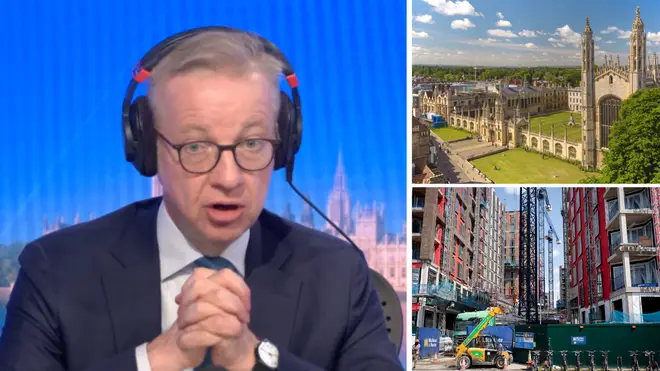 Michael Gove has defended the government's housebuilding record, despite a failure to meet its 300,000 yearly target for new homes, telling LBC: "We're not Mary Poppins, we're Bob the Builder".
Speaking after plans were announced to relax planning rules in England in order to create more homes in city centres, Mr Gove said the government's target was "ambitious" and that "there is more to do".
He told LBC's Nick Ferrari: "We have succeeded in delivering new homes. Just last year, we had the highest number of new homes delivered for three decades and also the highest number of first-time buyers getting the keys to their home in two decades.
"There's more to do but the steps that were taken by David Cameron and George Osborne, and developed by Theresa May, have yielded results but of course, we are not complacent."
Mr Gove added: "We are ambitious. We have a long-term plan. We are looking years, indeed decades ahead when it comes to additional development...in a way I think criticism reflects the fact that we are taking an ambitious stance."
It comes after a report published by the Parliamentary housing committee found the government will not be in a position to deliver 300,000 homes by the mid-2020s.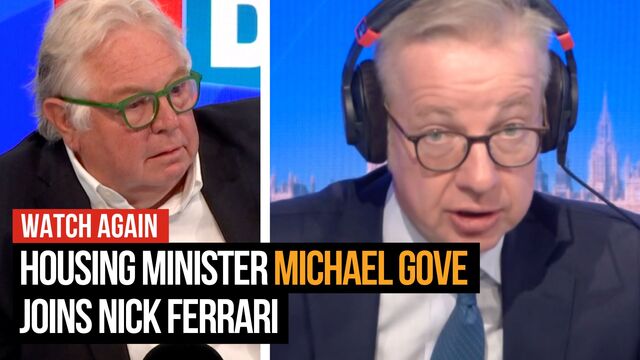 Housing Minister Michael Gove joins Nick Ferrari
The Housing Secretary announced yesterday that it would become easier to convent empty retail stores into flats and homes in city centres across England, unveiling a "programme of urban regeneration and a new inner city renaissance".
"We are unequivocally, unapologetically and intensively concentrating our biggest efforts in the hearts of our cities," Mr Gove said in a speech.
"Because that's the right thing to do economically, environmentally, and culturally."
He argued for "using all of the levers that we have to promote urban regeneration rather than swallowing up virgin land".
"We will enable brownfield development rather than greenbelt erosion," he added.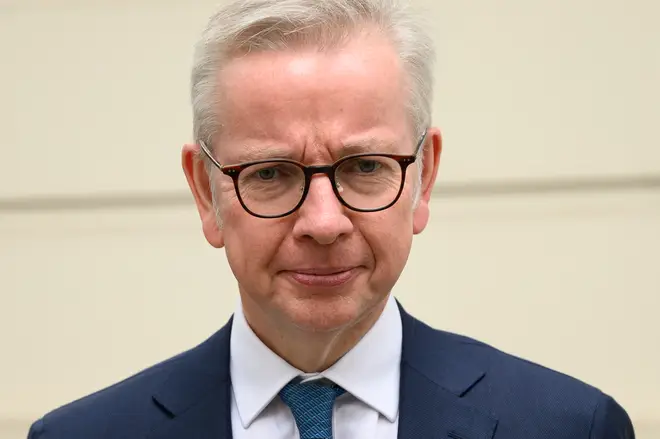 Mr Gove's plans have been subject to criticism, including by the Conservative MP for South Cambridgeshire.
Moments before his announcement yesterday, Tory MP Anthony Brown vowed to "do everything" to stop the Government's "nonsense plans to impose mass housebuilding".
"I will do everything I can to stop the Government's nonsense plans to impose mass housebuilding on Cambridge, where all major developments are now blocked by the Environment Agency because we have quite literally run out of water," Mr Browne tweeted.
"Our streams, rivers and ponds already run dry."
But Mr Gove defended his proposals on LBC this morning, revealing there are plans to build more reservoirs in Cambridge to cope with future increased demand.
"I think everyone recognises that Cambridge is a fantastic city. It's been at the heart of intellectual endeavour for eight centuries and it's never been more important to our future to back the centre of scientific excellence," Mr Gove told LBC.
"There are issues, as Anthony raises quite rightly, with water supply. But these issues are soluble and we've got a top team working on it."
Read More: Michael Gove relaxes planning rules in England to create more homes in the 'heart of our cities'
Read More: Keir Starmer and Sadiq Khan set for Ulez showdown as mayor vows to press on with expansion despite calls to 'reflect'
Reacting to Mr Gove's announcement, Labour's shadow housing secretary Lisa Nandy said: "It takes some serious brass neck for the Tories to make yet more promises when the housing crisis has gone from bad to worse on their watch."
Meanwhile, the Prime Minister said it is important that new building homes did not come at the expense of the countryside.
Speaking to reporters on Monday, Rishi Sunak said: "We want to make sure everyone who wants to own their own home can do so, but it's important we do that in the right way and that means building houses in the right places with the support of local communities and not concreting over the countryside.
"We're making it easier for people to expand homes upwards and outwards, we're making it easier to build on brownfield sites with more investment and we're investing in the planning system."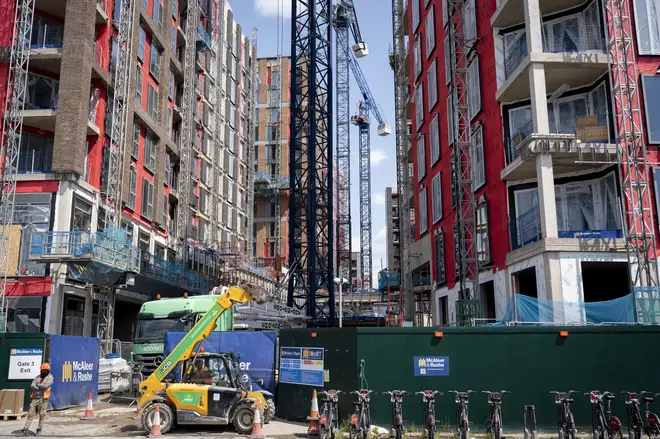 Meanwhile, Mr Gove was also pressed on the government's commitment to banning the sale of petrol cars by 2030.
There have been rumours the government is willing to scrap such targets following their victory in last week's Uxbridge by-election, in which the expansion of the Ultra Low Emission Zone (Ulez) played a key role in Labour's defeat.
Asked whether the target would be scrapped, Mr Gove replied: "No."
The 2050 Net Zero target also remains in place, Mr Gove added.