'One million appointments cancelled' because of doctors' strikes as patients suffer 'real and human cost' of walkouts
25 September 2023, 06:20 | Updated: 25 September 2023, 06:32
One million appointments have been cancelled because of doctors' strikes, official figures are expected to show on Monday.
Junior doctors and consultants went on strike together for the first time last week, in the latest walkout since industrial action began last December.
NHS Providers, which represents health managers, said that was likely to bring the number of appointments cancelled to more than a million over the nine-month period. The official figures are set to be announced on Monday.
Junior doctors are pushing for a 35% pay rise and have said they will keep striking until they get a "credible" pay offer from the government.
Consultants want an 11%, which is also above inflation.
The government has said it has finished talking with doctors about pay, with ministers criticising the "militant" doctors' union.
Read more: Health Secretary slams 'militant' doctors' union as he refuses to meet with striking medics over pay
Read more: Doctors to be forced to work during strikes under fresh government plans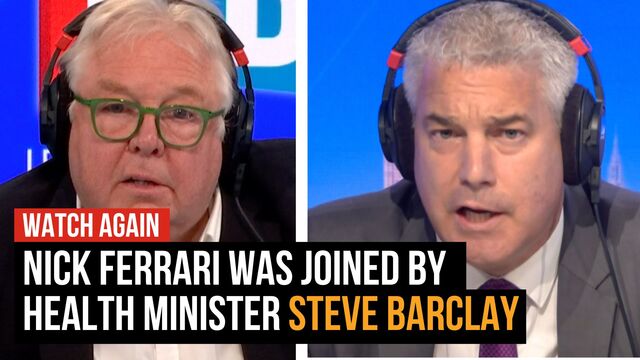 Health Secretary Steve Barclay joins Nick Ferrari
Saffron Cordery, deputy chief executive of NHS Providers, said: "The immediate concern has to be with patients - more than a million and counting - whose care or treatment has been delayed.
"Trust leaders understand only too well the distress this can bring them and their loved ones. Every effort has been made to mitigate the impact of successive strikes but the rising disruption figures tell only a small part of the story.
"With the official tally of figures capturing those procedures and appointments that we know are rescheduled, thousands more patients will be affected because trusts are simply not booking in care for strike days known well in advance.
"Behind every delay there is a real and human cost. How many more reasons are needed for an end to the dispute?"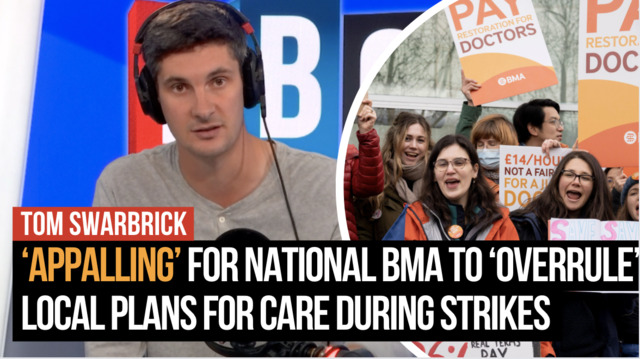 Tom Swarbrick on the BMA's actions as doctors stage double strike
Ms Cordery warned as winter approaches and resources are "severely stretched" strikes will become a "wholly unwelcome" burden on the health service.
Some doctors could be forced to work through the strikes, under government plans to introduce a minimum service level during industrial action.
Professor Phil Banfield, council chairman of the BMA, said: "The last thing we ever want is to cause further disruption to the patients in our care and I am extremely sorry that it has come to this. But these strikes are about the long-term sustainability of the NHS and ensuring there are trained doctors around to care for all patients in the future.
"It is doctors, with their skills and expertise, who have continued treating patients despite years of relative pay erosion, a pandemic that was a brutal experience for doctors, nurses and other carers - as well as so many families - and the challenges of dealing with the worst waiting lists in the NHS's history which have impacted patient care across the last decade and more.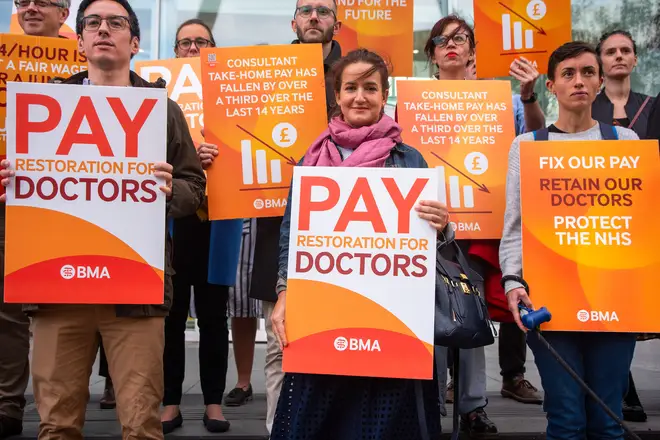 "It is the Government that chooses not to acknowledge the cost and value of medical care - it is in their hands to safeguard the retention and recruitment of doctors in the NHS for years to come.
"The longer the Government buries its head in the sand, the more both strikes and waiting lists cost the public purse.
"It's a no-brainer to invest in the future of the NHS workforce rather than waste further money refusing to pitch a credible pay offer.
"Our door has been open for over a year and we hope for the sake of our patients that the Government eventually listens."
The NHS is having to pay millions of pounds to cover for striking doctors, according to figures released under Freedom of Information laws.
Further joint strikes by consultants and junior doctors are planned for October 2, 3 and 4.
A Department of Health and Social Care spokesperson said: "The co-ordinated action next week will create further unacceptable disruption for patients and fellow NHS staff.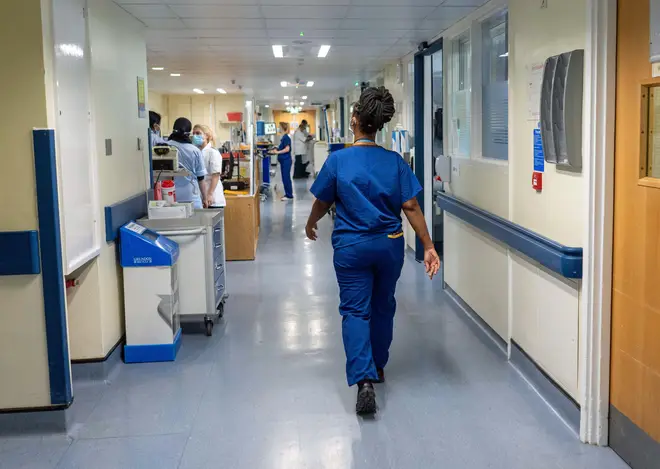 "We accepted the independent pay review body's recommendations in full, meaning doctors who started their hospital training this year are receiving a 10.3% pay increase, with the average junior doctor getting 8.8%. Consultants are receiving a 6% pay rise and are already in the top 2% of earners in the country.
"This pay award is final, and the majority of unions representing over one million other NHS workers have accepted our offer and called off further strike action.
"The Health and Social Care Secretary is clear his door is open to discuss non-pay issues if the BMA call an end to this damaging disruption."
Speaking to LBC before the latest walkouts, Health Secretary Steve Barclay criticised the "militancy" of the BMA as he ruled out discussing pay with striking medics.
Mr Barclay told LBC's Nick Ferrari: "One of the problems we've experienced is locally NHS leaders and BMA representatives agreed a number of exemptions, but then because of the militancy of the national BMA committee they refused to agree what had been agreed locally," he said."
So that makes it very difficult for NHS leaders to plan, that makes it very uncertain for patients."