Nurses to stage fresh wave of strikes on bank holiday after rejecting Government's 5% pay offer
14 April 2023, 16:12 | Updated: 14 April 2023, 17:41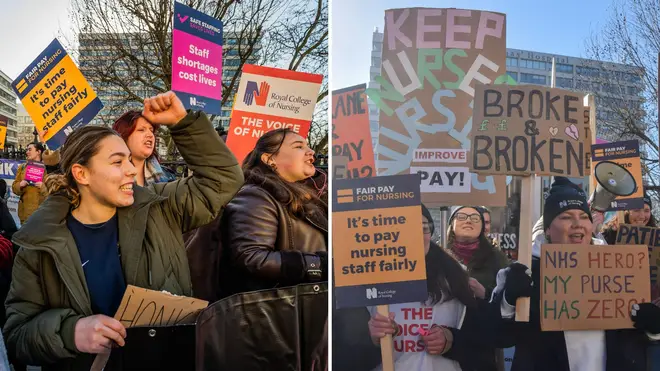 NHS nurses are staging a fresh wave of strikes after rejecting the Government's pay offer of 5%.
The Royal College of Nursing (RCN) announced that its members will walk out from 8pm on 30 April to 8pm on 2 May, affecting the bank holiday weekend.
The move followed a 54% vote to reject an offer of a 5% pay rise this year and a cash payment for last year.
RCN general secretary Pat Cullen wrote to Health Secretary Steve Barclay to inform him of the fresh strike action before the end of the month, and seek urgent re-opening of talks with the Government.
The new strike will also involve nursing staff working in emergency departments, intensive care units, cancer care and other services that were previously exempt, the RCN said.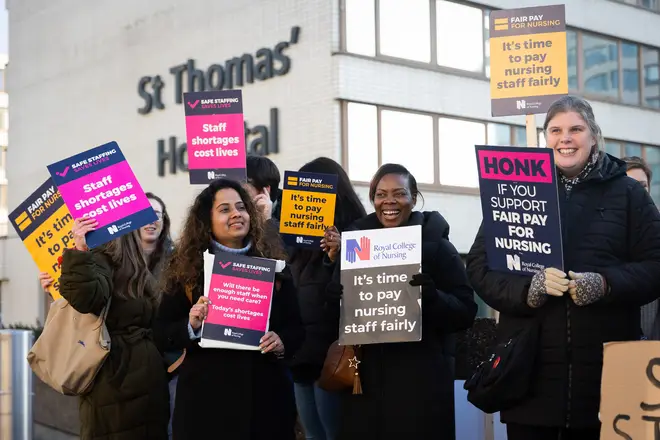 Read more: Deaths rose after first round of junior doctors strikes, new data shows, as 96-hour walkout enters final day
The letter to Mr Barclay said: "What has been offered to date is simply not enough. The Government needs to increase what has already been offered and we will be highly critical of any move to reduce it.
"Since our talks in February, we have seen the pressures on the NHS continue to increase.
"The crisis in our health and care services cannot be addressed without significant action that addresses urgent recruitment and retention issues and nursing pay to bring this dispute to a close urgently.
"Until there is a significantly improved offer, we are forced back to the picket line.
"Meetings alone are not sufficient to prevent strike action and I will require an improved offer as soon as possible. In February, you opened negotiations directly with me and I urge you to do the same now.
"After a historic vote to strike, our members expect a historic pay award."
Read more: UK economy flatlines with zero growth in February as public sector strikes drag on GDP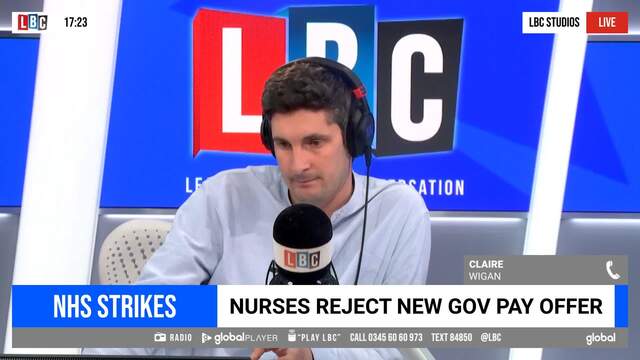 Tom Swarbrick: 'Are you happy to go on strike with no emergency care cover provided?'
But the government said it was "hugely disappointed" that the RCN membership has rejected the pay deal.
"Following constructive discussions, all parties agreed this was a fair and generous offer which is demonstrated by Unison, representing the largest share of the NHS workforce, choosing to accept it," a spokesperson said.
"The fact that the Royal College of Nursing has announced an escalation in strike action with no derogations, based on a vote from the minority of the nursing workforce, will be hugely concerning for patients.
"Hundreds of thousands of Agenda for Change staff continue to vote in ballots for other unions over the next two weeks and we hope this generous offer secures their support."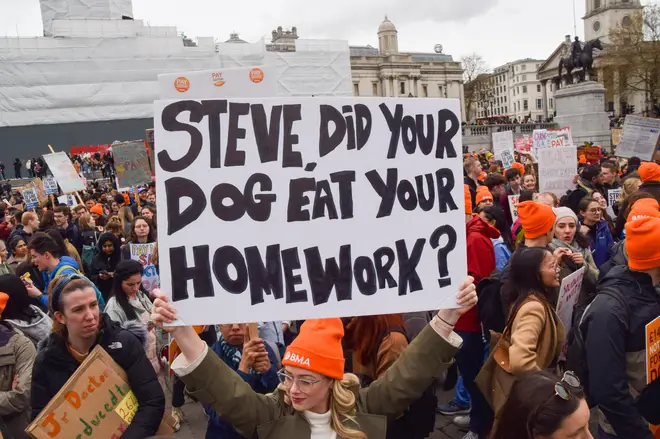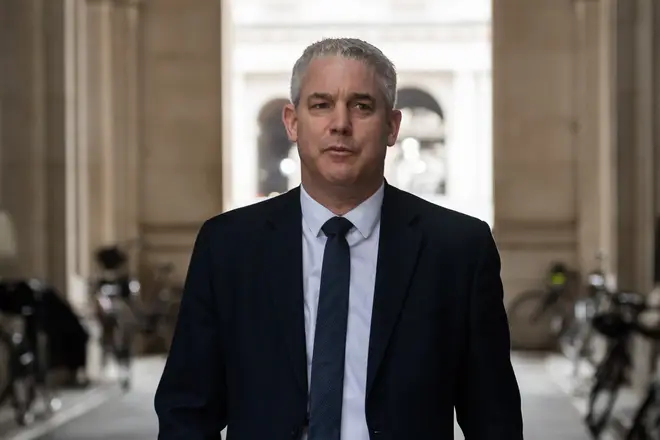 It comes after NHS workers from the Unison union accepted a pay offer from the Government in a partial breakthrough for ministers.
Unison said 74% of the 288,000 NHS workers across England it consulted voted for the new pay deal, which covers two years.
There will be an additional one-off amount for 2022/23 and a 5% wage rise, or 10.4% for the lowest paid for the 2023/24 period.
Read More: Junior doctors' union leader apologises for 'undermining' strikes by going on holiday
'I hold no trust for this government whatsoever'
UNISON head of health Sara Gorton said: "Clearly health workers would have wanted more, but this was the best that could be achieved through negotiation.
"Over the past few weeks, health workers have weighed up what's on offer. They've opted for the certainty of getting the extra cash in their pockets soon.
"It's a pity it took several months of strike action before the government would commit to talks. Unions told ministers last summer the £1,400 pay rise wasn't enough to stop staff leaving the NHS, nor to prevent strikes. But they didn't want to listen.
"Instead, health workers were forced to strike, losing money they could ill afford. The NHS and its patients suffered months of unnecessary disruption.
"Other unions are still consulting so the full picture won't emerge until the end of the month. UNISON will be urging the government to ensure NHS workers get the wage rises they've voted for at the earliest opportunity.
"This vote might end UNISON's dispute, but it doesn't solve the wider staffing emergency affecting every part of the NHS. Now, the government must work with unions to bring about a sustained programme of investment in the workforce."