Specialist police investigating Nicola Bulley's death 'searching river for a specific object'
13 April 2023, 07:49 | Updated: 13 April 2023, 09:43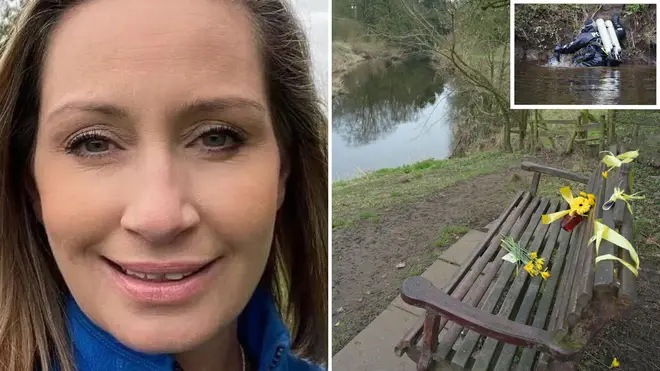 Police investigating Nicola Bulley's death are looking for a missing object in the river she was found in, a forensic expert has said.
Specialist officers are searching the River Wyre in Lancashire two months on from when the mother-of-two vanished.
Her body was found after three weeks of searching.
Police divers have been searching the water near to where the 45-year-old was last seen.
Ms Bulley's mobile, which was connected to a remote work meeting, was found on a bench when she disappeared in January. She had been walking her dog on a towpath in St Michael's on Wyre and it was suspected she fell into the water.
Lancashire Police said it was now searching the river on the directions of the coroner's office ahead of an inquest into her death on June 26 in Preston.
Now, Dr Richard Shepherd, a forensic pathologist, has claimed police will be looking for an object, possibly something they can't find that has ended up in the water.
"I'm really struggling to see what they could be looking, for now, that would affect or influence the cause of death," he said.
"When Nicola's body was found it would have been taken to the morgue and a formal post-mortem would have been carried out where it would have looked for natural diseases, any injuries, and samples would have been taken for alcohol, drugs."
He told The Mirror: "They must have a reason to do it though - my guess is there is something like an artefact of some sort that they are trying to make sure to find.
Read more: Police divers return to river where Nicola Bulley's body was found as they investigate cause of death
"My sense is they want to be absolutely sure that something they can't quite locate isn't still in the river. My feeling is they are looking for something specific.
"The last thing police want after the social media interest around this is for it to come out inquest there is something missing and then it gets randomly found by the public."
The search for Ms Bulley attracted significant controversy as social media detectives descended on the quiet area.
Lancashire Police was blasted for revealing specifics about Ms Bulley's vulnerabilities after the force had to defend its approach to the search.
An HM Coroner spokesperson said: "The investigation will take time to complete to ensure that as complete a picture as possible of the facts concerning Ms Bulley's death is presented at the inquest.
Read more: Serial rapist who made his young victims wear dog masks and collars gets 11-year jail term
"This will assist the family in understanding what occurred.
"As part of this process, HM Senior Coroner has requested Lancashire Constabulary produce information gathered during the search for Ms Bulley so it can be considered as part of the investigation."