Rishi Sunak will go even if Tories lose election narrowly but Braverman has no hope of taking over, Kwasi Kwarteng says
15 November 2023, 09:29 | Updated: 15 November 2023, 09:56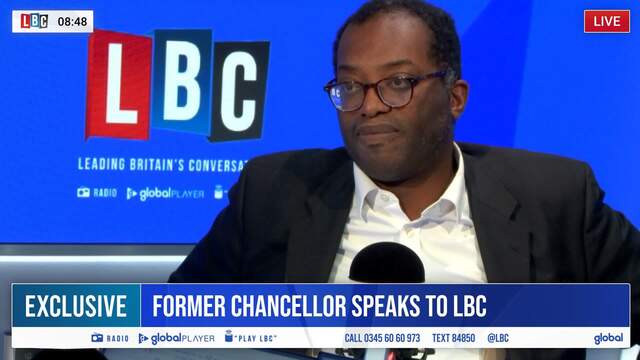 Kwarteng: Sunak will go even if he loses election only narrowly
Rishi Sunak will stop being Tory leader even if he closes the gap to Labour and loses the next election only narrowly, ex-Chancellor Kwasi Kwarteng has told LBC.
The former chancellor, who served only a matter of days before Liz Truss sacked him over the fallout from their mini-budget, expects a new leader will be in place after the election.
But he doubts Suella Braverman would win a leadership contest, despite apparently trying to lead a right-wing backlash against Sunak, who sacked her after her homelessness and Palestine comments.
The Tories trail Labour by a matter of double digits in opinion polls and are expected to lose office to Sir Keir Starmer's party - inevitably leading to questions over Rishi Sunak's future as leader.
Kwarteng told LBC's Nick Ferrari at Breakfast: "I think he'll probably go even if we lose quite narrowly.
"I think people may want to move on, but it's up to him really. And up to the party.
Read more: Tories at war after Suella Braverman accuses Rishi Sunak of 'betraying the nation' in scathing resignation letter
Read more: Inflation falls sharply to 4.6% in two-year low amid easing energy costs as Sunak hits target
"I remember John Major just walked off in '97. I don't think Rishi will do that, but I think people will want to refresh the party.
"And it's probably easier to do that with a new leader - but this all massively conjectural."
However, Braverman is unlikely to be able to ride any wave of right-wing anger to the party's leadership despite unleashing a barrage against Sunak on Tuesday.
She released an explosive letter to the PM, accusing him of a "betrayal of your promise to the nation" and having "manifestly and repeatedly failed to deliver on every single one of these key policies".
The ex-home secretary is viewed as a challenger in any future contest but it is unclear if the threat of a right-wing backlash against Sunak over her sacking will actually materialise.
"I don't know what game she's playing, or if it is a game," Kwarteng said.
"She's kind of a marmite politician in many ways and I think the party will go for someone a little more conciliatory."