Rishi Sunak ranks two in Nigel Farage's estimates of Conservative party success in the next general election
4 October 2023, 07:37 | Updated: 4 October 2023, 08:00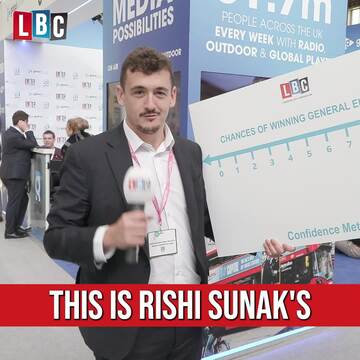 Henry Riley and the LBC confidence meter
LBC reporter Henry Riley asks those at the Conservative Party conference whether Rishi Sunak will carry the Tories to victory at the next general election.
Rishi Sunak is due to give his keynote speech on Wednesday at his first Conservative Party conference as Prime Minister, an opportunity to 'rally' his party members to prepare for a future general election.
But ahead of the speech, what do party members actually think their chances are? Henry took the LBC confidence meter to find out.
When approached, Nigel Farage, former leader of UKIP, was quick to give Mr Sunak a two on the scale.
"No one knows what they stand for, 13 years of failure, the country is in a far worse state than when they the government in 2010," he said.
Read more: General election 'not what the country wants', says Rishi Sunak despite party clashes and rows over HS2
Read more: 'Hurricane of migrants' coming to the UK, warns Suella Braverman as she attacks celebrity critics
Mr Farage added that they need a period in opposition to "rethink who they are".
Similarly, one delegate scathingly commented: "He's not doing a very good job of picking policies which are actually good for the country."
Before stating that the PM had "alienated" any of the "sensible and normal policies and people".
Another delegate ranked Mr Sunak a zero, stating that the "rot had set in and the days are over."
Conservative MP for Wellingborough Peter Bone however gave a very confident 10 on the scale, although acknowledged work must be done by the Conservatives to "pull their socks up,"
Continuing he stated: "Our chances of winning, absolutely, whether we can it's up to us to make sure we pitch the right things over the next 12 months."
Rishi Sunak is due to deliver his speech at 11:15 on Wednesday 4th October.