Rishi Sunak and Suella Braverman heckled by angry woman during walkabout in Essex town over migrants row
27 March 2023, 12:09 | Updated: 27 March 2023, 12:25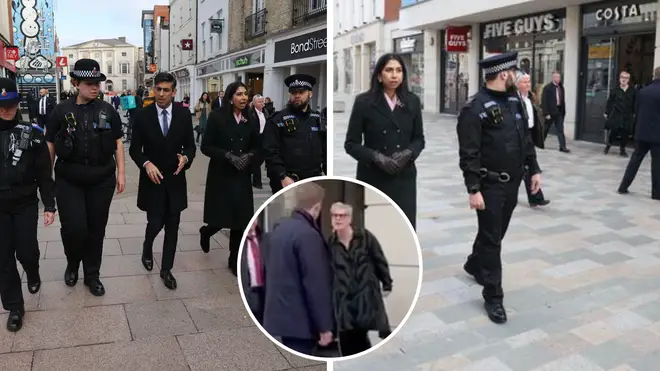 An angry passer-by shouted at Rishi Sunak and Suella Braverman to "go away" as they walked around the centre of an Essex town on Monday.
The Prime Minister and Home Secretary were on a brief walkabout in Chelmsford on Monday morning when a woman was heard shouting "Allow migrants into our country" and "Refugees should be allowed in Britain".
The Conservative duo have attracted the ire of political opponents for a bill aimed at making it harder for migrants to cross the Channel in small boats. The illegal migration bill is currently making its way through parliament.
Shouting at Mr Sunak and Ms Braverman, the woman added: "Go away. We don't want you here."
Ms Braverman and Mr Sunak were accompanied by three police officers as they walked down Chelmsford High Street shortly before 9am on Monday.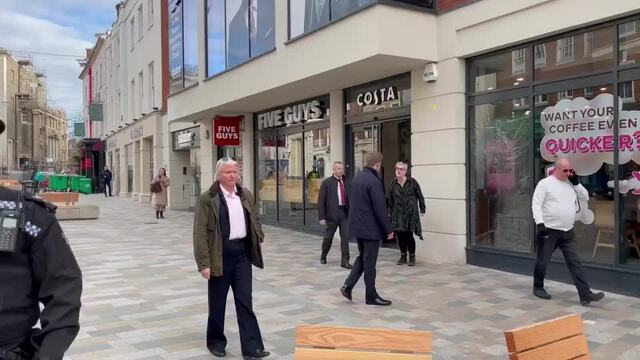 Prime Minister Rishi Sunak and Home Secretary Suella Braverman heckled on regional visit
They did not stop to talk to anyone or go into any shops during the five-minute walk.
Neither did they respond to the heckling woman, both continuing their conversations with the police officers instead.
The PM was later driven to an event at Chelmsford Boxing Club, where he talked about the government's newly-announced plans to tackle anti-social behaviour.
It comes after Ms Braverman met backbench rebels on the right of her party over the weekend and reportedly told them she will strengthen the government's migration bill to allow ministers to ignore European judges' rulings on deportations.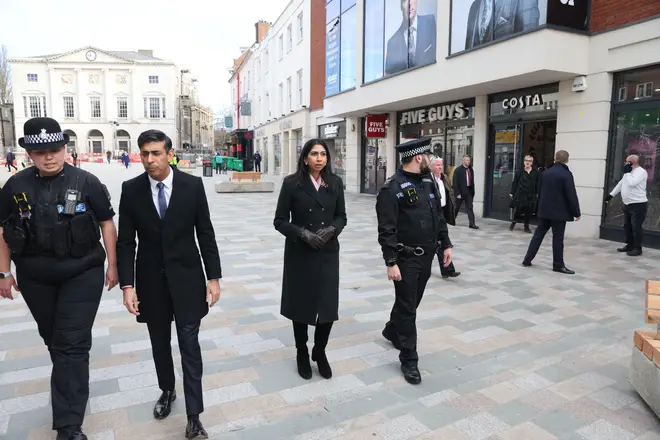 Led by Boris Johnson's former political secretary Danny Kruger, the 50 or so potential opponents of the Illegal Migration Bill have asked for numerous added clauses to the law.
They include allowing ministers to flout European legal advice, bar migrants from protections under Britain's domestic human rights laws and more restrictions to filing appeals, according to The Times.
Read more: Suella Braverman accused of being 'sock puppet' for Tory right and fuelling rebellion against her own migrant plan
Read more: Suella Braverman to harden migrants bill by 'ignoring European judges' as government lawyers 'oppose plan'
Ms Braverman has now promised the rebels that she will consider their concerns before the bill becomes law, it reported, in return for them not adding amendments to the legislation this week.
But some within the government have claimed that Ms Braverman is working with the backbench rebels to force ministers to strengthen the migrants bill and put pressure on Rishi Sunak. A source close to Ms Braverman denied the claim and said it was a "scurrilous" rumour.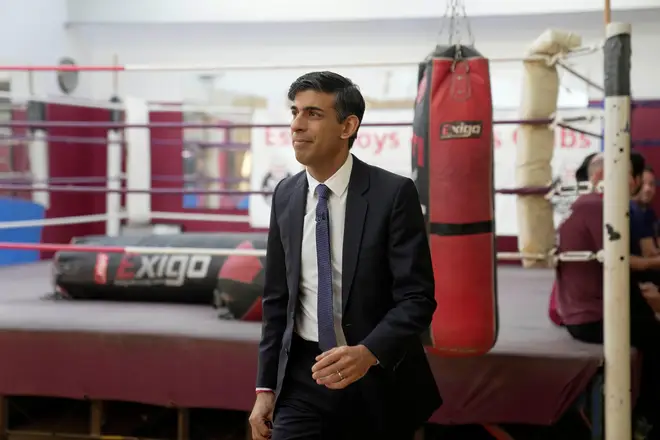 Not a single migrant has been sent to Rwanda for offshore processing since the government announced its flagship migrant policy almost one year ago.
The government is also thought to be working with the UN's refugee agency to create a safe route for 20,000 migrants each year.
The illegal migration bill will return to the Commons on Monday.