Russia's $300 million Kilo-class submarine hit in attack on Black Sea Fleet naval base as fireballs light up shipyard
13 September 2023, 10:23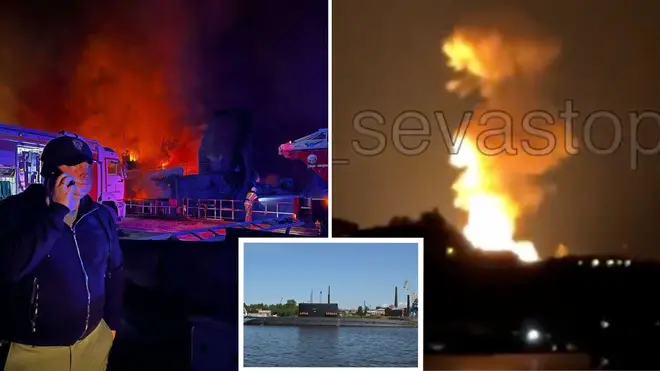 A $300m Russian submarine has been damaged in a Ukrainian missile strike that sent flames and smoke rising from the capital of occupied Crimea.
Kyiv launched a strike against a ship repair facility in Sevastopol early on Wednesday, seriously damaging the Rostov-on-Don, a Kilo-class submarine.
It would be the first time one of Russia's deadly subs was hit by Ukraine in this war.
Another ship appears to have been damaged with observers suggesting the large landing ship Minsk was also hit.
Footage showed huge explosions erupt at the dock and large fires breaking out.
Read more: Smiling Putin meets North Korea's Kim Jong Un at spaceport to beg for munitions in grubby aid-for-ammo deal
Kilo-class submarines can launch cruise missiles out of their torpedo tubes for long range attack and subs in the Black Sea have used this to pummel Ukraine throughout the war.
They typically carry an array of up to 18 torpedoes or 24 naval mines, but can also load a maximum of four Kalibr cruise missiles.
Ukrainian government adviser Anton Gerashchenko said: "Russian media report that a large landing ship "Minsk" and a submarine "Rostov-on-Don" were reportedly seriously damaged as a result of the attack on Sevastopol."
The Russian defence ministry claimed: "Tonight, the Ukrainian Armed Forces launched a strike with ten cruise missiles at the ship repair plant named after. S. Ordzhonikidze in the city of Sevastopol and three unmanned boats from a detachment of ships of the Black Sea Fleet on the sea crossing.
"Air defence systems shot down seven cruise missiles, and the patrol ship Vasily Bykov destroyed all unmanned boats. As a result of being hit by enemy cruise missiles, two ships undergoing repairs were damaged."
Read more: US to send controversial uranium tank shells to Ukraine as part of $1bn package
Tass, the Kremlin's media agency, claimed 10 missiles were fired at Sevastopol overnight.
Besides potentially knocking out even more of Russia's Black Sea fleet - having famously sunk the Moskva flagship last year - Ukraine has kept up the psychological pressure on Crimea with this strike.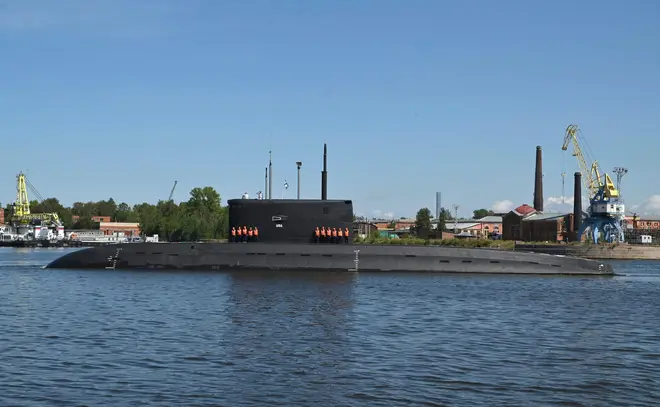 The peninsula has been occupied by Russia since 2014. It is one of Putin's key "achievements" during his time as leader and it holds cultural resonance in both Ukraine and Russia.
Ukraine's counter attack in its south could cut off Crimea from the "land bridge" with Russia, carved out during the invasion last year, leaving only a recently built bridge across the Kerch strait to connect the two.
That has been repeatedly hit by Ukraine and anything that threatens the peninsula would leave Putin fearful.
The attack happened as he met with North Korea's despot Kim Jong Un in the east of the country.
He was expected to request munitions after his forces were left depleted following 18 months of the war he started.
The pair met at a cosmodrome after Kim travelled by armoured train. He was expected to request aid for dealing with sanctions imposed on the hermit kingdom in exchange for ammunition.