Smiling Putin and Kim Jong Un vow to fight a 'sacred' battle against the West as the tyrants meet for weapons talks
13 September 2023, 06:58 | Updated: 13 September 2023, 12:16
Vladimir Putin has met with North Korea's dictator Kim Jong Un in a bid to put together a grubby aid-for-weapons deal.
After 18 months of seeing Kyiv's counterattacks reverse his land grabs, the Russian leader has turned to the world's most notorious state to secure munitions.
The protracted war, which Moscow anticipated would see it seize all Ukraine in a matter of days, has bled its ammunition stocks.
It is expected Kim will demand economic aid and military technology in a deal that could violate sanctions imposed on the hermit kingdom which Russia had previously supported.
He arrived at the Vostochny cosmodrome in the Russian far east after travelling on his slow-moving armoured train this week.
Read more: 'Russia expects this war to go on for some time': North Korea meeting shows Putin 'playing long game', ex-MI6 spy says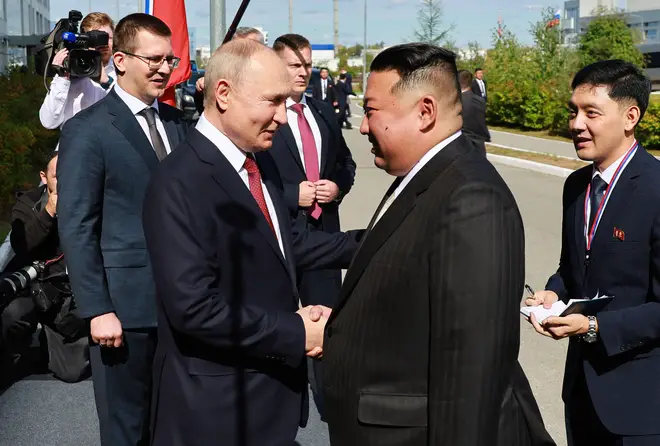 Putin's attempts to charm Kim into a deal is another humiliation in a journey that began with him thinking he could capture Ukraine early in 2022 but has resulted in him going cap in hand to Pyongyang.
The two leaders greeted each other warmly after Kim arrived at the spaceport in an armoured limousine that was brought up from North Korea by his train.
The two shook hands as Putin said he was "very glad to see" Kim. Russian state media said Kim was thankful Putin invited him to Russia "despite being busy".
Read more: King Charles wishes North Korea well as Kim Jong-un travels to meet Putin for arms deal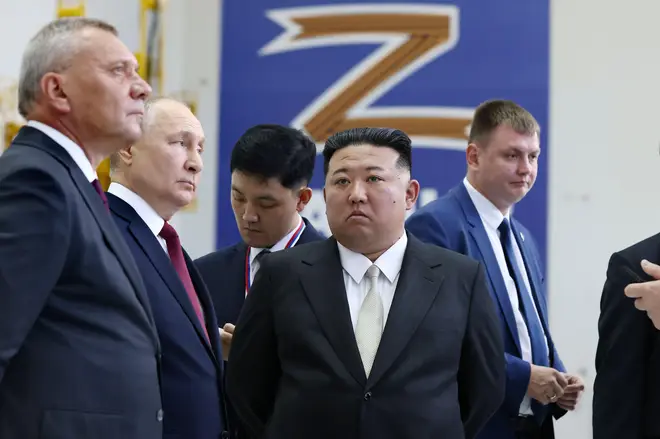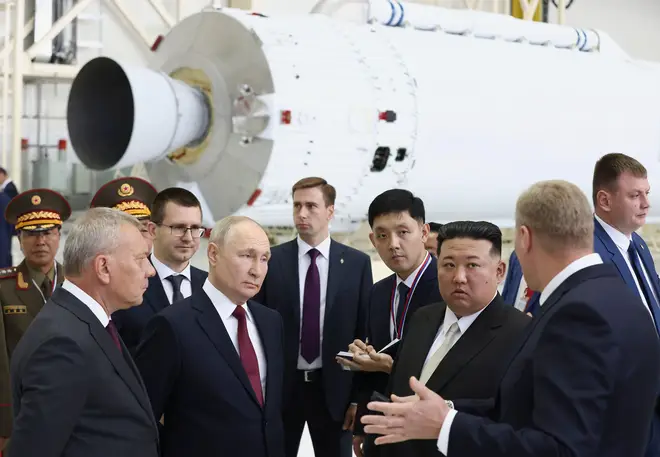 They are due to sit down for talks after inspecting the cosmodrome. Photos emerged of Kim looking at rockets and the facilities, which were draped with infamous 'Z' logos, the symbol of Russia's bloody and illegal invasion.
It came just hours after North Korea launched two ballistic missiles into the sea.
It is feared Russia will hand over advanced technology to the pariah state in its desperation to get more munitions to hold against a Ukrainian counter attack in the south of that country which is slowly making ground.
Pyongyang could ask for help with satellites and nuclear powered submarines.
Kim could see this deal as a way out of his international exclusion, possibly pitching his country as part of an anti-American axis alongside China and Russia.