Sports Secretary caught offside by Nick Ferrari as she can't name Rugby adviser she's met with twice in last few months
8 November 2023, 10:26 | Updated: 8 November 2023, 10:28
Sport and Culture Secretary Lucy Frazer stumped by Nick Ferrari's rugby question
Sport and Culture Secretary Lucy Frazer was left stumped by Nick Ferrari's rugby question.
When a listener emailed in to ask the Culture Secretary if there were plans to introduce a regulator for Rugby Union after an independent regulator for football was outlined in the King's Speech, it led to a confused answer.
Responding to the question, Ms Frazer said: "We recognise there are issues in rugby, that's why a few months ago I appointed two people, one of them is Ralph Rimmer, who are working with the rugby authorities."
Interrupting, Nick Ferrari asked who Mr Rimmer was.
"He's done some work before, he's been involved in rugby and he's also a non-exec of DCMS [Department for Culture Media and Sport]."
Nick again interrupted to ask who the second person appointed was "Mr Rimmer and..."
But the Culture Secretary appeared stumped, "erm Mr Rimmer and I'm sorry because the name has just escaped me."
Read more: Culture Secretary Lucy Frazer says 'from the river to the sea' chant is anti-Semitic
Read more" 'Very provocative' Armistice Day pro-Palestine protest must be kept 'under review' Culture Secretary tells LBC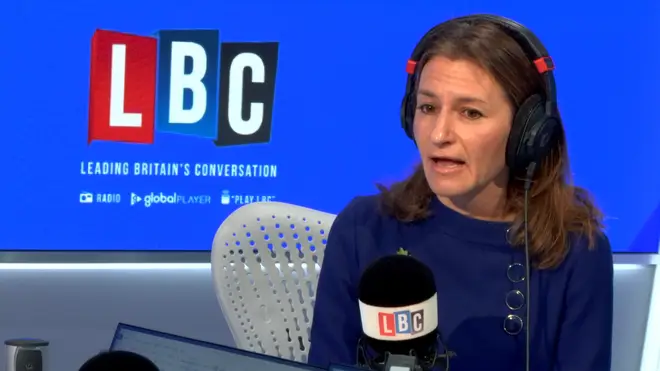 This led to Nick challenging her, "I'm sorry but this is how you take rugby, isn't it. This is how the government takes rugby," implying they do not treat the sport with the same level of seriousness as football.
"Respectfully, you can't even remember the names of the people looking into rugby, that's the reality isn't it?"
Ms Frazer said "we have appointed two people," but Nick pointed out she could not remember both their names."
After a bit of back and forth, Nick asked "is it Chris Pilling you're searching for?"
Ms Frazer said it was the name she was struggling to remember.
"Yes, it is!"
"Why does it come to me to tell you? You're the boss," Nick pointed out.
"Because, Nick, I have a very broad portfolio and I'm here to talk about a range of national issues," Ms Frazer said and then revealed she had met with Mr Pilington "on two occasions in the last few months."
Former RFL CEO Ralph Rimmer, and UK Sport Board Member Chris Pilling were appointed by Ms Frazer's department as independent advisers to support the RFU and PRL in their work on the future sustainability of rugby union.
The move comes following the recent failures of several clubs and the wider challenges stemming from the Covid-19 pandemic, rugby union has a unique opportunity to reshape its future strategic financial and sporting direction.