'Surprised' mayor to question police response after squatters seize oligarch's mansion
14 March 2022, 09:45 | Updated: 14 March 2022, 22:06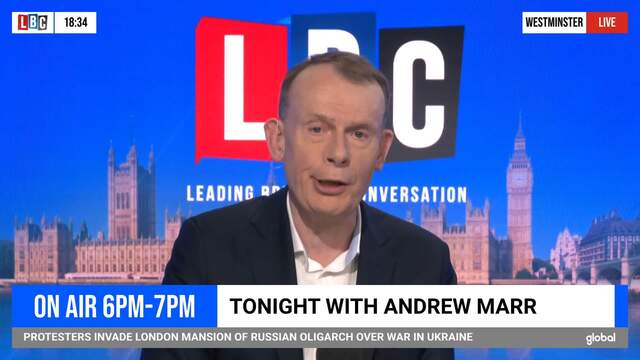 Sadiq Khan reacts to riot police storming Russian oligarch's mansion after squatters seized building
Sadiq Khan has told LBC he plans to question the Met Police response after dozens of officers, riot vans and a cherry picker were sent to clear a handful of protesters from the balcony of an oligarch's London mansion.
The Mayor of London told Tonight with Andrew Marr he was "suprised" by the response, adding it "does raise questions".
He told Andrew: "I understand the concerns raised by you, raised by your listeners about the issue of whether this is a proportionate response, about the issue of what are the priorities in relation to responses to issues raised by members of the public."
He insisted he would speak to a senior figure in the force.
Watch Tonight with Andrew Marr exclusively on Global Player every Monday to Thursday from 6pm to 7pm
He added: "I'm unclear what the police were responding to because we know no one's living there, I'm not sure if there were concerns about any crimes being committed to the neighbouring properties."
"For me the more important point aside from the actions of people who may have broken the law and whether the response from the police was proportionate is this is one of many homes, properties in London, sitting empty as this one has been for some time, gathering dust, we know owned by Russian oligarchs close to Putin.
"There's no reason at all these properties couldn't have been seized earlier to be used for those fleeing Ukraine or even sold and the money used for worthy causes."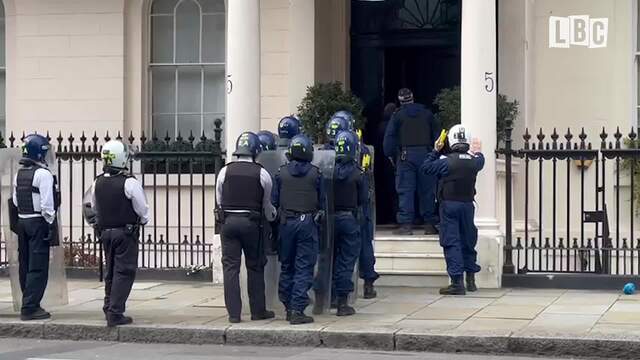 Police storm oligarch's mansion to remove protesters
Four people have been arrested with the Metropolitan Police confirming a group had come down after around 17 hours before being arrested on suspicion of squatting in a residential building.
A number of people gained access to the property, in Belgrave Square, west London - which belongs to Oleg Deripaska - at around 1am on Monday.
The mansion in London's Belgravia was invaded by protesters in the early hours of Monday morning with the Ukrainian flag hung from the windows over Putin's invasion.
Police were called to the property and found a number of people had gained entry to the building.
You can also listen to the podcast Tonight with Andrew Marr only on Global Player
Five squatters, claiming to be from London Makhnovist, ended up inside the property, which spans across six storeys. They remain there on Monday evening.
The oligarch in question is reportedly Oleg Deripaska and the property is believed to be worth £25million.
The protesters said they planned to open up the mansion, which "has too many rooms to count" including a cinema and a wine cellar, to Ukrainians fleeing the war, along with other refugees needing shelter.
Read more: 'War with NATO if single Russian toecap' steps into its territory, Sajid Javid warns
Read more: Pregnant woman and her baby die after maternity ward bombing in Ukraine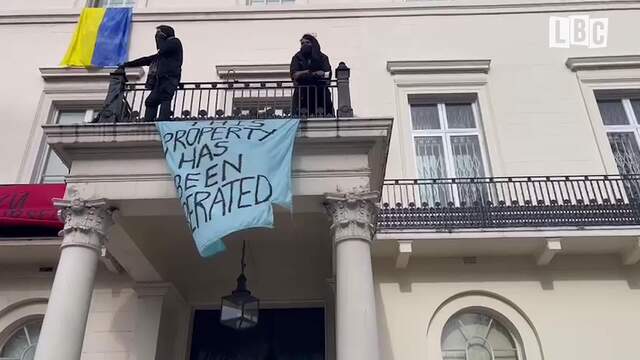 Squatters invade £25m London mansion of Russian oligarch
In a message to Russian oligarchs, the squatters said: "You occupy Ukraine, we occupy you."
Police entered the building shortly after 12pm, using a drill to break open the front door.
The protesters shouted: "Criminal damage" from the balcony above.
Ukrainian flags were hung from the upstairs windows and banners read 'The property has been liberated' and 'Putin go f*** yourself'.
Police completed a search of the property and said they are satisfied there were no people left inside. 
In a statement on Monday afternoon, the Met said: "We continue to engage with four people on the balcony as we balance the need for enforcement with the safety of all involved.
"We remain at the scene and are considering the appropriate next steps given the large and complex nature of this property."
Read more: Kyiv flats struck by Russian shell leaving two dead and many trapped under rubble
Read more: Russia asks China for military help as PM says Putin's 'barbaric' actions 'test humanity'
Deripaska was one of seven oligarchs to be sanctioned by the UK government last week.
One of the protesters at the site told LBC the building belongs to Deripaska, who he claims has "direct ties to Putin".
"We are squatting this building as a form of protest and solidarity with Ukrainian people and Russian people who suffer under Putin, and all people who suffer under war," he explained.
One of the men occupying the building added: "The police have told us multiple times they will enter the building and remove us despite the fact that they have no legal right to do so.
"We are occupying the building as part of a protest.
"We do not care if we are arrested."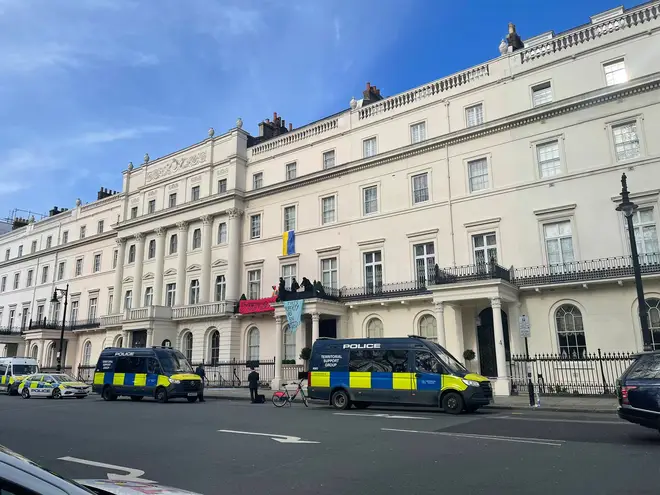 A spokesman for the Met Police said officers were called shortly after 1am on Monday morning.
"Officers attended and found that a number of people had gained entry and hung banners from upstairs windows. Officers remain at the location," the force said.
Deripaska has been hit with an asset freeze and banned from any transactions with UK individuals and businesses.
The billionaire claimed there was "not a single fact" to support the measures by the British government, and suggested he could challenge them in court.
He wrote on Twitter: "Since there's not a single fact in support of Boris' cabinet's fantasies it will be for the courts and the police to decide the future for all in this sanctions story."
Read more: 'Bloated' Putin could be 'suffering from steroid side effects of cancer treatment'
Read more: Give Ukrainian refugees shelter in Royal properties, caller demands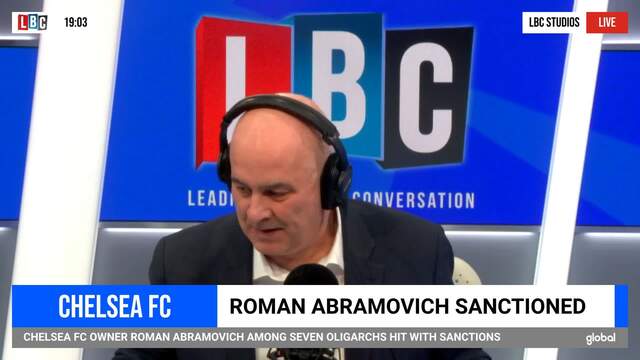 Iain Dale reacts to Roman Abramovich being sanctioned by the UK Government
Deripaska, who is Roman Abramovich's former business partner, is an industrialist worth £2billion who has a multi-million pound property portfolio in Britain.
In 2008, he was embroiled in a row involving Labour grandee Lord Peter Mandelson and then-shadow chancellor George Osborne.
Both men met Mr Deripaska on his yacht, while Mr Osborne reportedly attempted to solicit a donation for the Tory party from the oligarch - something he denied at the time.
Putin's "right-hand man" Igor Sechin was also sanctioned and four more of his "inner circle" were hit with an asset freeze and travel ban, the government announced last week.
Read more: Ukrainian actor 'killed by Russians after giving his bulletproof vest to a child'
Announcing the move, Foreign Secretary Liz Truss said: "Today's sanctions show once again that oligarchs and kleptocrats have no place in our economy or society. With their close links to Putin they are complicit in his aggression.
"The blood of the Ukrainian people is on their hands. They should hang their heads in shame.
"Our support for Ukraine will not waver. We will not stop in this mission to ramp up the pressure on the Putin regime and choke off funds to his brutal war machine."
Boris Johnson said there can be "no safe havens" for those who have supported Putin's "vicious assault" on Ukraine.
"We will be ruthless in pursuing those who enable the killing of civilians, destruction of hospitals and illegal occupation of sovereign allies."