Scottish town evacuated, trains cancelled, and red alert for 70mph winds as Storm Babet batters Britain
19 October 2023, 16:28 | Updated: 19 October 2023, 16:38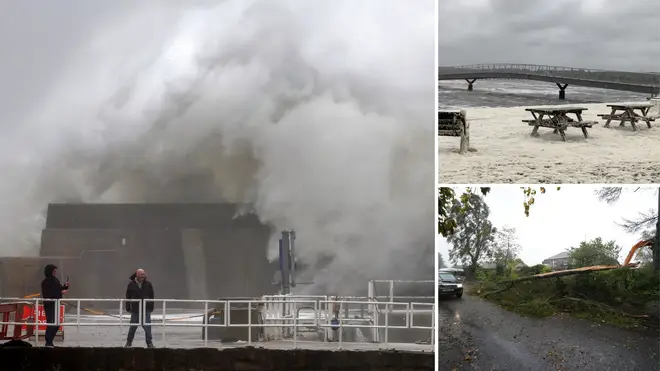 A Scottish town was being evacuated today as Storm Babet brought chaos to Britain, with 70mph gale force winds and torrential rain.
The town of Brechin in Angus, north east Scotland was being evacuated, with 360 families told to leave their homes.
The Met Office has issued a red 'danger to life' warning from 6pm today through to midday on Friday with 70mph gale force winds predicted.
A month's worth of rain is expected to fall by Friday and the worst affected areas.
People in Scotland have been sharing pictures and video of the 'unprecedented' weather.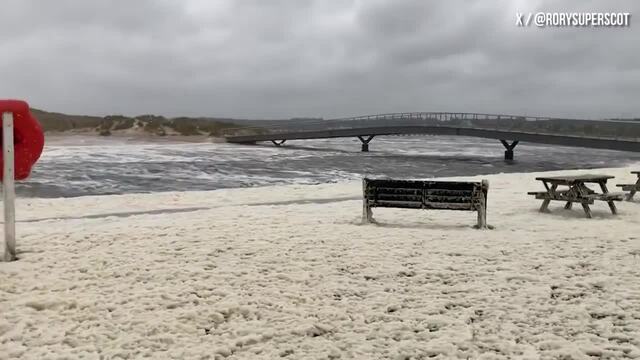 Winds from Storm Babet start to affect Scotland
One resident of Lossiemouth, Scotland, posted video of a coast thick with sea foam that had been blown ashore by the storm.
Another person, an electrician on an offshore oil rig shared video of a dramatic swell beneath the rig, writing: "Going to be getting rocked to sleep tonight! Captain Oil Field, North Sea."
Forecasters predict the east of Scotland is likely to be the worst hit area, but the warning has now spread wider.
Police Scotland Assistant Chief Constable Stuart Houston said: "Our advice is to avoid any form of travel in areas covered by the red weather warning.
"Driving conditions will be extremely dangerous with disruption expected.
Read more: Scottish town told to evacuate as Storm Babet batters UK
Read more: Exact date Storm Babet to end as Britain to be battered by heavy rain for several days
"It's important that everyone considers the amber warnings that still remain in place for rain and wind. This will present a particular challenge to high-sided vehicles - so please consider whether these journeys are essential."
Stein Connelly of Transport Scotland - who described the storm as a "rapidly moving situation" - said: "The advice from Police Scotland is that people should avoid travel in the red areas.
"Stay home if you can. If you need to make essential trips in the amber areas - expect a high level of disruption to the transport network.
"Resilience partners, road-operating companies and transport operators are working hard to keep the network open - and the public can help us by planning ahead and by following the latest advice."
Angus Council ordered the evacuation of homes in Brechin, saying it only has limited supplies of sandbags to help protect from rising water.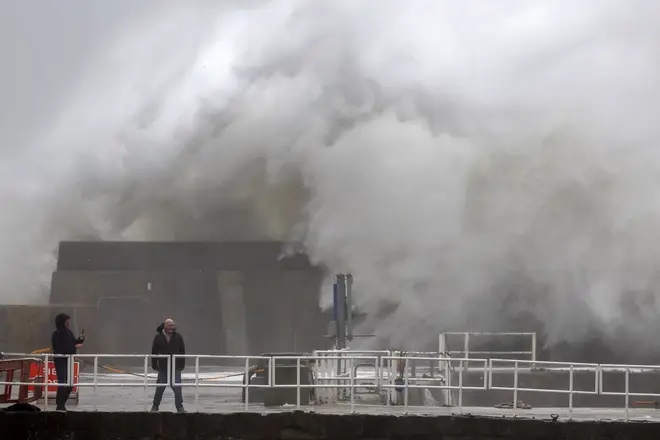 Flood defences protecting the town could be breached either later today or overnight. Schools and early years centres have all been closed since lunchtime and will stay shut tomorrow.
Two further rest centres are being prepared in Aberdeenshire, for residents unable to remain in their homes.
Angus Council said: "Over the past few days, resilience colleagues have been working with Sepa to identify areas at most risk of flooding due to the unprecedented level of rain that is expected to fall across Angus.
"Sepa have advised of a possible severe flood warning.
"As a result, we have identified approximately 335 homes in Brechin, and an additional 87 homes in Tannadice and Finavon where residents will be asked to evacuate for their own safety."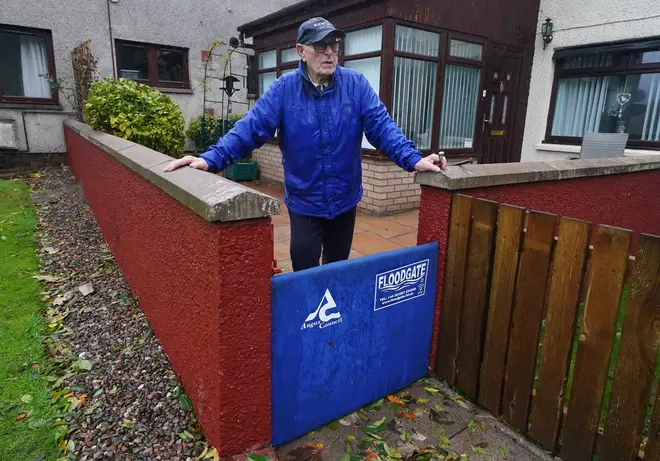 John Stewart, 82, said he will not be leaving his home should the local authority attempt to evacuate the property.
Instead, Mr Stewart has built a wall around his garden to protect his home from flood damage.
He said the wall had successfully stopped water from getting in from the street previously where flooding was severe.
He said: "I won't be leaving because my wife won't go."
He added: "The trouble is, the last time there was flooding we couldn't get sandbags and ended up paying £3 each for them.
"The council is supposed to give you that stuff and they don't."
A total of 87 homes in Tannadice and Finavon are also being evacuated.
The council is sending officials to go door-to-door warning people to escape, while three rest centres have opened for people needing shelter in Brechin, Montrose and Forfar.
Sandbags have been used to help protect homes from floods across Angus but the council has warned of a limited supply.
"Due to limited numbers and the importance of prioritising the most vulnerable properties and people, residents should carefully consider whether they require sandbags," it said.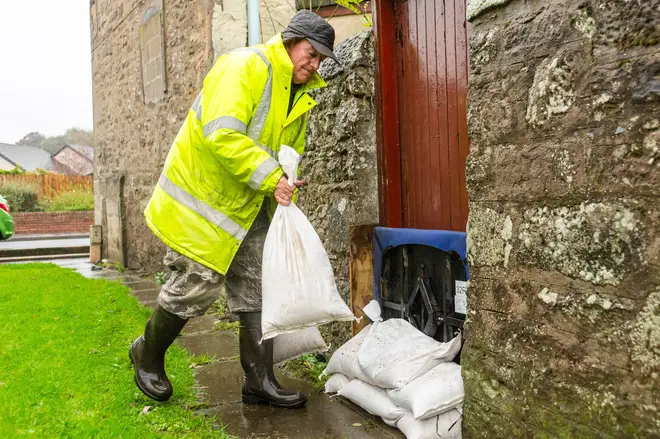 Britain is being battered by Storm Babet, which already caused chaos in Cork, Ireland, on Wednesday, leaving homes, businesses and cars destroyed.
A 'danger to life' warning has been in place in Scotland since 10am, where in the east of the country, a rare red warning will come to force at 6pm on Thursday. It comes just days after parts of Scotland flooded.
A new amber warning for rain was also issued for parts of northern England, the Midlands and Wales.
The Scottish Environment Protection Agency said the country will see "exceptional weather" and the eastern coastal areas will experience dangerous conditions.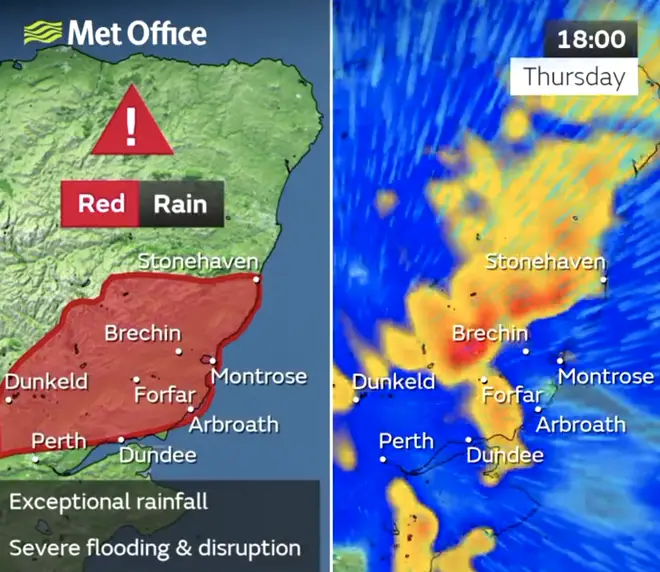 The Royal National Lifeboat Institution warned "these conditions could knock you off your feet or wash you into the sea" if people get too close to the water or cliff edges.
There are fears sewers could flood as they are overwhelmed by rain water, and Scottish Water has readied staff to tackle any problems.
Landslides could also happen, with the area under weather warnings prone to them, the British Geological Survey warned.
"Infrastructure slopes are also likely to be affected with potential for disruption to roads and railway within the warning area," it said.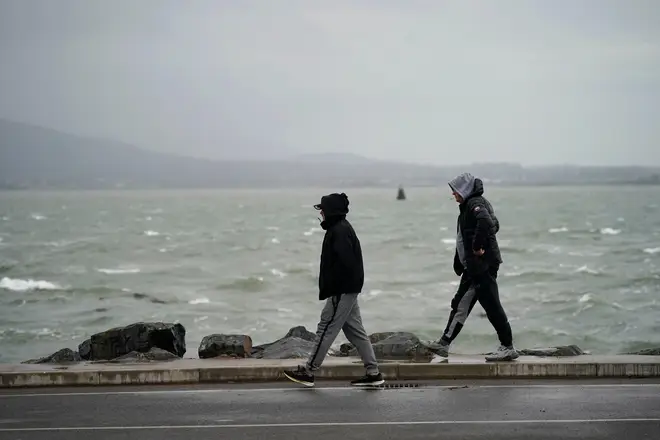 Babet, the second named storm of the season, wreaked havoc in Ireland yesterday, with supermarkets and businesses destroyed by heavy flooding.
There was also heavy flooding at Midleton Hospital in Cork, with entire patient rooms and the car park affected.
Meanwhile, this is the shocking moment a car was washed away in floodwater as Storm Babet wreaked havoc in Cork, Ireland.
Footage posted online shows the red car being swept away by a strong current of floodwater, with rescue officers unable to stop it in its tracks.
Kayaks were used by rescue officials as stranded families watched on in despair, with a number of cars washed away by the floodwater in the Cork area.
Concerned residents spoke of fleeing their homes and the area in the wake of the brutal storm, with several businesses and homes affected.
Storm Babet will bring 70mph gusts and over one month's worth of rain in the worst-affected regions of the UK on Thursday.
A yellow weather warning has been in place covering most of Scotland from 6am today, with an additional amber warning for wind covering the east of the country.
Read More: Exact date Storm Babet to end as Britain to be battered by heavy rain for several days
Read More: Rare red weather warning issued ahead of Storm Babet as 'exceptional rainfall' expected to cause severe flooding
A rare red weather warning will come into force from 6pm on Thursday, which means "exceptional rainfall is expected to cause severe flooding and disruption", according to the Met Office.
It is the first red warning for rain issued in the UK since Storm Dennis in February 2020.
What to expect from a red weather warning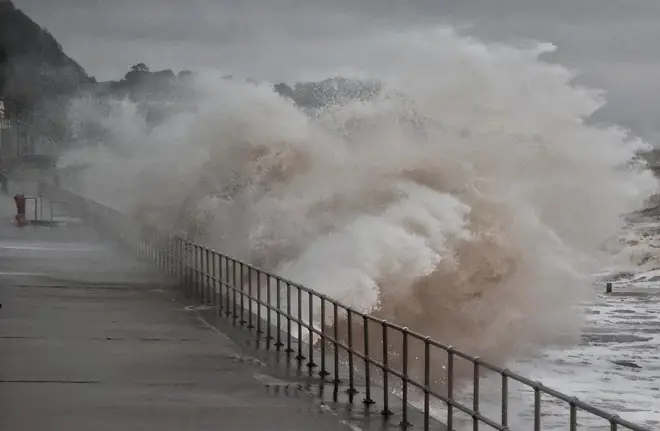 According to the Met Office, the following is likely during a red weather warning:
Danger to life from floodwater
Extensive flooding to homes and businesses
Collapsed or damaged buildings/structures
Road closures and public transport delays/cancellations
Dangerous driving conditions
Loss of power and other essential services, including as gas, water, mobile phone service
Communities completely cut off, perhaps for several days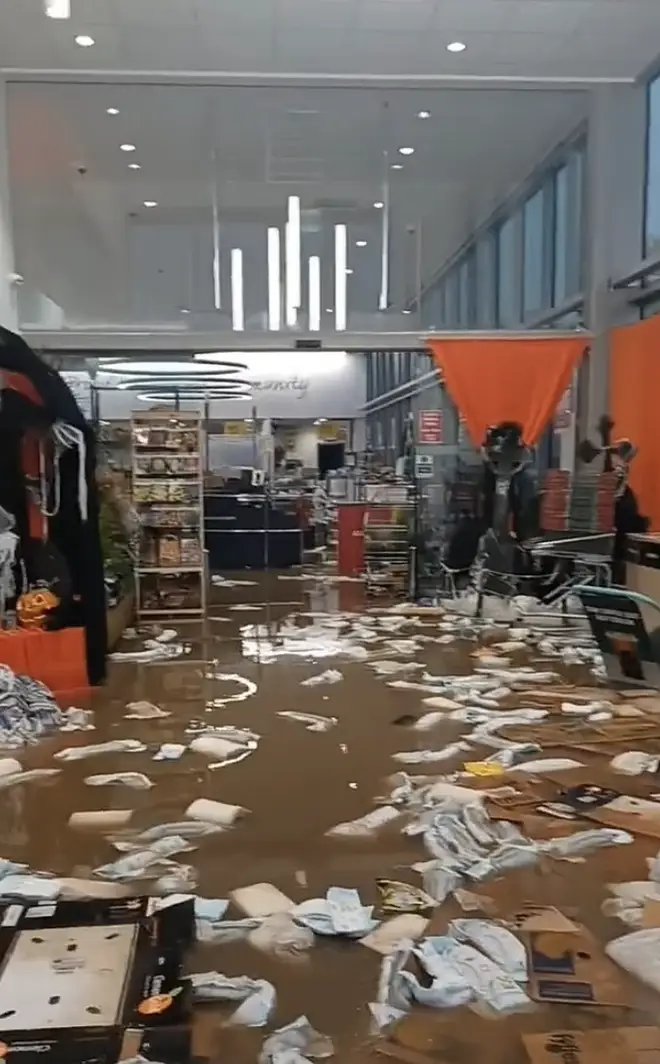 Met Office forecaster Greg Dewhurst said: "We're going to see prolonged heavy rain, where we could see 200 to 250 millimetres of rain falling within a day which is well over a month's worth of rainfall for eastern parts of Scotland.
"We're likely to see flooding, power disruption, travel disruption, there is a risk to life as well.
"There's also an amber wind warning out for eastern parts of Scotland, where we could see gusts of 60 to 70 miles an hour, just adding to the extremely dangerous weather coming for parts of Scotland."
According to the Met Office, Storm Babet will last until Saturday.