British government needs to 'show more courage' to stop migrant Channel crossings, ex Australian PM tells LBC
31 October 2023, 10:37 | Updated: 31 October 2023, 10:38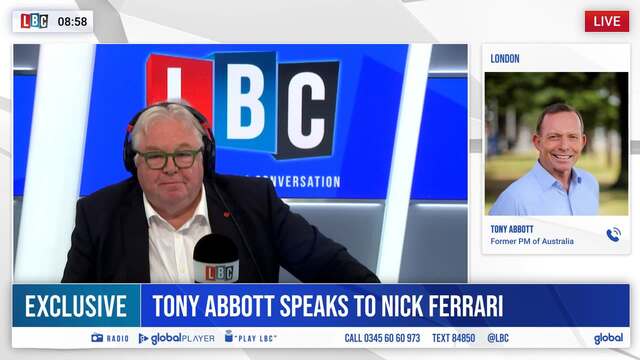 Former Australian PM explains how the UK can 'stop the boats'
Former Prime Minister of Australia Tony Abbott says the UK government needs to show "more courage" to stop migrant Channel crossings.
Speaking to LBC's Nick Ferrari at Breakfast the former PM also hit out at human rights legislation which has impacted on the government's ability to send Channel migrants to safe third countries.
Government plans announced in April 2022, under which some asylum seekers would be sent to Rwanda, is currently held up in the courts, with a deportation flight yet to take off.
In July, the Government was granted permission to fight for its Rwanda policy at the UK's top court after the Court of Appeal found that Rwanda could not be considered a safe third country for asylum seekers in June.
The Court of Appeal overturned a previous decision from the High Court in December 2022 that found the policy was legal.
Read more: Suella Braverman: Rwanda is a 'world-beating' model on tackling migrant crisis
Read more: UK a 'laughing stock' for allowing migrants to 'get off boats and go straight into four-star hotels', minister says
Mr Abbott explained there was "offshore processing" of those attempting to enter Australia by boat, he also told Nick boats were turned around "where it was safe to do so."
He also said where boats were scuttled by people smugglers migrants would be rescued from the water and then put in "unsinkable orange lifeboats and send them back to Java." He went on to describe it as a "very robust policy, but it worked."
Abbott, who served as prime minister for two years from 2013 to 2015, aid the only way to stop the Channel crossings "is to literally prevent them from coming physically and to send them back from whence they've come."
Mr Abbott said it was a "good model for the British government," but added it would require "more courage" than has been on display.
When Nick asked if a Rwanda option was needed the former Australian PM said it was "certainly a very important part" of plans to reduce the number of Channel migrants.
Mr Abbott said he had been left 'mystified' that "Parliament has not dealt with this European Convention issue" going on to ask:
"Why doesn't the British Parliament simply say that the European Human Rights legislation doesn't apply so far as it affects people coming across the Channel by boat."
The Supreme Court is currently reviewing the Government's plan to send asylum seekers to Rwanda, with a decision expected by the end of the year.
In September 2012, the Australian government restarted a policy that had previously been in place in the early 2000s: sending some people who came to the country by sea for asylum processing in Papua New Guinea and Nauru.
The pans also saw anyone who attempted an unauthorised boat voyage turned back to their point of departure, returned to their home country, or transferred to a third country for processing.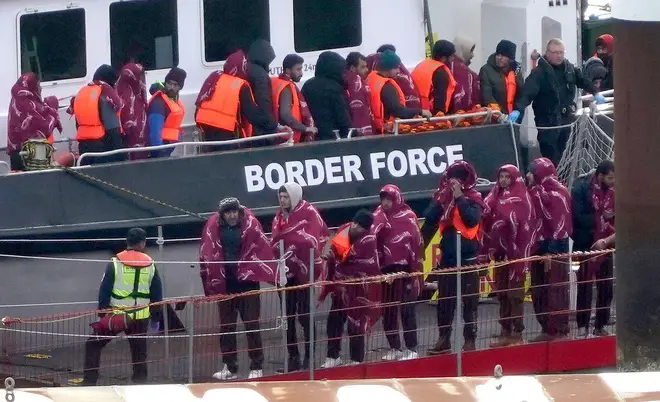 A Home Office spokesperson said: "The UK has a proud history of providing protection, having offered a safe and legal route to over half-a-million people.
"However, illegal migration is a complex, global issue, and one which requires fresh solutions.
"That's why our migration partnership with Rwanda will prevent more lives from being put at risk in the Channel.
"The Illegal Migration Act will also break the cycle of people-smuggling gangs, put an end to the unacceptable use of hotels, and clear the legacy asylum backlog which has already fallen by over 35,000 cases."