Top Tory hits out at 'dependence' on Chinese technology amid warnings Beijing could have tracked Sunak's car
30 August 2023, 10:05 | Updated: 30 August 2023, 10:15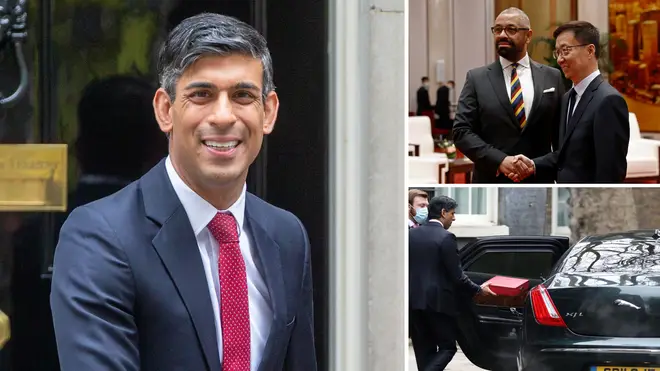 The Chairwoman of the Foreign Affairs Committee has told LBC News she believes Prime Minister Rishi Sunak's car was bugged by China.
Tory MP Alicia Kearns has accused Beijing of using technology to track the prime minister's movements.
Speaking to Martin Stanford on LBC News she said: "This is something I have been talking about for years, techno-authoritarianism the insertion of technology by the Chinese Communist Party into our lives on which we are reliant and dependant, which makes us weak or vulnerable, either long terms in terms of the supply chain or in the immediate.
"There were reports earlier this year...[that] cellular IoT modules were inside a large number of cars, within the UK and other countries. And our concern is that this module can be turned on remotely to track people's locations and where they are travelling
"And yes. I do believe that one of these IoT cellular modules is within the Prime Minister's car and security entourage. This is why we need to change laws we are defending ourselves against a country pursuing every possible form of espionage."
The Prime Minister's Official Spokesperson made clear that he cannot comment on security issues relating to the PM and reinforced that the Government has very comprehensive security measures in place.
This is a concern that has been echoed through UK politics recently, with Sir Iain Duncan Smith commenting on this earlier in the month.
The former Tory leader alleged the Chinese had been tracking the Prime Minister through "devices on Downing Street cars".
READ MORE: China 'tracked prime minister's movements using hidden tracking device in car parts'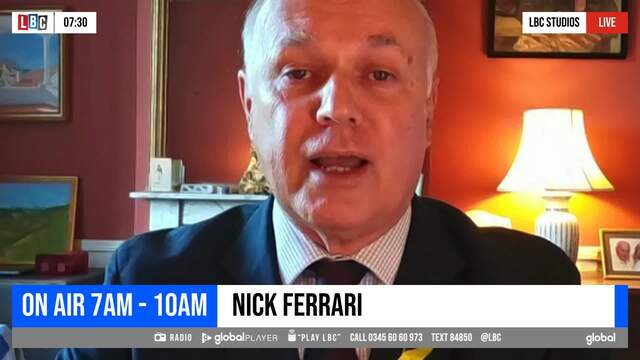 Ex-Tory leader on how China could use electric cars to spy on the UK
Sir Duncan Smith warned cars imported from China to help the UK reach net zero could be used for spying: "Those devices they've been putting into Downing Street cars - although they won't admit it - tracking where the PM was going, knowing who he was seeing. This is exactly what they can do with batteries."
This comes as Foreign Secretary James Cleverly holds talks in Beijing. It is the first visit by a senior UK minister since 2018.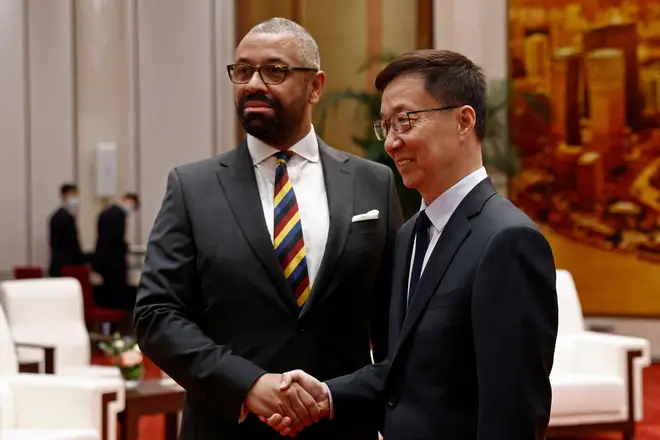 The conversation comes after James Cleverly met senior officials in Beijing in a visit aimed at easing tensions with China but which risks deepening divisions in the Tory party.
The Foreign Secretary insisted the visit would allow him to have "tough conversations" with the Chinese on issues including repression in Hong Kong, and human rights abuses in Xinjiang province.
READ MORE: 'Greater transparency' is needed as the UK paid £48m of taxpayers' cash to China last year, aid watchdog says
In a face-to-face meeting with vice president Han Zheng, who played a leading role in the anti-democracy crackdown in Hong Kong, Mr Cleverly said regular meetings were important "to enhance understanding" and "to avoid misunderstanding".
In the first visit by a UK foreign secretary to China for five years, Mr Cleverly told him they would "address the challenges and differences of opinion that all countries have in bilateral relations".
But Mr Cleverly's visit has been criticised by China hawks on the Tory benches, who want a tougher line against a state which has sanctioned several British MPs and peers for speaking out about human rights violations.