Has Rishi Sunak gone off the rails? Henry Riley takes a look at the mood in the Tory Party conference
4 October 2023, 15:33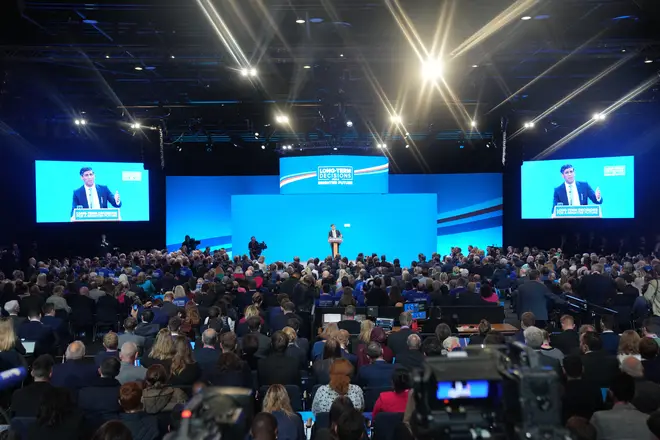 As Rishi Sunak started to walk off the stage, Manchester probably breathed a sigh of relief that the 2023 Conservative Party Conference had come to an end.
To say the atmosphere in the City is peculiar is an understatement.
It is actually rather unpleasant and uncomfortable with swathes of well-dressed politicians, advisers, journalists and businesspeople stumbling past numerous police, noisy protesters, and homeless people to go and enjoy their version of Glastonbury, whilst parts of the country are clearly struggling financially.
It's a strange few days where Manchester attempts to get on with life and pretend the whole of government hasn't moved in as temporary neighbours, bringing momentary disruption to the City.
Read more: 'Rishi and I best friends': Sunak's wife introduces PM in surprise speech as she confirms his love of 'cheesy rom-coms'
Read more: HS2 extension scrapped and £36bn to be spent on new transport projects in the North, says Rishi Sunak
The Conference in Manchester is often bustling and fizzing with excitement. This is like Christmas for some delegates - the chance to take selfies with the Cabinet, drink and freely express their opinions (unless, of course, you are the Chair of the London Assembly, Andrew Boff).
But the champagne bubbles seemed to slowly dissipate earlier than usual this year on Tuesday - the day before the Prime Minister's speech.
Largely and undoubtedly, the strikes by the ASLEF union played a key role in sending people packing before the prospect of a football match-style 90th-minute scramble to queue on the M6 to head back to London.
The energy seemed to have dropped. You could see empty seats in once-packed pubs and hotels.
There seemed to be a divide. Amongst some delegates, there was a downbeat sense of acceptance that the next general election would inevitably be lost, whilst politicians from their own party tried to convince them that this new-look government was only just getting started.
As I heard attendees leaving (and by the way, I myself am guilty of this), I heard delegates speculate that "Andy Street might resign!"
As politicians go, Andy Street is relatively well known through being the West Midlands Mayor but also the ex-boss of John Lewis, but in reality, once you remove your conference pass and walk 100 yards in any direction - precious few people care, let alone know of his work.
The bubble has burst for another year. Manchester can get on and pretend nothing happened.
And Conservative Party members will be left to ponder what the next year has in store for them, and whether they will gather this time next year with Rishi Sunak at the helm.