Exact date snow blast to arrive in UK as freezing temperatures expected to blanket swathes of the country
20 November 2023, 09:01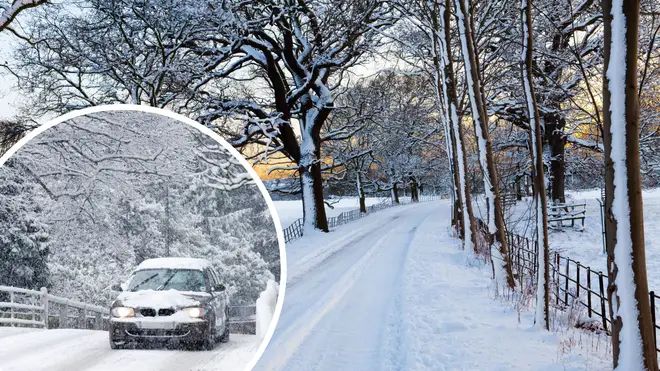 A snow blast could be set to hit the UK in just days, as the country braces for freezing temperatures.
Temperatures are set to plummet as the Christmas period gets underway just weeks after Storm Ciaran and Storm Babet brought chaos to the UK.
Weather maps predict that snow is set to cover parts of the country in early December.
Maps from WXCharts show that while some parts of England will be hit by lashings of rain, others will experience heavy snow.
The first fall of snow is expected on Sunday November 26 - but it's in early December that it's predicted to spread to other parts of the country.
"One to two" snow blasts are anticipated to make an appearance within the coming weeks, Exacta Weather forecaster James Madden said.
"The worst hit areas also look likely to be across the northern half of the country for this period and this does also include snow to lower levels in these parts too.
"However, as we get nearer the time, it is now also becoming increasingly likely that we will see some of this snow reaching some much lower levels of the country, and even parts as far south as the Midlands, Central/Southern England will be brought into the mix for snow within this period too."
Snow could hit the Midlands and the north of England at rates of around 2cm per hour, Coventry Live reported.
Read more: Exact date temperatures to drop to -5C as Brits told to 'prepare for blizzard'
Read more: November could be 'wettest on record' as washout Autumn continues
What does the Met Office say?
The forecast for Monday reads: "Rather cloudy across the UK, with scattered showers. Some brighter interludes developing at times, especially across southeast England. Staying windy across the north and the west. Feeling colder than recent days.
"Further showers through the evening and overnight. However, clearer skies will move in across Scotland and Northern Ireland during the early hours, allowing a patchy frost to form here."
"There are signs that, as we head towards the end of next week into the weekend, we could see some wintry showers to kick off in the northern half of the UK as winds turn a bit more northerly for a time," Met Office meteorologist Greg Dewhurst said.
A long-range forecast for the period November 24 to December 3 says: "The early part of this period is likely to see a north-south split in weather conditions, with southern parts of the UK drier than of late, while northern areas, particularly western Scotland, see more in the way of cloud, rain and wind.
"Within this overall pattern, there may well be incursions of colder air at times, especially across north and northeast UK, with wintry showers and overnight frost. It's uncertain just when such cold spells will occur and how extensive they will be, and it may be that this happens more than once with periods of milder, wetter weather in between.