Amber Rudd First Became Aware Of London Bridge Terror Attack On Twitter
1 June 2018, 17:56 | Updated: 1 June 2018, 18:16
Former Home Secretary Amber Rudd has told LBC she first heard about the London Bridge terror attack through comments she had seen on Twitter.
This weekend marks the first anniversary of the atrocity which saw eight innocent people killed and 48 others injured.
On 3 June 2017 three men drove a van into pedestrians across London Bridge before jumping out and attacking people with knives around Borough Market.
Amber Rudd, who was Home Secretary up until she resigned last month, revealed she was in her Hastings constituency when the attack unfolded.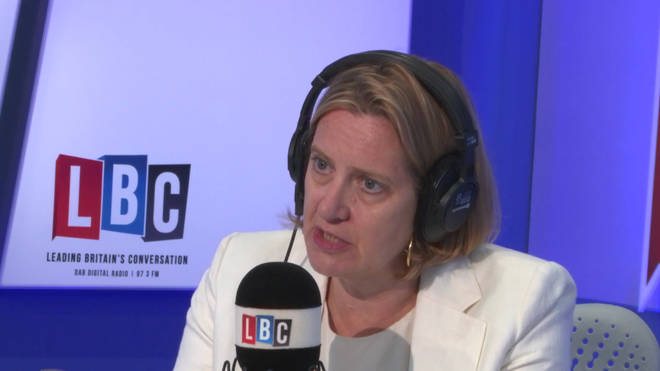 Speaking to Iain Dale, she said: "I was, like most politicians, trying to relax but constantly distracted by comments on Twitter.
"That was how it was first released really the news about it, a journalist was on a bus over London Bridge who said 'something is happening'.
"Other news started to come out and it was patchy, but it became evident that something violent was taking place."
Moments later, Ms Rudd said her security detail, who were staying in a nearby hotel, came to collect her and took her to London.
The London Bridge attack was one of a number of UK atrocities which unfolded in the space just a few weeks.
Ms Rudd told Iain she still remembers her exact location when hearing about each of last year's attacks, including Westminster Bridge and the Manchester Arena bombing.
She described the feeling as a "drum beat of horror".
Watch her full interview with Iain Dale below:
Former Home Secretary Amber Rudd is live on LBC reflecting on the London Bridge terror attack one year on. Watch:

Posted by LBC on Friday, 1 June 2018